Florida Skate and Explore
Words: Alex Hannigan
Photos: Jacob Lambert
Video: Dave "Guff" Leslie
After a full week of skateboarding every day, one day starts to blur into another. Travelling with a group of friends and all their gear, packing in and out of our van multiple times a day going from one spot to the next while trying not to get sunburnt in the Florid heat, is a lot of fun and very exhausting. Looking back on the Florida 2022 skate trip, I would say we would all do it again in a heartbeat.  
During the week we rode lots of new products for the first time, saw lots of new places, and made lots of memories. Some of the spots we went to are very well known, even internationally. After everyone got off their flights we packed into the van and went to a spot close by that had a brick wall which was paved into a perfect transition. Luckily there was a section that wasn't skate stopped so we took our first chance to loosen up our legs after a long flight. One hour into the trip, we were already sweating. The heat was stifling and that's when we knew we were in for an exhausting week.  
The banked wall was incredible. The brick surface that was used to construct the wall was perfect for the soft wheel setups that we had, and we got some great photos! When we felt that we had all got our skate legs under us, we headed to the next spot which was an estuary full of wildlife. The terrain called for a slightly different grip of boards. It was flat with lots of pathways, so everyone grabbed some slightly larger boards, and we carved down a pathway until we reached the water. This was the spot where we saw our first alligator of the trip! After that, we started keeping track. Day one and we already were experiencing full Florida vibes with natural freshwater springs, everglades, Spanish moss hanging in abundance over our heads, and wildlife everywhere.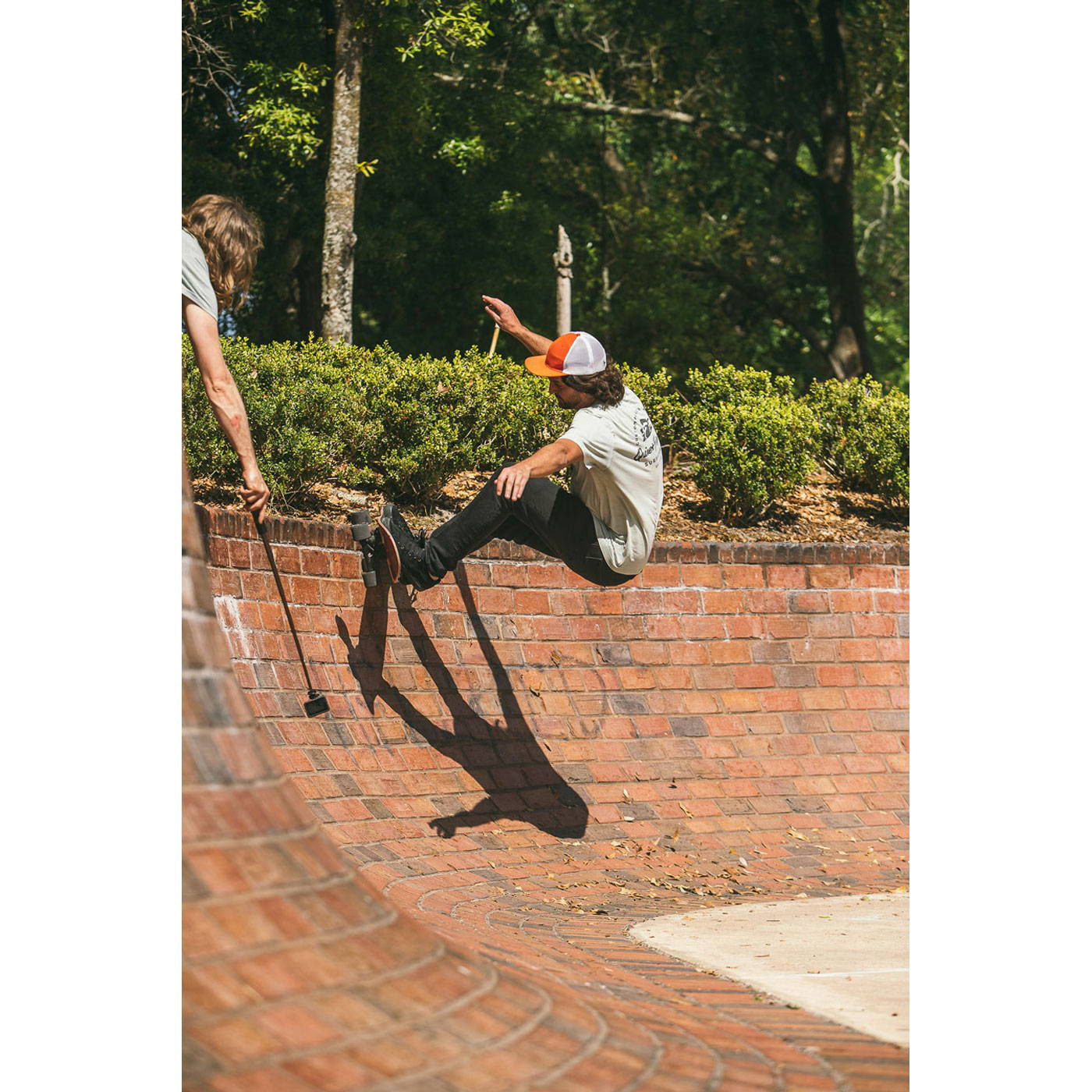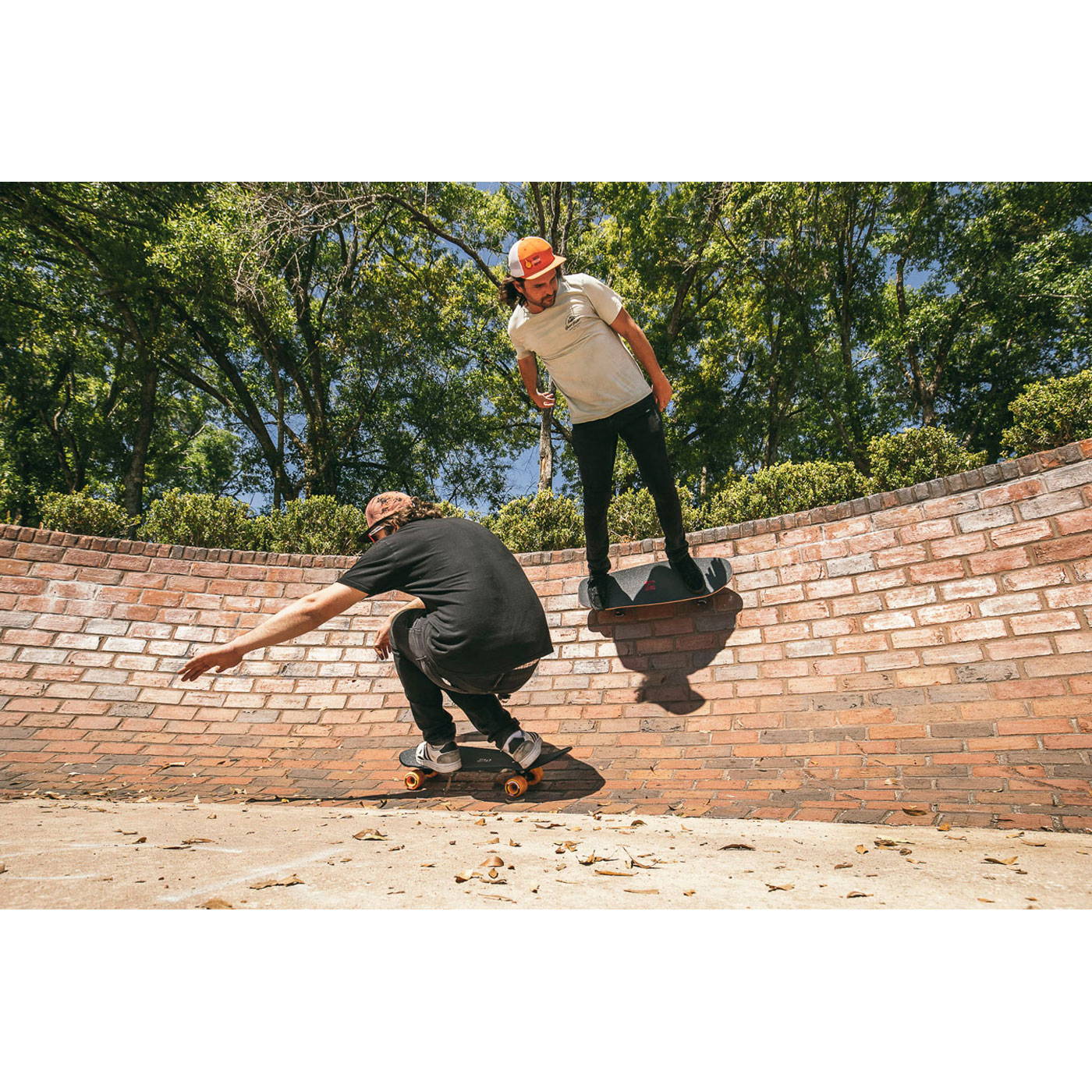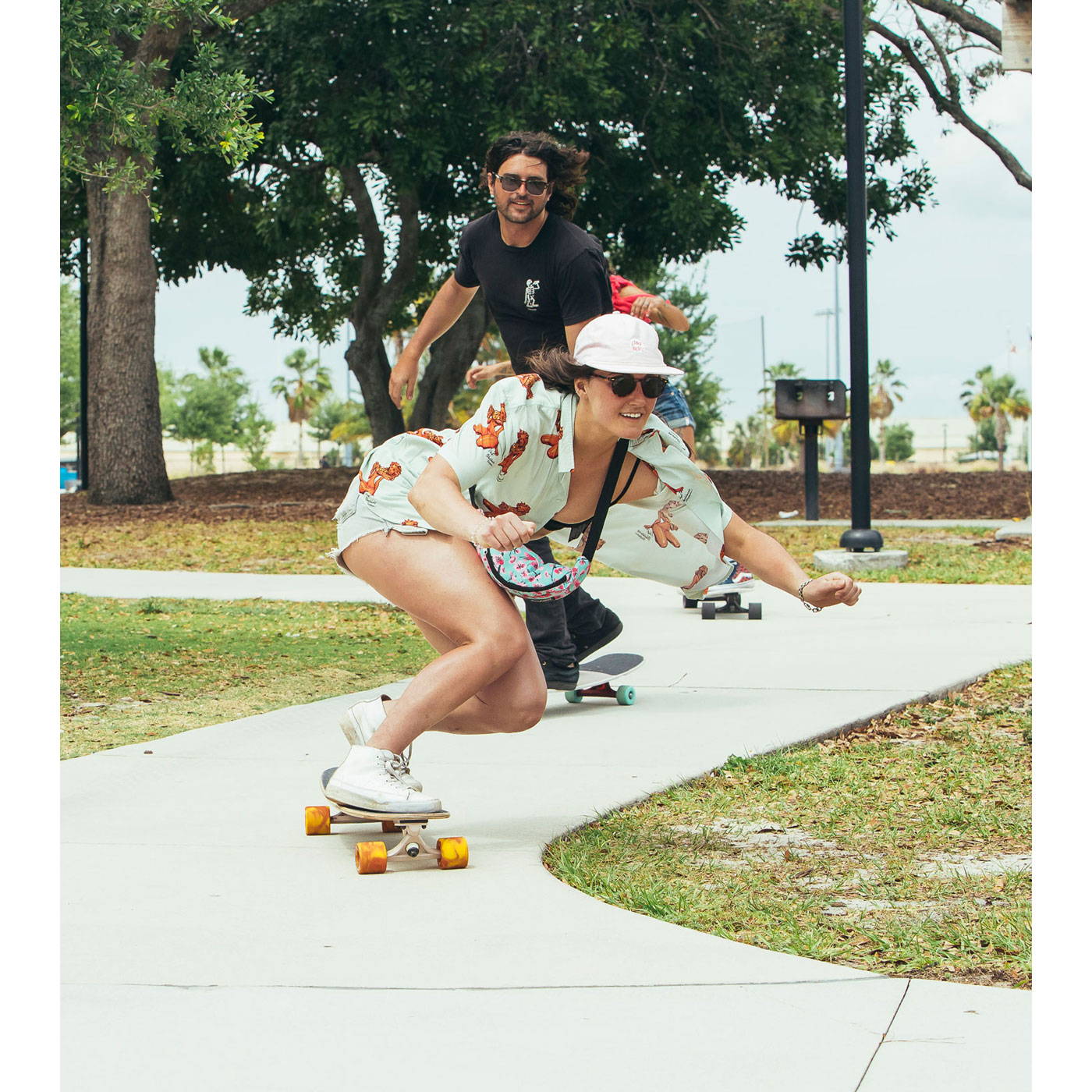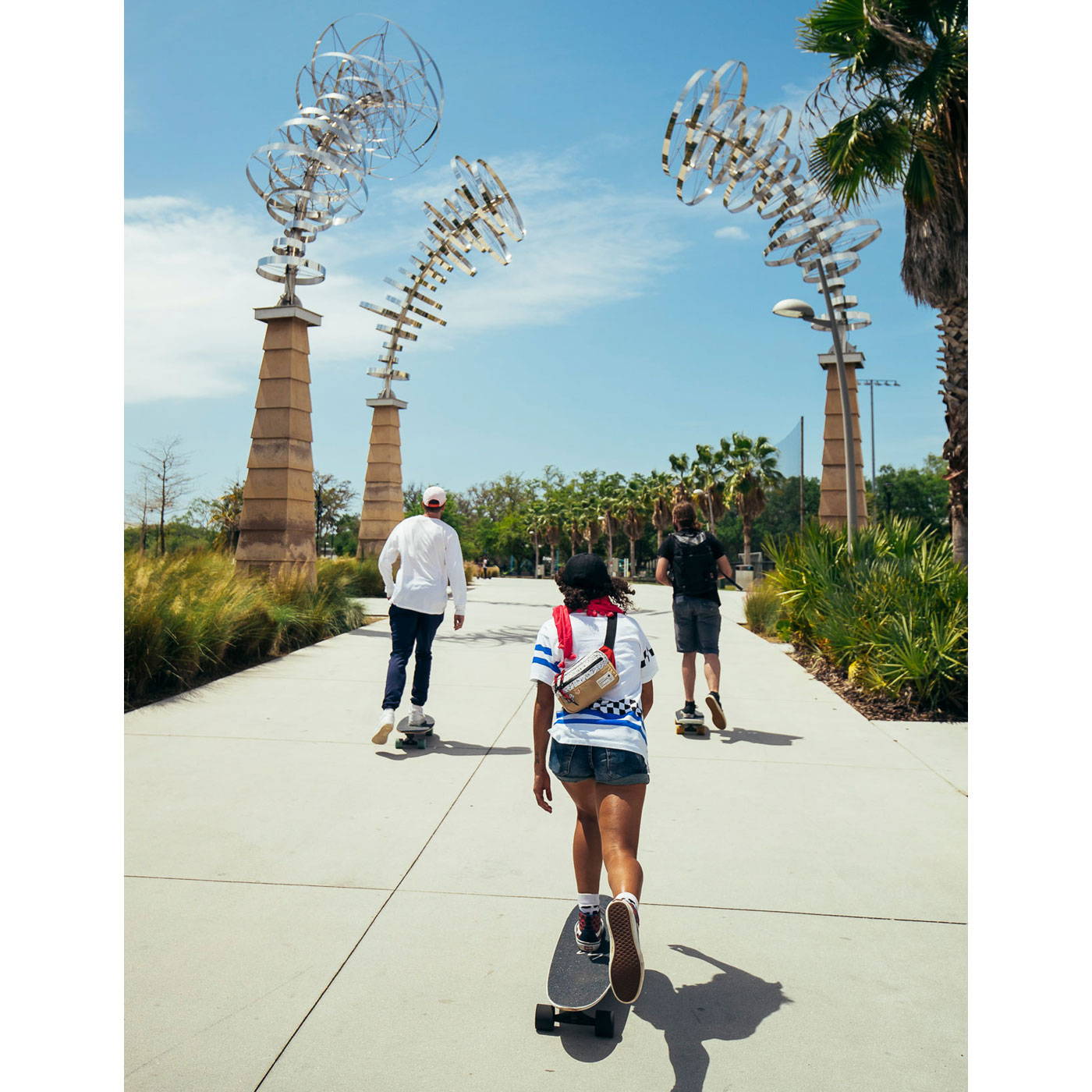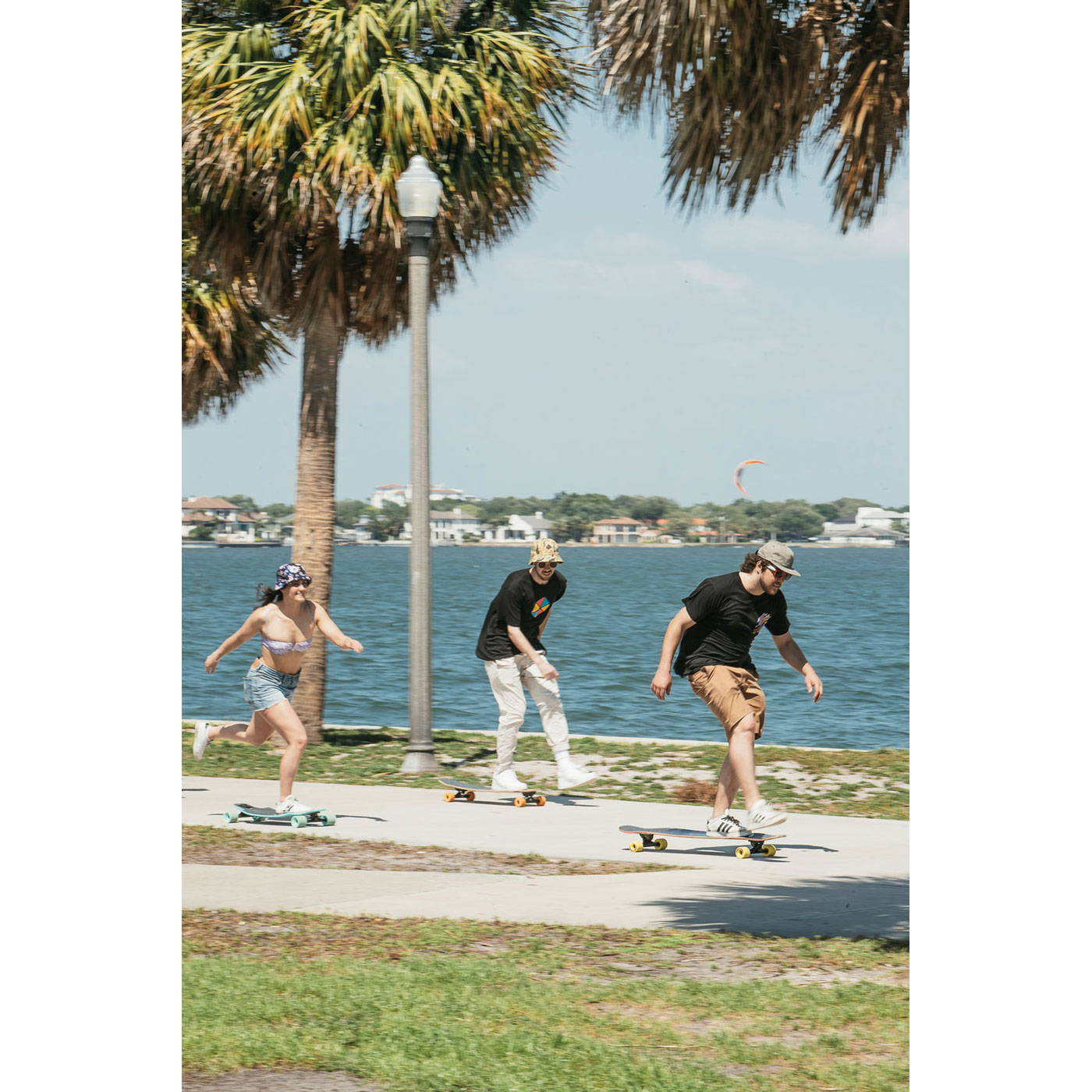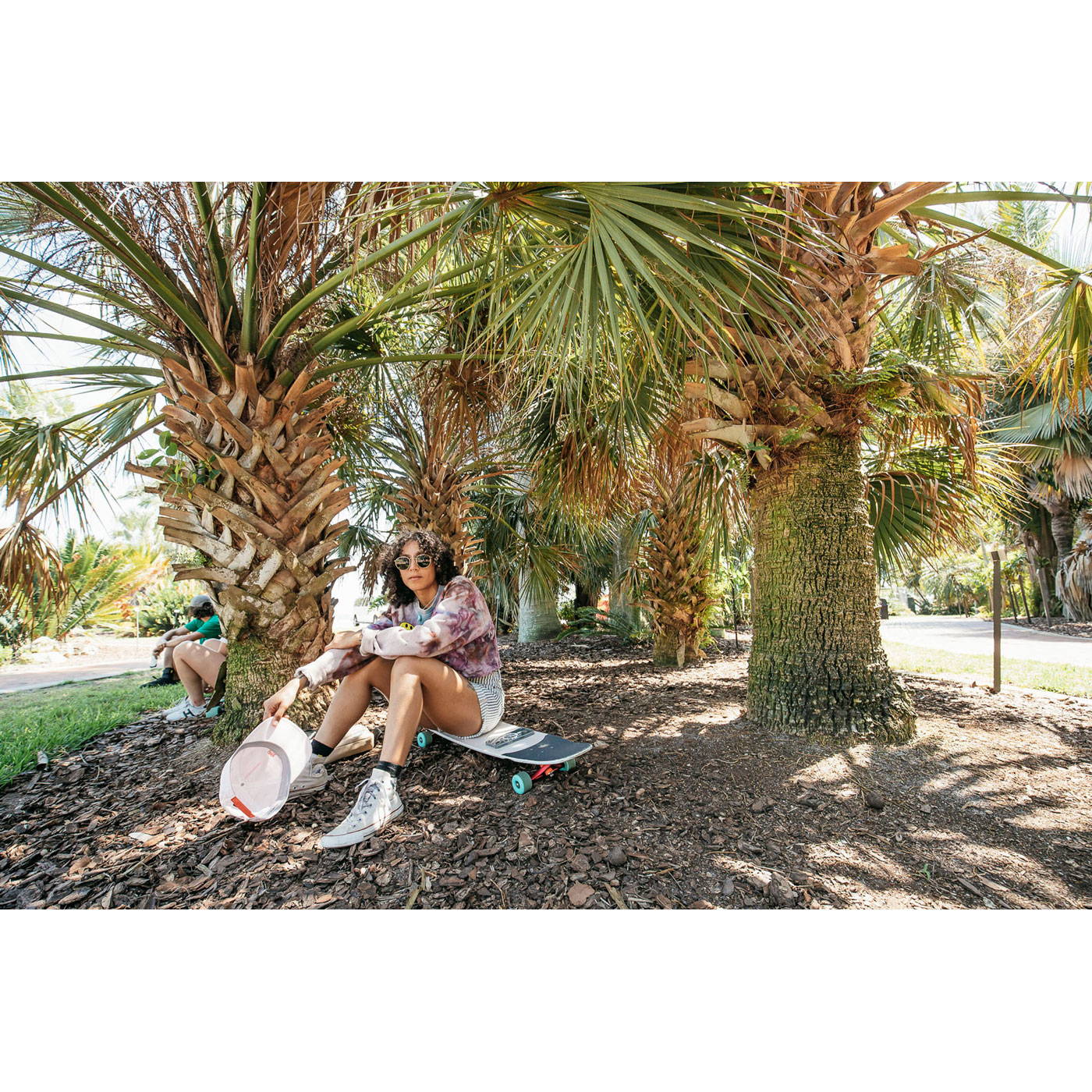 We wanted to keep hanging out at the estuary, but it was time for us to pack it in and get settled into our hotel room for the night. After all, everyone knew that the next day was going to be spent at Kona skate park. Every day of the trip was epic, but day two was special. I spent countless hours on the Kona skate park level in Tony Hawks Pro Skater 4, so to step foot on the property and see that everything was laid out exactly the same as the video game made me feel like I was getting a case of Déjà vu.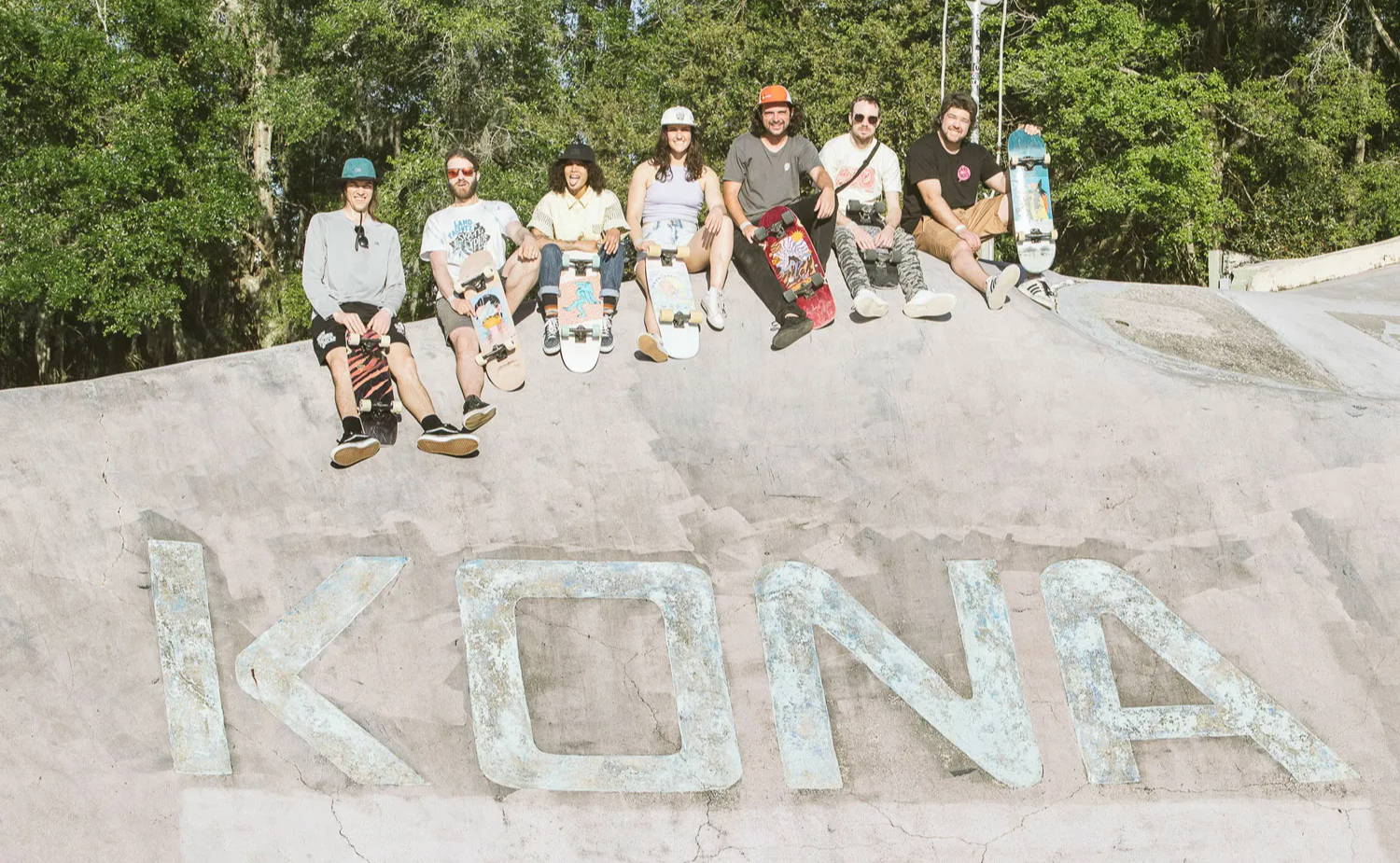 Just seeing the park with my own two eyes was something special but skating the park itself felt very natural. You can tell when a skatepark is built by people that know what they are doing. As soon as you put your board down and step on it, the park just guides you in different directions. Every single section of the park flows beautifully into the next. It turns out that you can set foot on any type of skateboard and Kona will take you for an amazing ride. The concrete was smooth, the weather was great, and everyone was having a fantastic time, except for Tessa who spent most of the day on her phone trying to get her bags back. In case I forgot to mention, Tessa's bag never made it off the plane so the possibility of her never getting it back was looming over our heads. In the end, it got resolved and we had an amazing day of skateboarding.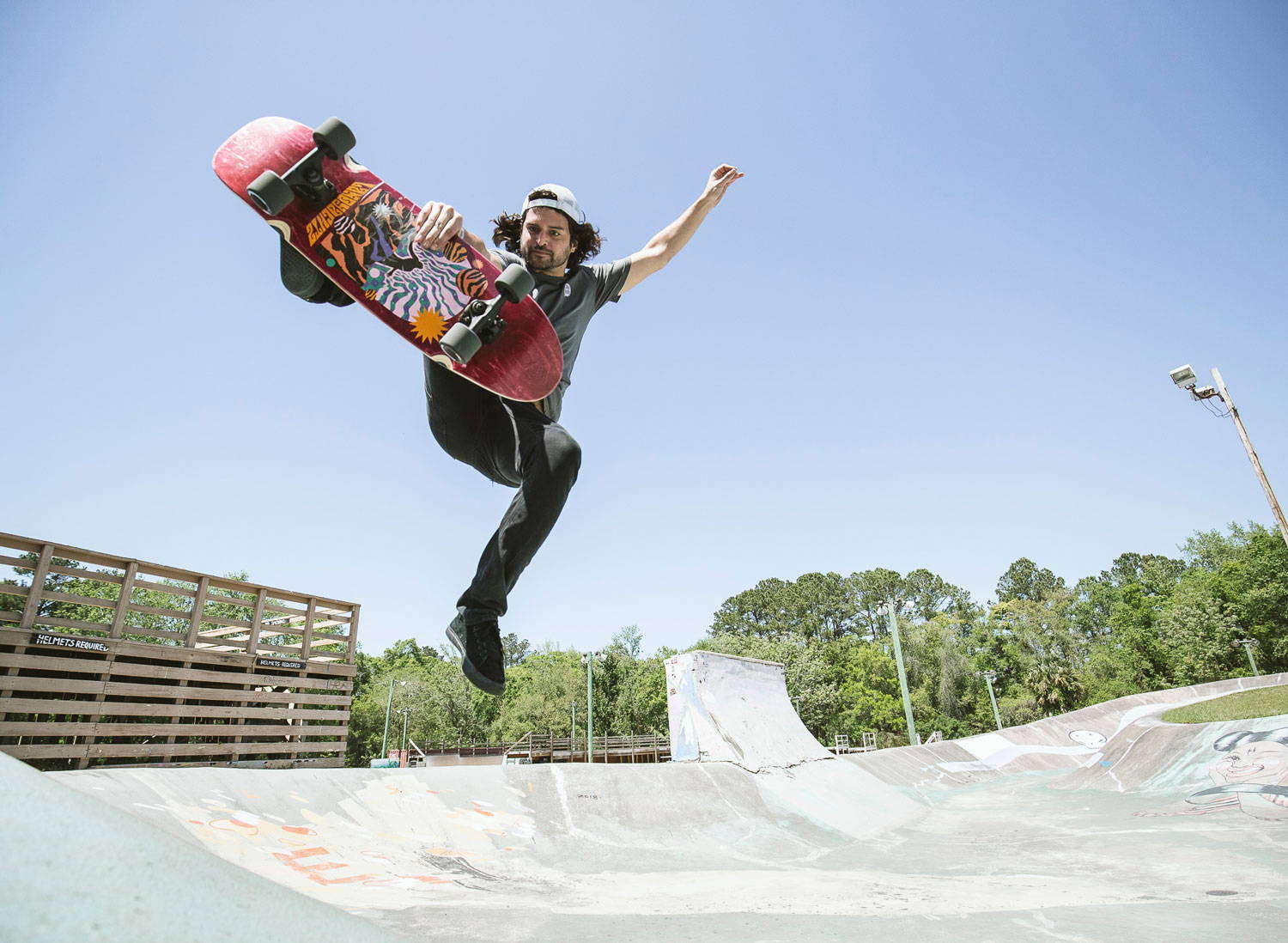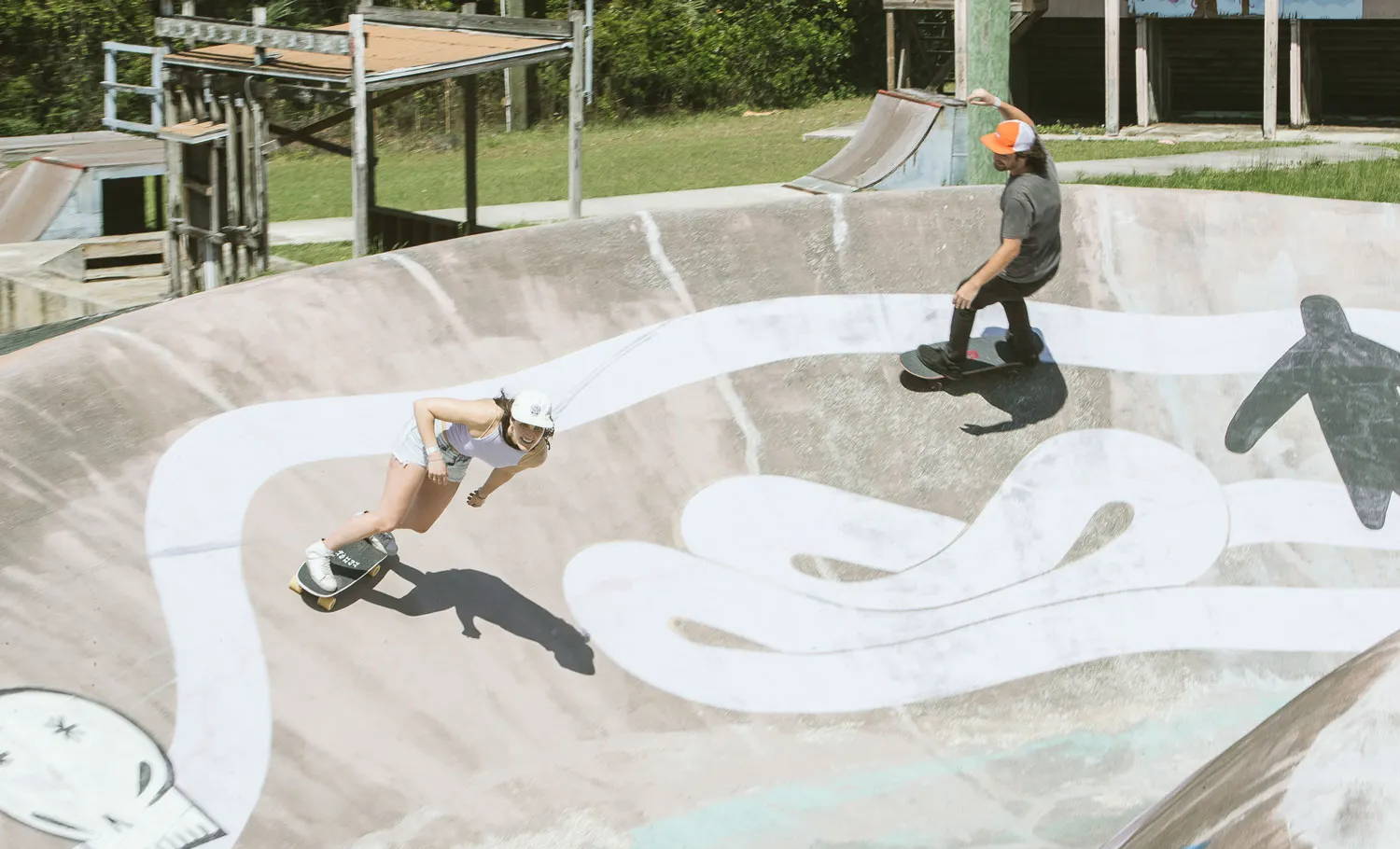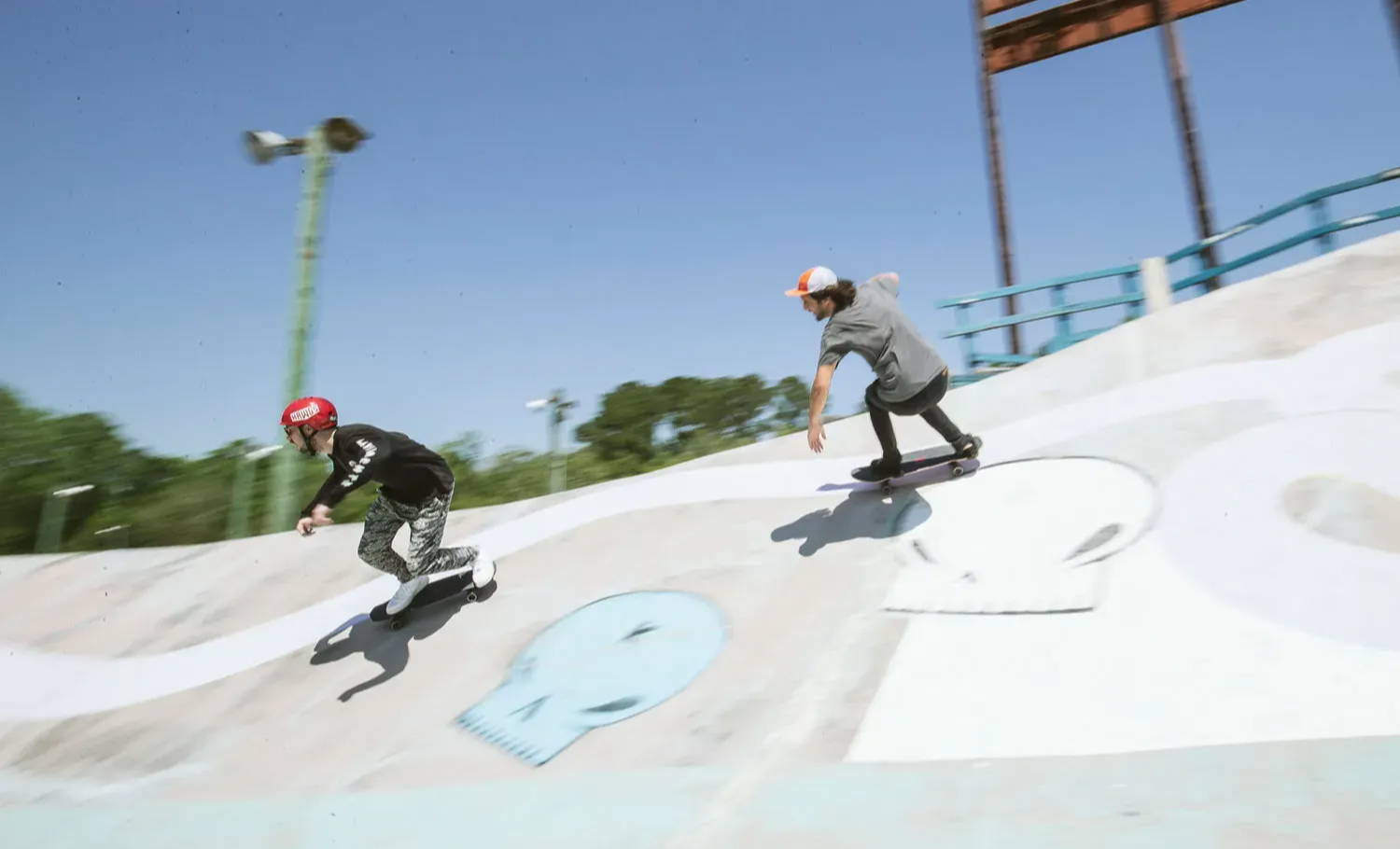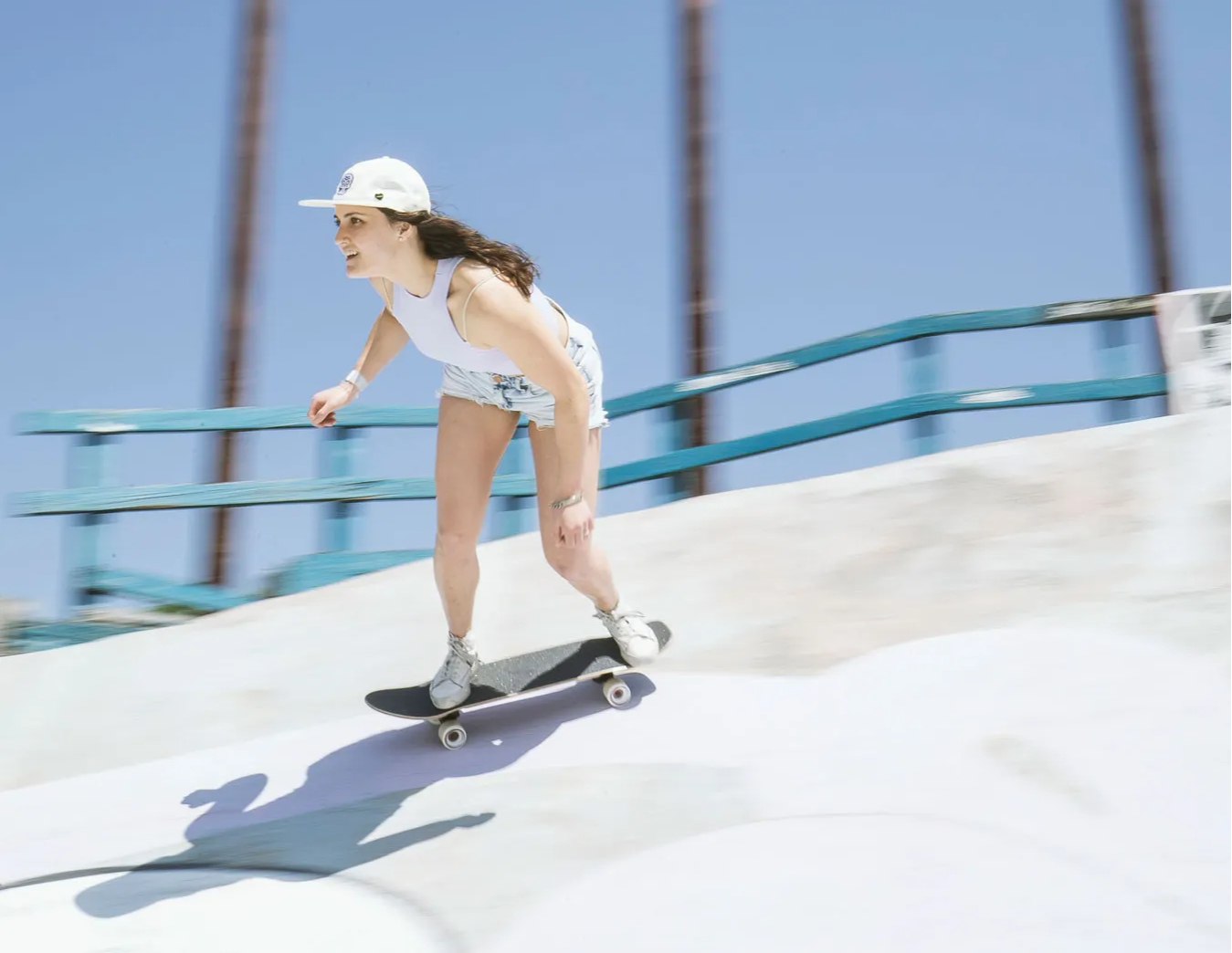 The end of day two was spent driving out of Jacksonville and into Tampa. This was something that everyone looked forward to for multiple reasons. We were going to the Atlantic Ocean! We arrived in Tampa late that night, after eating some Chinese food in a parking lot, and were absolutely ecstatic to be able to unload the van and get everything into our Air BNB. We were going to be at that same BNB for the next five nights, so we had a home base!
Day three was getting out of the Ybor district, where our Air BNB was located, and piling our boards in the van for the day. We were headed to skate and explore in St. Petersburg! St. Petersburg offered lots of incredible seawall cruising spots, and we busted out the boards for a sweet brick pathway. The pathway was a maze through a little park that was filled with unique tree species, but after we were finished with the brick path, we headed down the seawall where we found a nice spot to post up at, and everyone was busting out some dancing moves. We were thoroughly enjoying the sunshine at this point, especially since we were just coming out of a very long winter up in Canada. Carla was forcing us all to where sunscreen, which saved our butts bigtime, thanks Carla!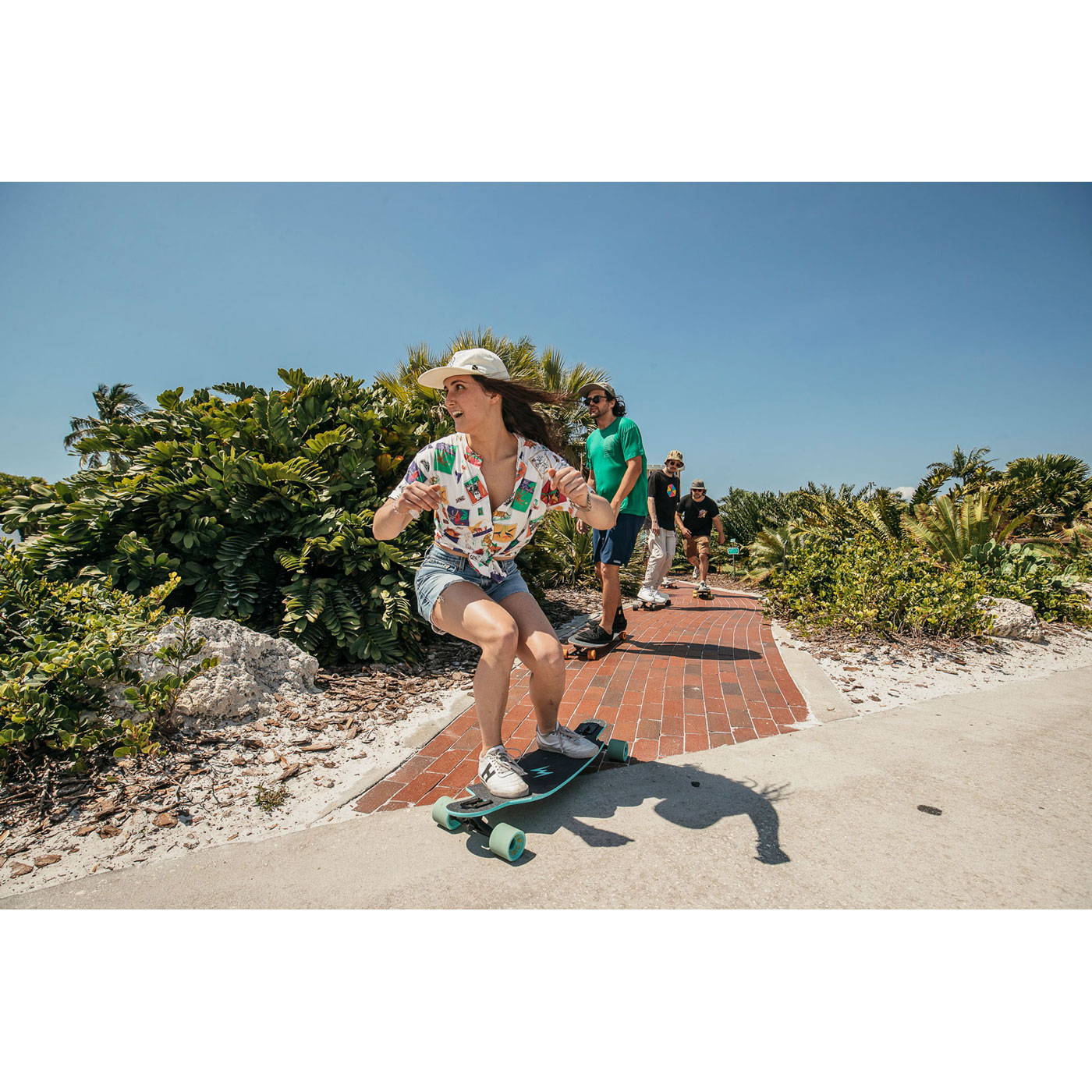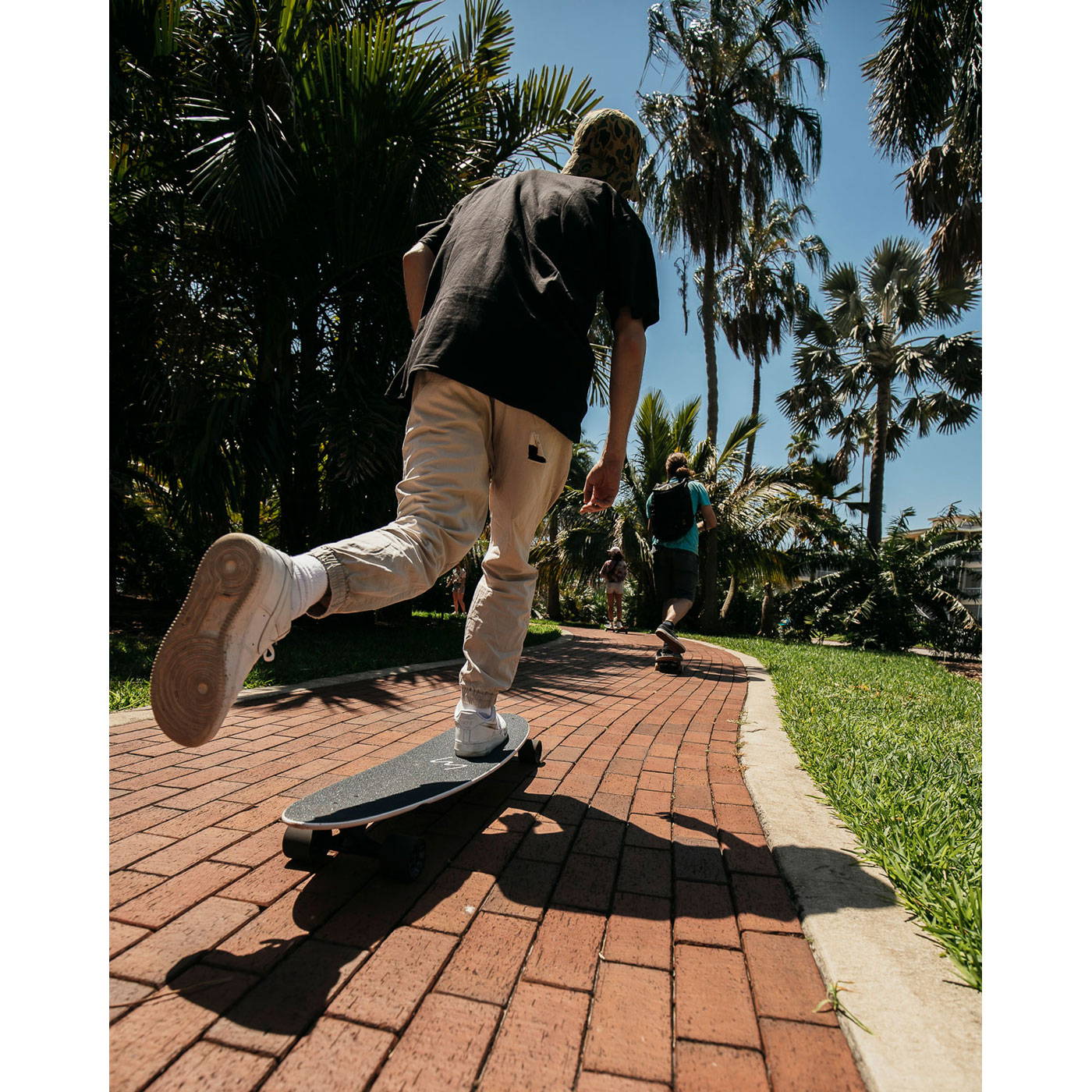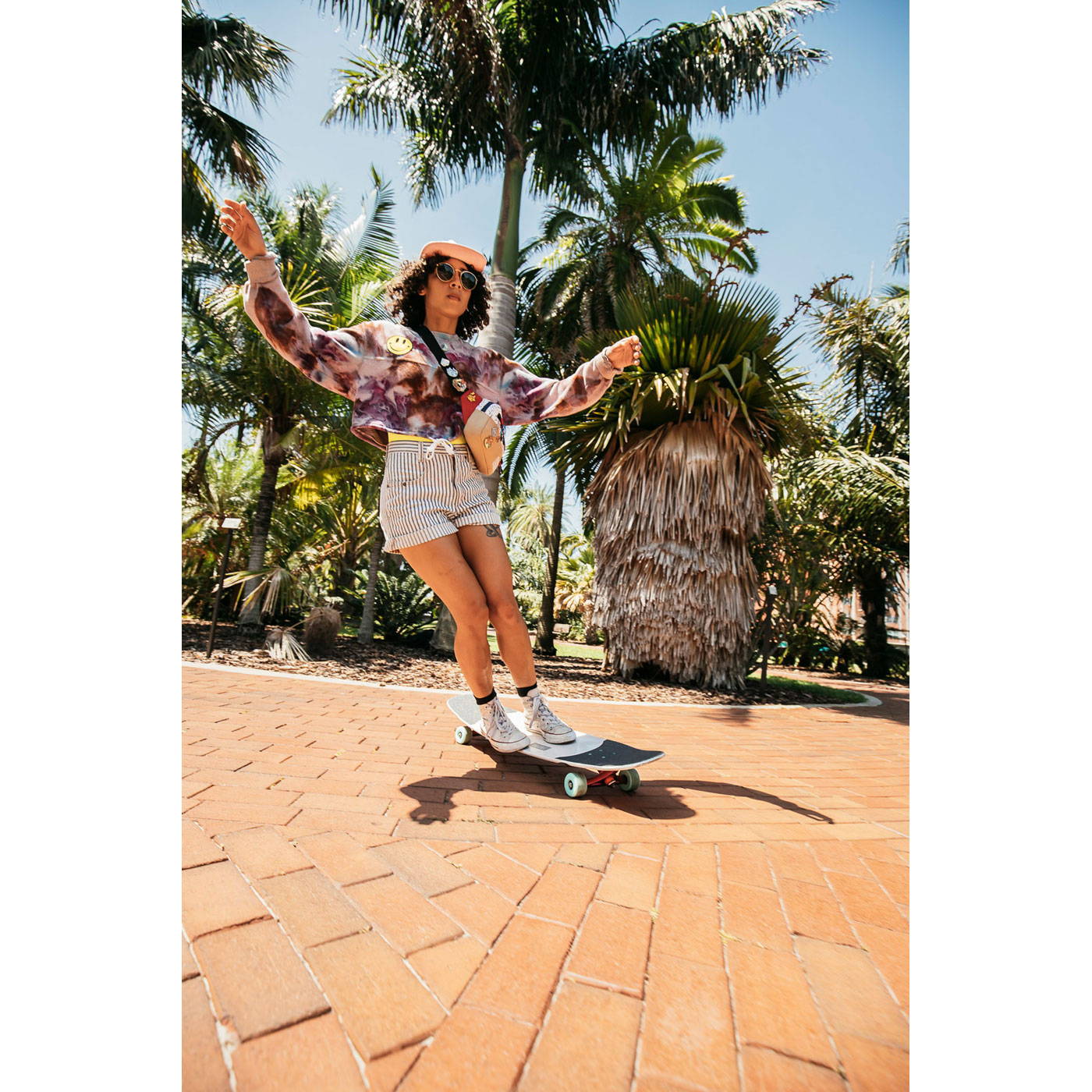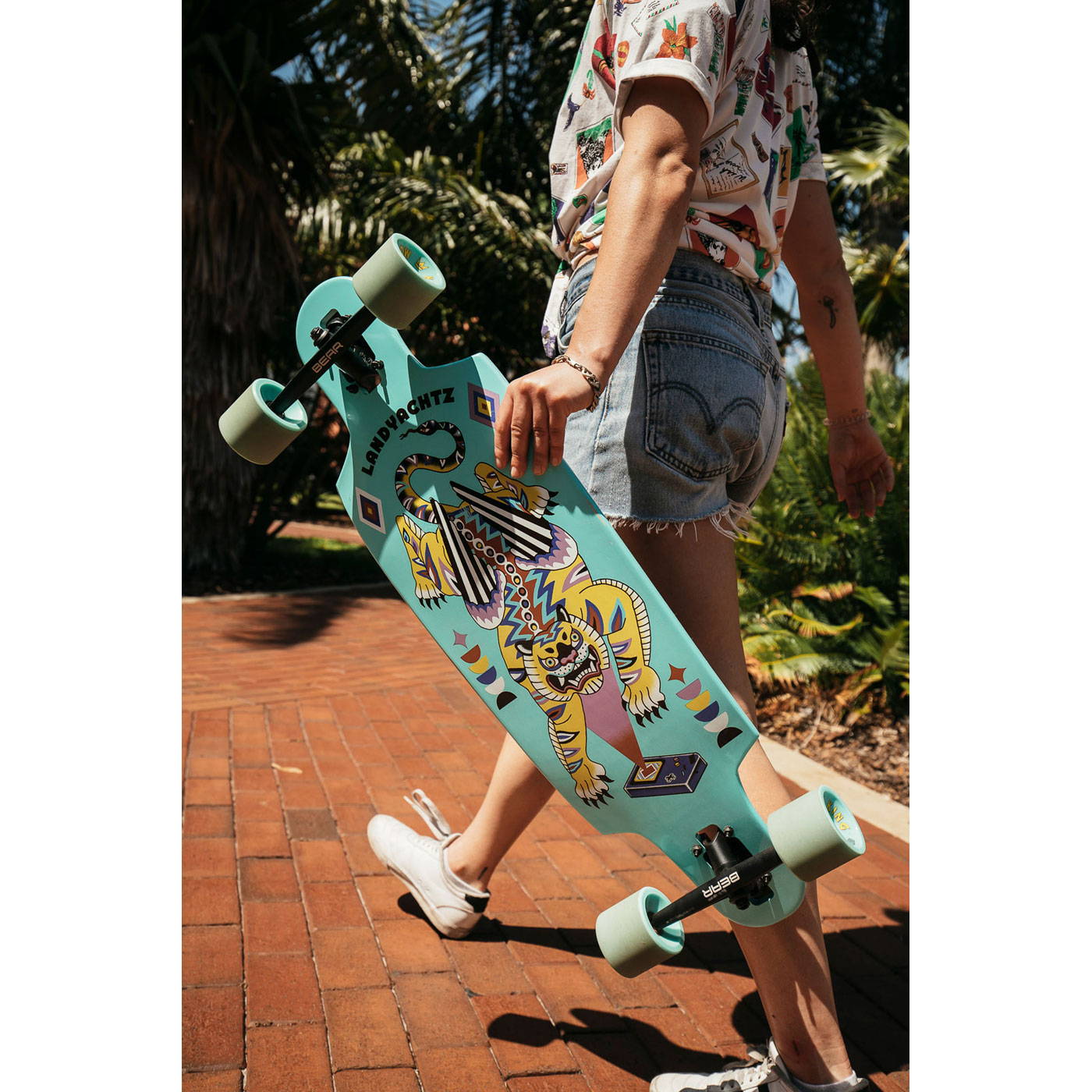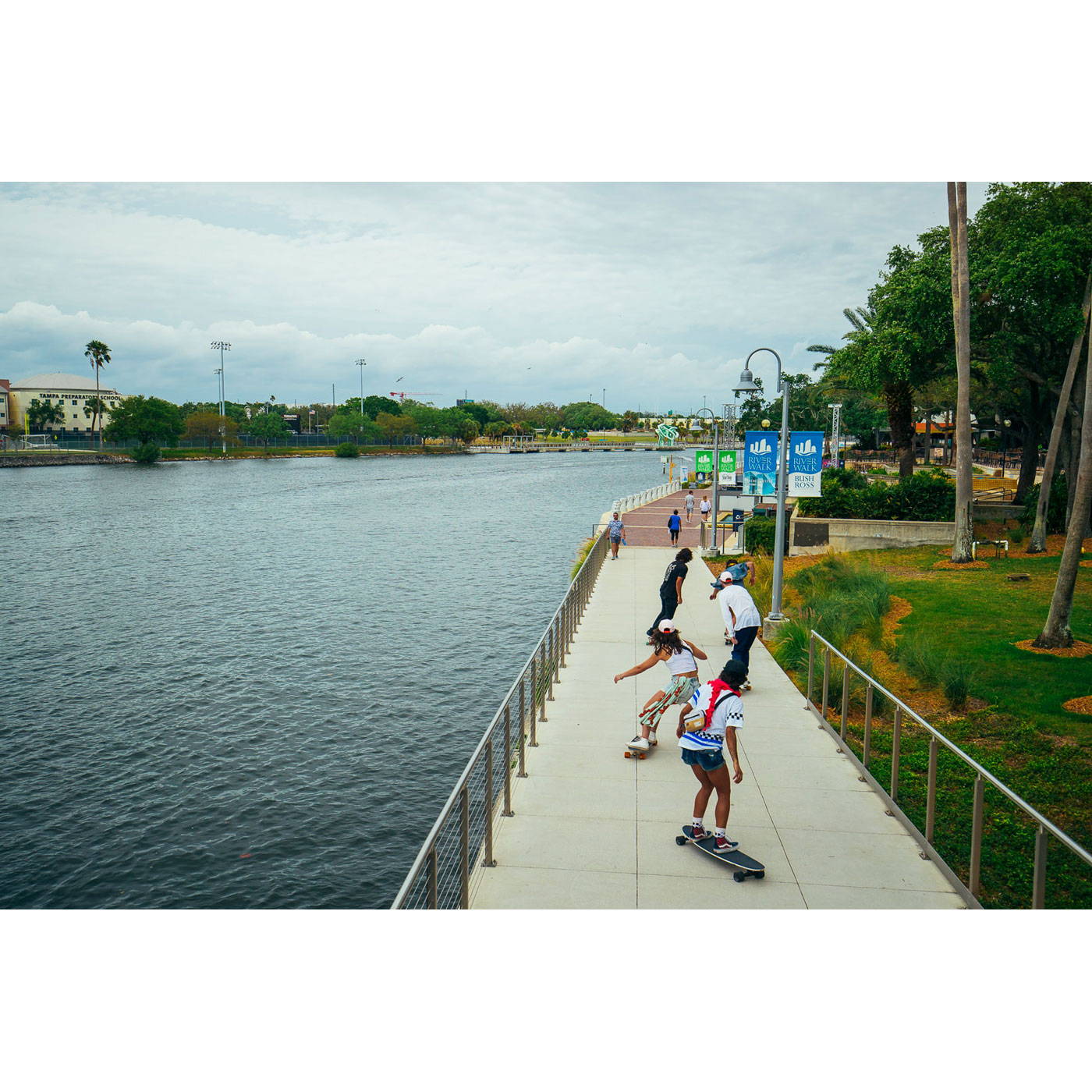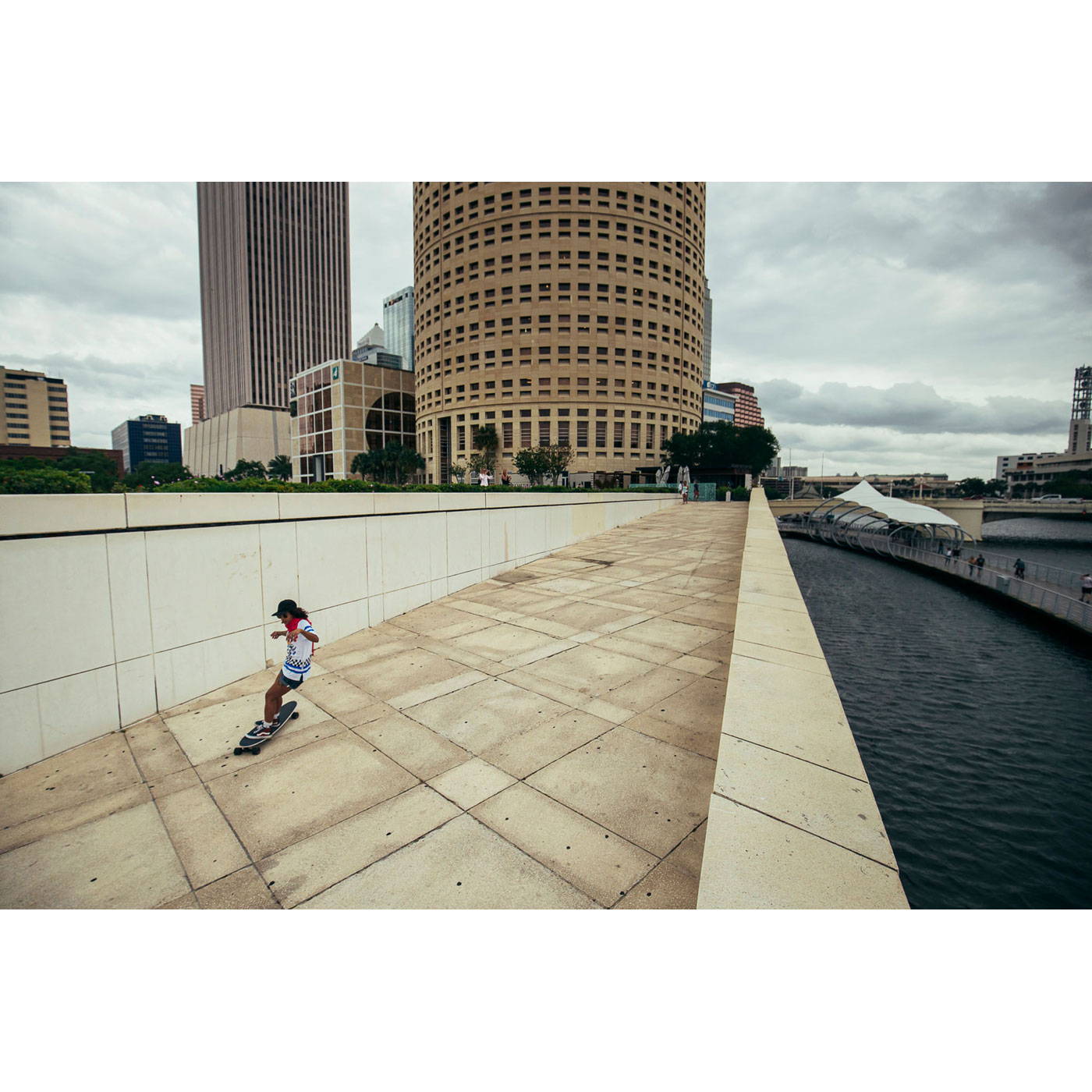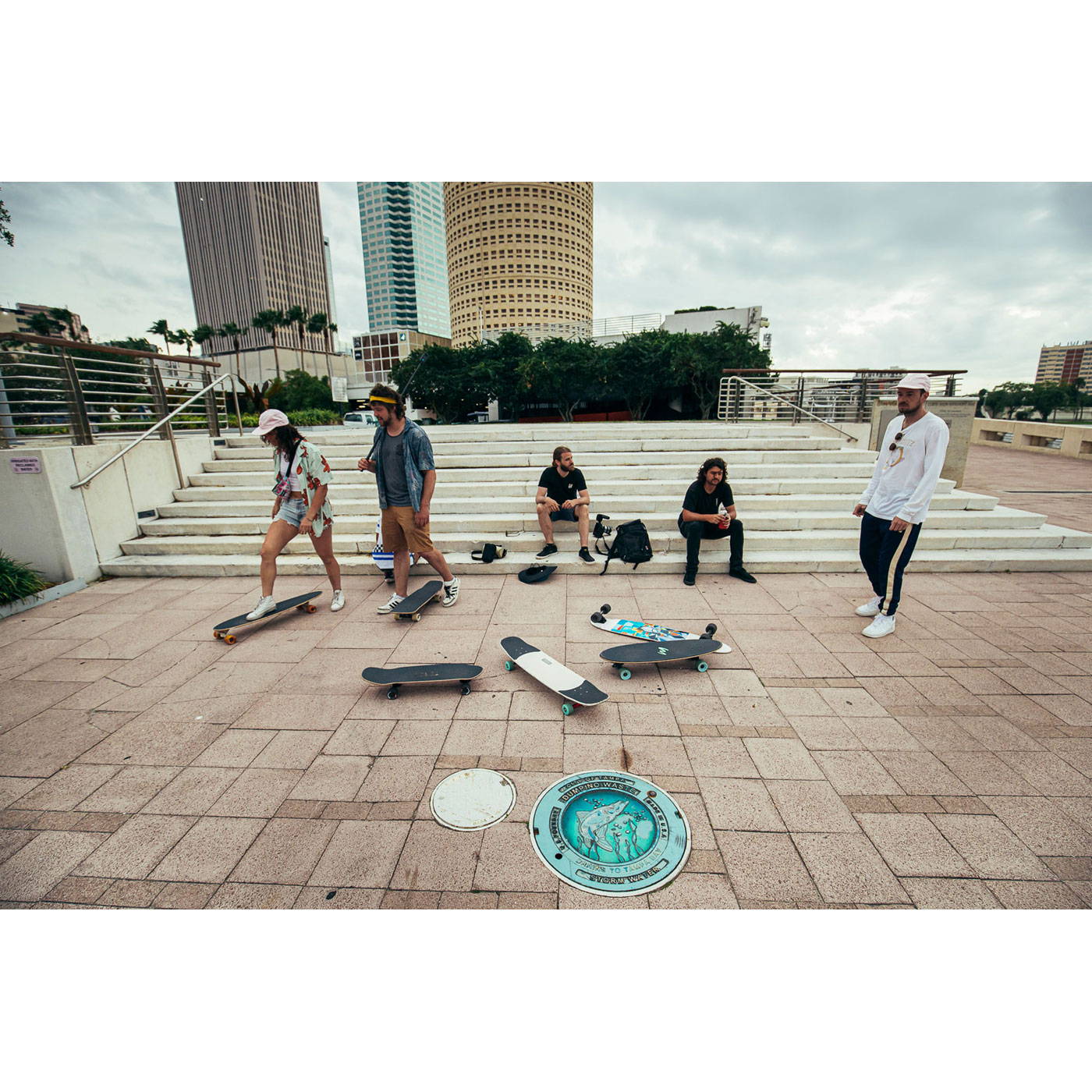 After watching some dolphins and exploring the area, we jammed into the van and headed over to the beach! We stopped for a quick rip at the pink palace on the way to the beach spot, always take any opportunity to ride a hill when you're in Florida, they are hard to find! These skate trips are always jam packed, and sometimes there isn't always time to do the things you want to do, but we deserved some beach time. We played in the waves, wrestled an alligator, had some pepperoni and cheddar snacks, and then washed all the sand off and piled our tired bodies back into the van to head to the next spot.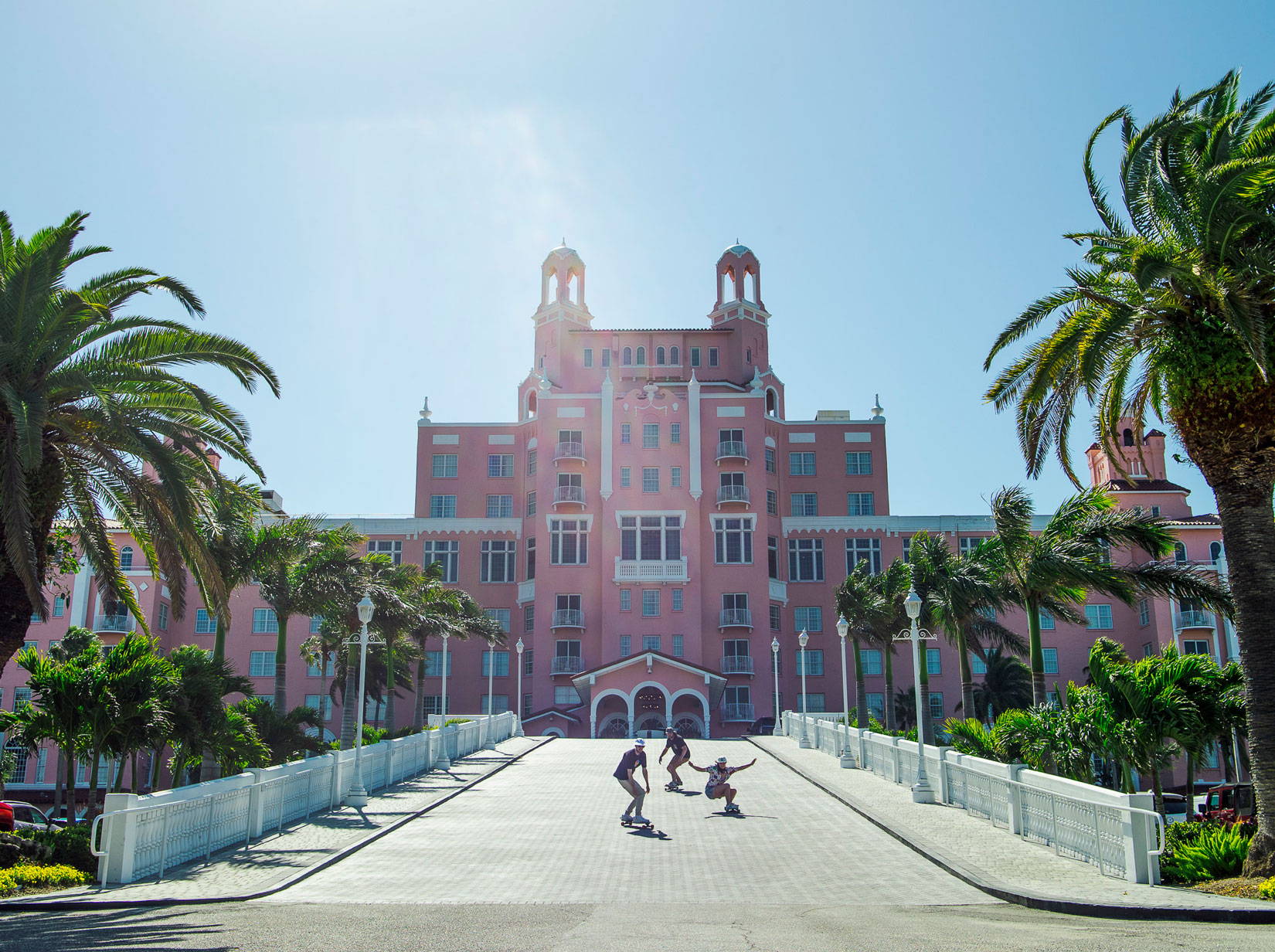 The next day was a long one. We went to check out some river paths! Landyachtz boards are ideal for river paths and boy did we find some nice spots, that's what skating and exploring is all about. When we are preparing for these skate trips, we always make sure to take a good look around on google maps and plan out the spots ahead of time. We always sort of know what to expect when we start the day. But on the other hand, you never really know what you are going to find during the day. Epic plazas, smooth concrete, beautiful scenery and even some local skaters are all some of the epic stuff we encountered during the day. Day four produce lots of epic imagery. I think we were cruising for 10 hours on this day, so everyone was absolutely burnt out by the time we finished.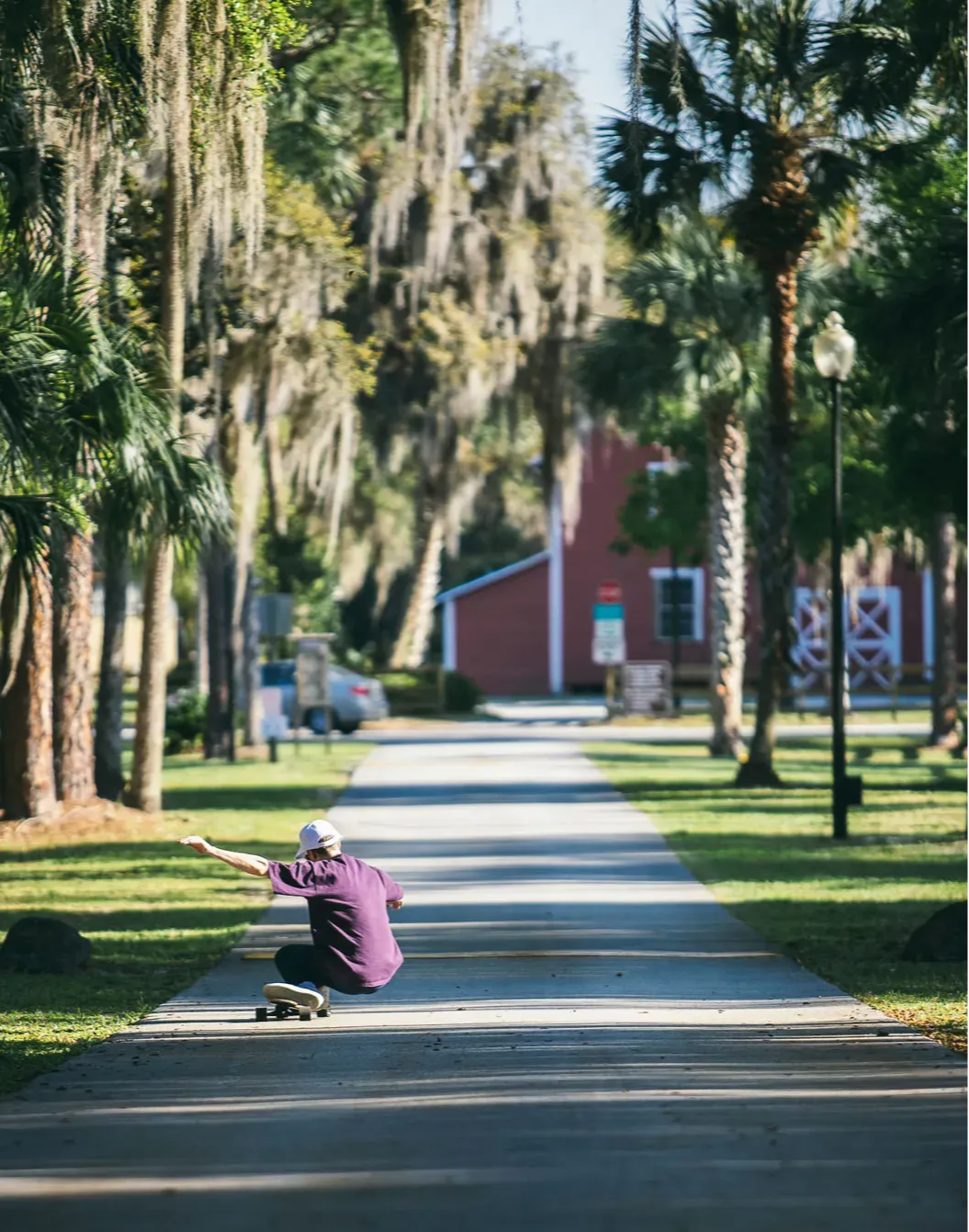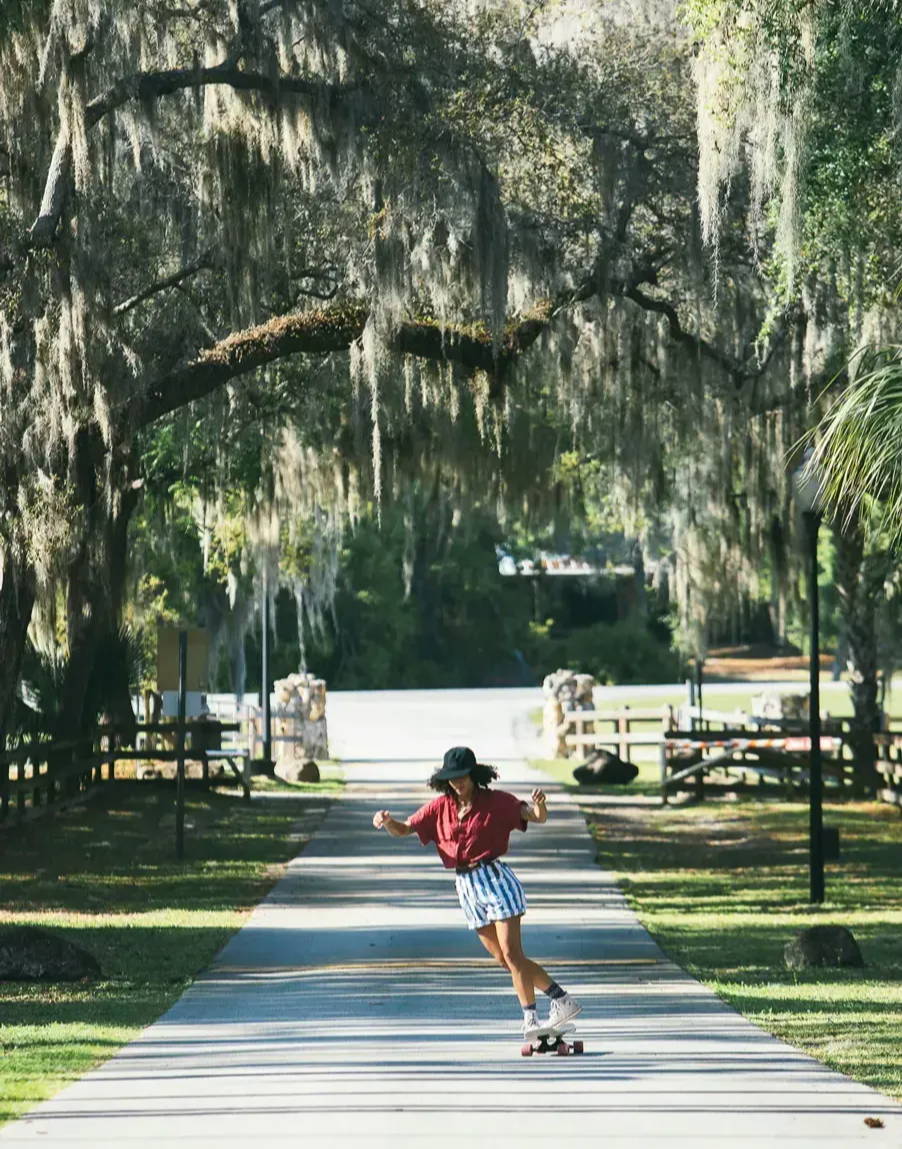 We thought we were done, so we went into the downtown core for some snacks and to rest up a bit. We took a look at our bingo card and realized that we are surrounded by bridges! We decided to keep skating and cross of some bingo slots! This session went late into the night, and we went back to one of the spots that we were at earlier and got kicked out and skated a bridge, two important bingo items! Just when you think you are done skating, take a good look at your bingo card and you will find the motivation to keep rolling!  
Florida has been absolutely epic so far full of skate and explore vibes and maybe good times. I mentioned Bingo, check out the video above to see how much fun skate bingo is! You get a bingo card with you're online order, so grab a board and get out and skate and explore now.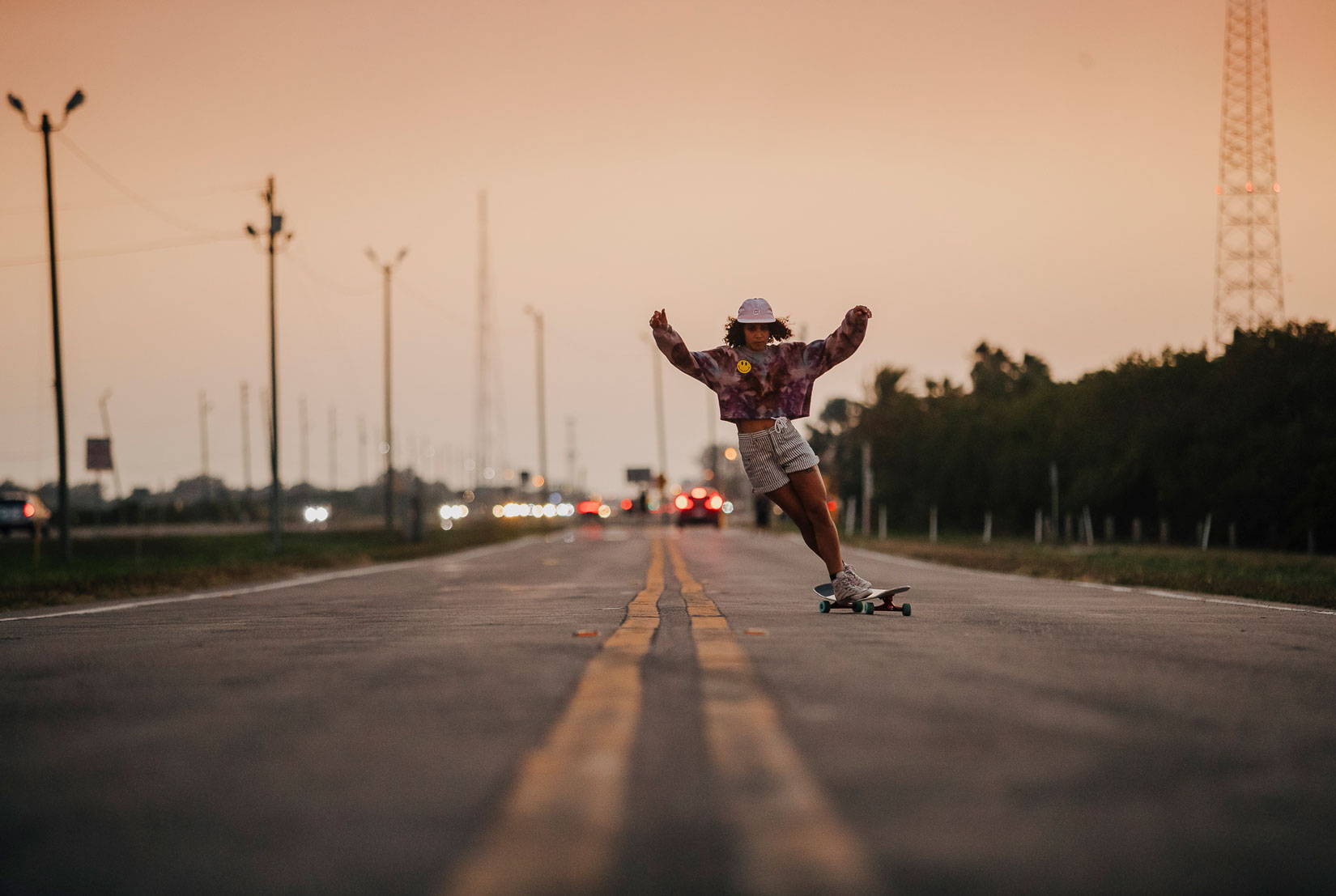 ---
Boards we loved skating in Florida
---