On the Road with Carla Javier-Brea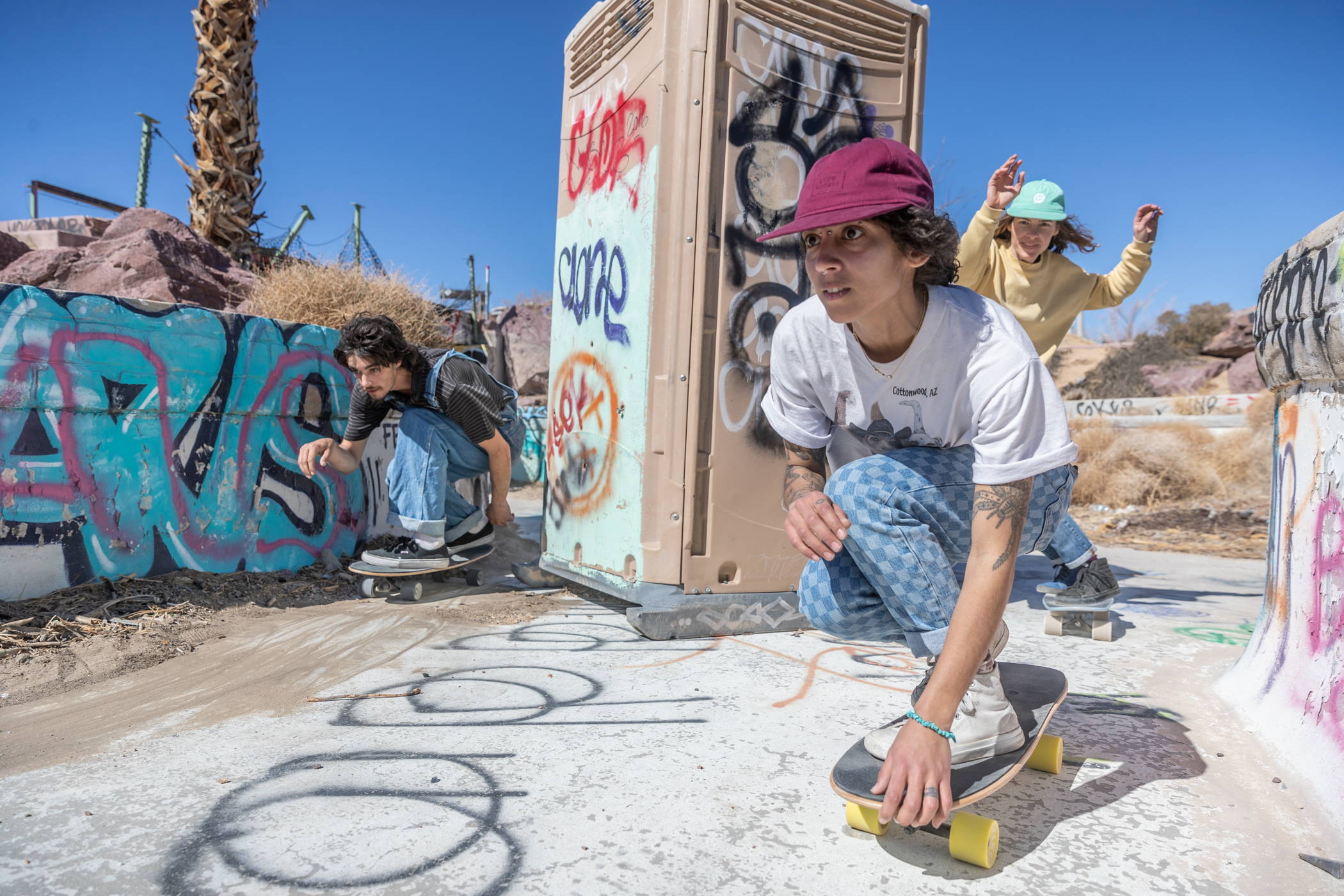 - On the Road with Carla -
Words by Carla Javier-Brea I Photos by Khaleeq Alfred
Before we begin, I'd like to point out that our community's safety, as well as our own, is our priority. The Covid-19 pandemic has brought and uncovered countless hardships for many people, and it is important to point out that being able to travel is not only a privilege, but something that needs to be done with excessive care and responsibly. If you are able to get out there and skate, this guide will help you do it safely. We followed all CDC safety guidelines for this trip and would encourage anyone thinking of traveling at this time to research the recommendations in their local area.
On the evening of Feb 14th a loving gift from the universe (one would like to assume) in the form of a humongous tree came crashing down from the heavens onto the roof of my house. It's trunk lay right over the chair I planned to sit in to drink coffee and admire the works of Portland's latest snowpocalypse. At that moment everything about life seemed pretty unbelievable, and while I let the chill down my spine melt from the close call and realizing I had slipped being at the wrong place at the wrong time by a hair, my mind was preoccupied with other things. It was a thought that I grasped days later when we set out towards the Southern California deserts, on a two week Skate & Explore trip to shoot the 2021 Landyachtz Lineup with two of my closest friends.  
On the morning of Feb 17th, we trekked through the ice and snow and packed Cat's van with a vast array of boards, guitars, art supplies, camera gear, a purple harmonica, and other essentials one needs to survive, such as water and food. Time tends to stretch out when you have a loose agenda regarding where and when to be in some places, it's good to have options to keep yourself busy since things don't always go as planned.
As we drove through the snowy PNW forests, it was hard not to wonder what we would find along our journey, how things would go, and the people we would meet along the way. It's the first skate trip we've ever done in the midst of a global pandemic in full swing, especially in the US.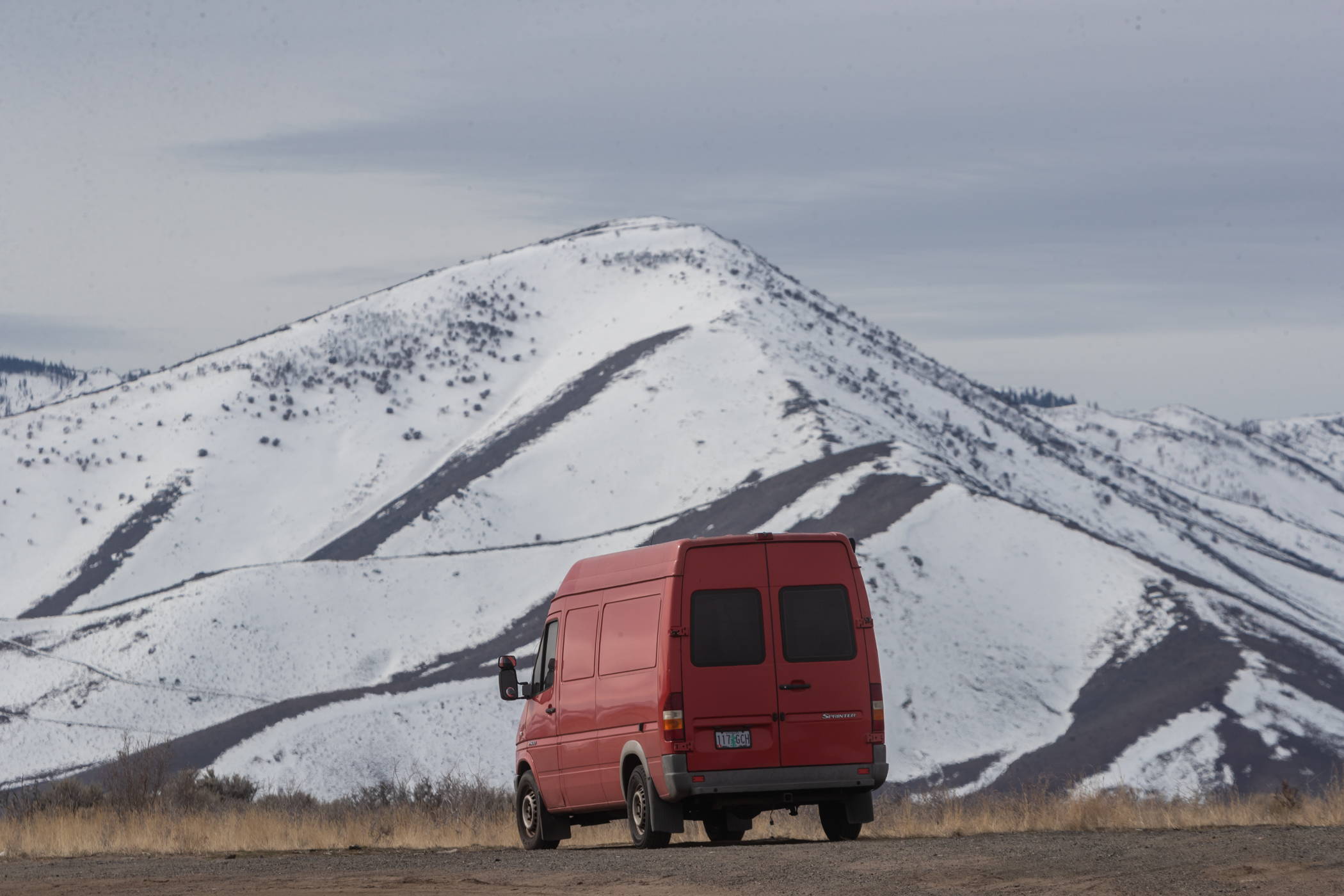 Traveling During Covid
I think it's safe to say that traveling in the times of COVID-19 are uncertain at best. You need to fully accept and make peace with the fact that things not working out the way you want, or not being available to you is not only very possible but almost guaranteed.
Scroll to see my travel tips and keep them in mind:
Tip #1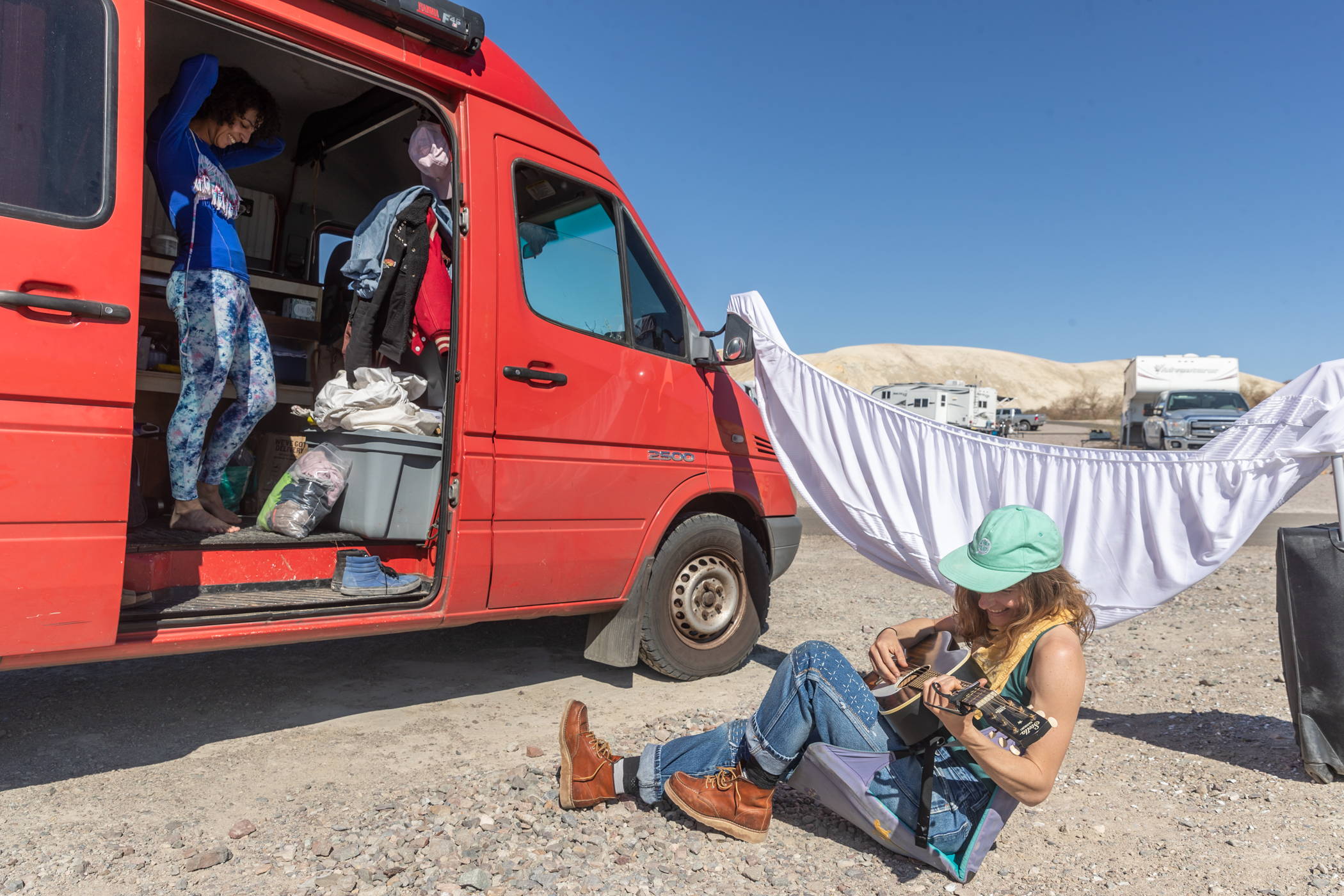 One way or the other, learn to take joy and excitement in the unknown possibilities that can lie ahead. It's a gamble, in a lot of cases you have to hope for the best like with finding safe, free places to park or following your gut to find a spot for a good shot.
Tip #2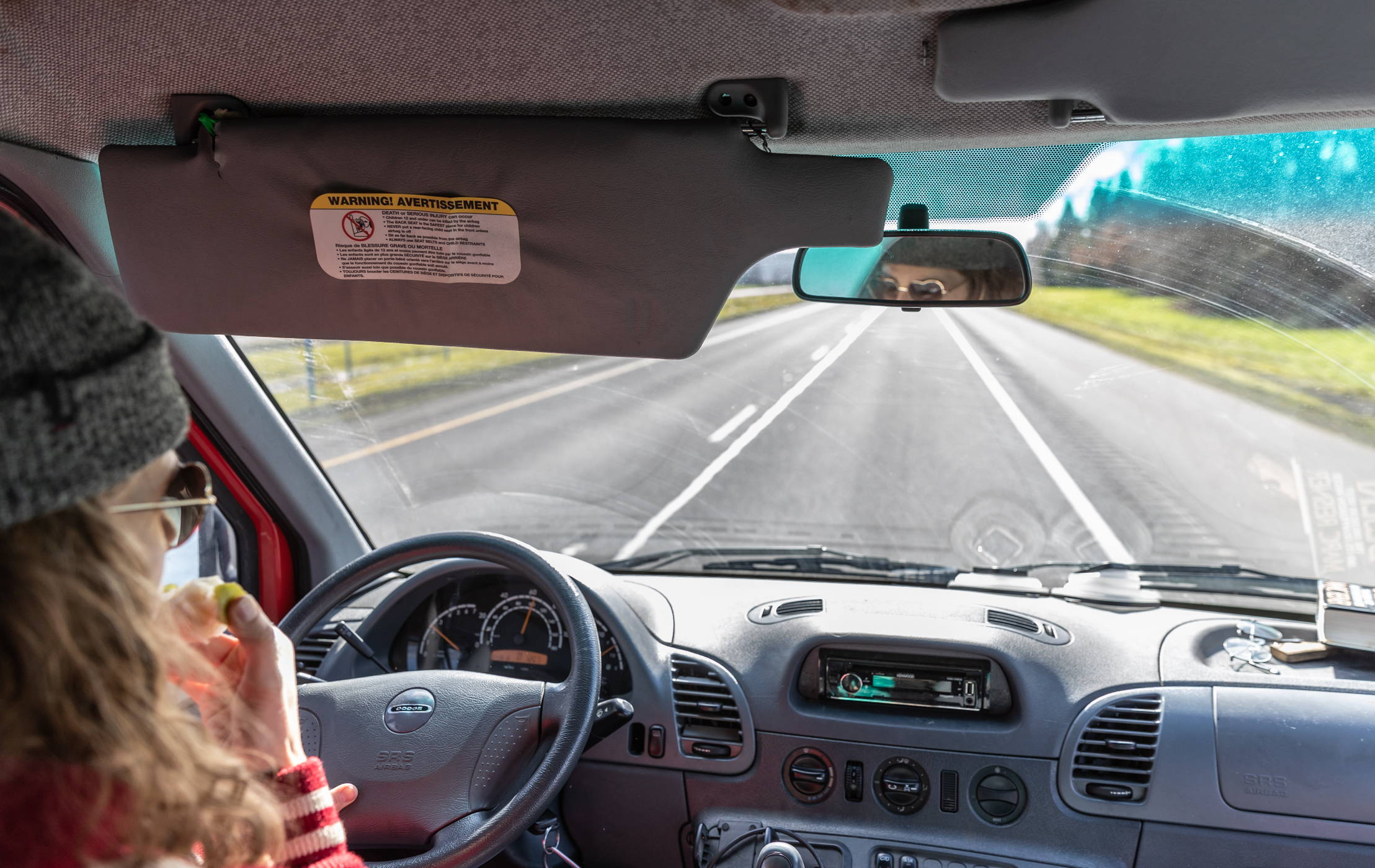 Traveling can be unsafe, depending on where you go. We encountered a lot of people not wearing masks and completely unaware of how social distancing works. My two cents; try to make the least amount of stops. It will lower your chances of exposure. Packing non-perishables or things that don't need to be refrigerated is a good move too. You don't need much to have a delicious meal while on the road.
Tip #3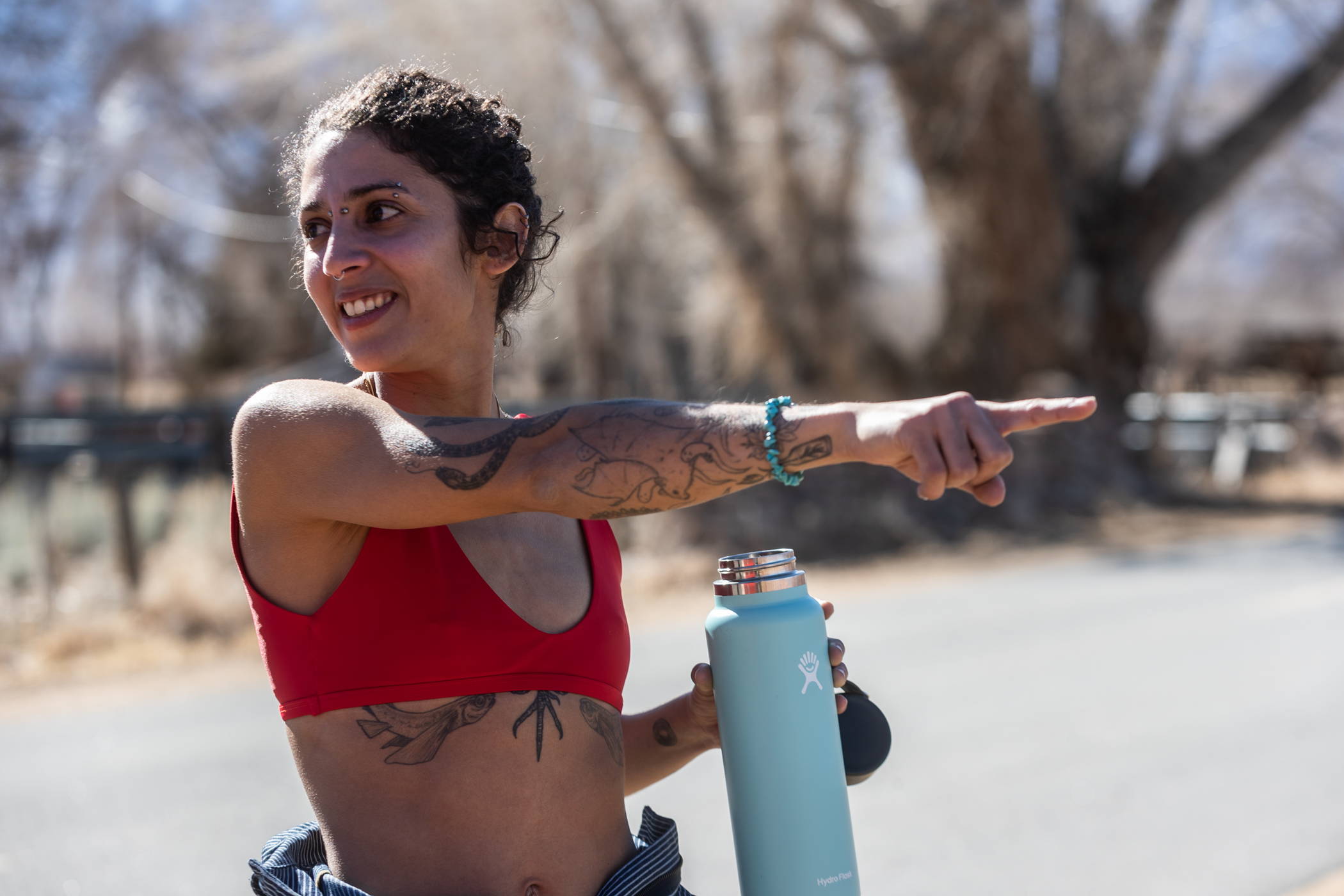 Take the chance to refill your water bottles and/or go to the restroom when you come across them. The majority of the gas stations or markets we stopped along the way had "out of order" restrooms. Many of them didn't have soap, so load up on that sani. Making stops to rest and admire beautiful sights is not only valid, but greatly encouraged.
Tip #4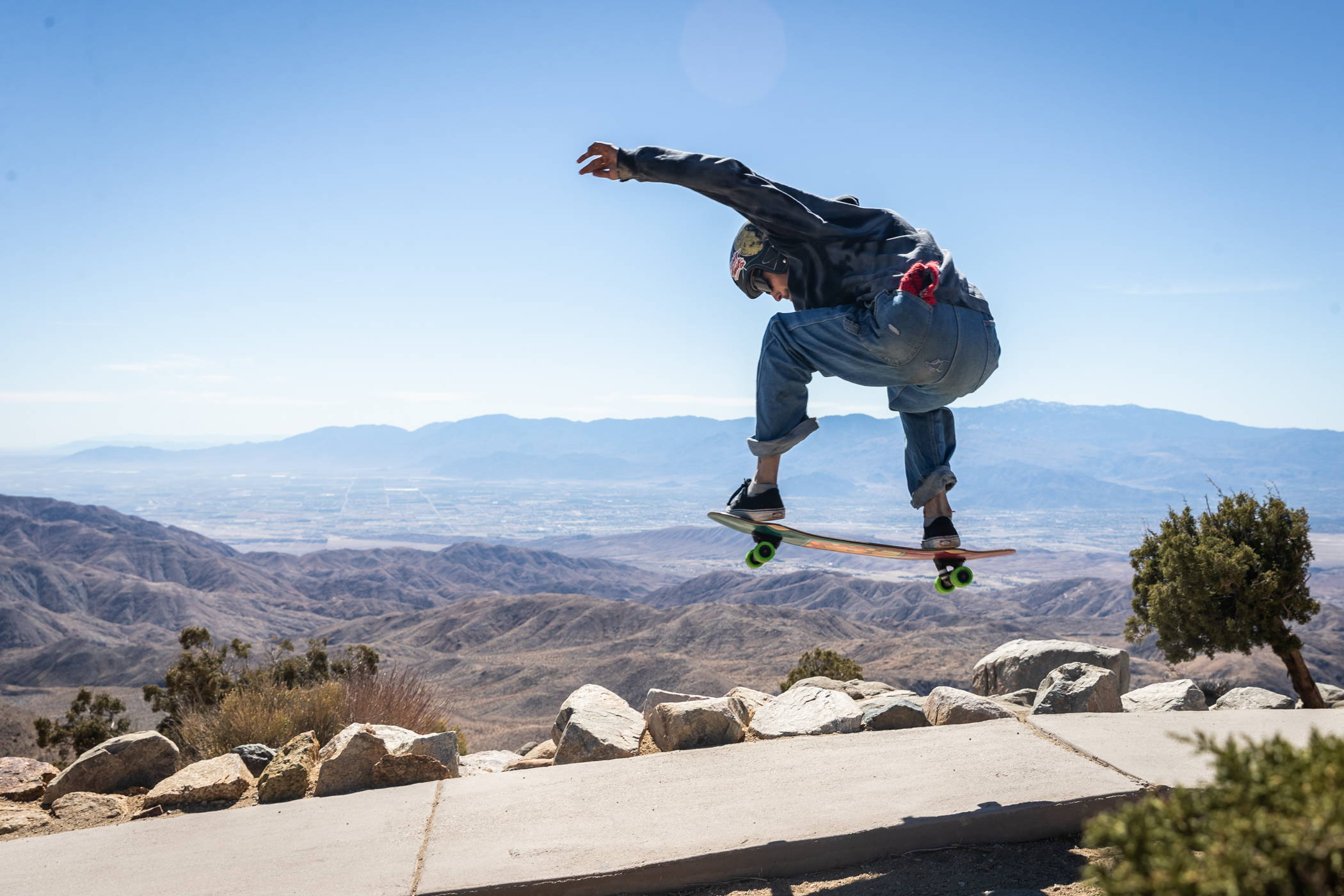 Do it now rather than later, because it's available and sure right now. A lot of businesses were closed or had limited hours due to COVID. The same thing applies to that possible spot that caught your eye while you drove by, you might not find anything like it on the rest of your trip.
Tip #5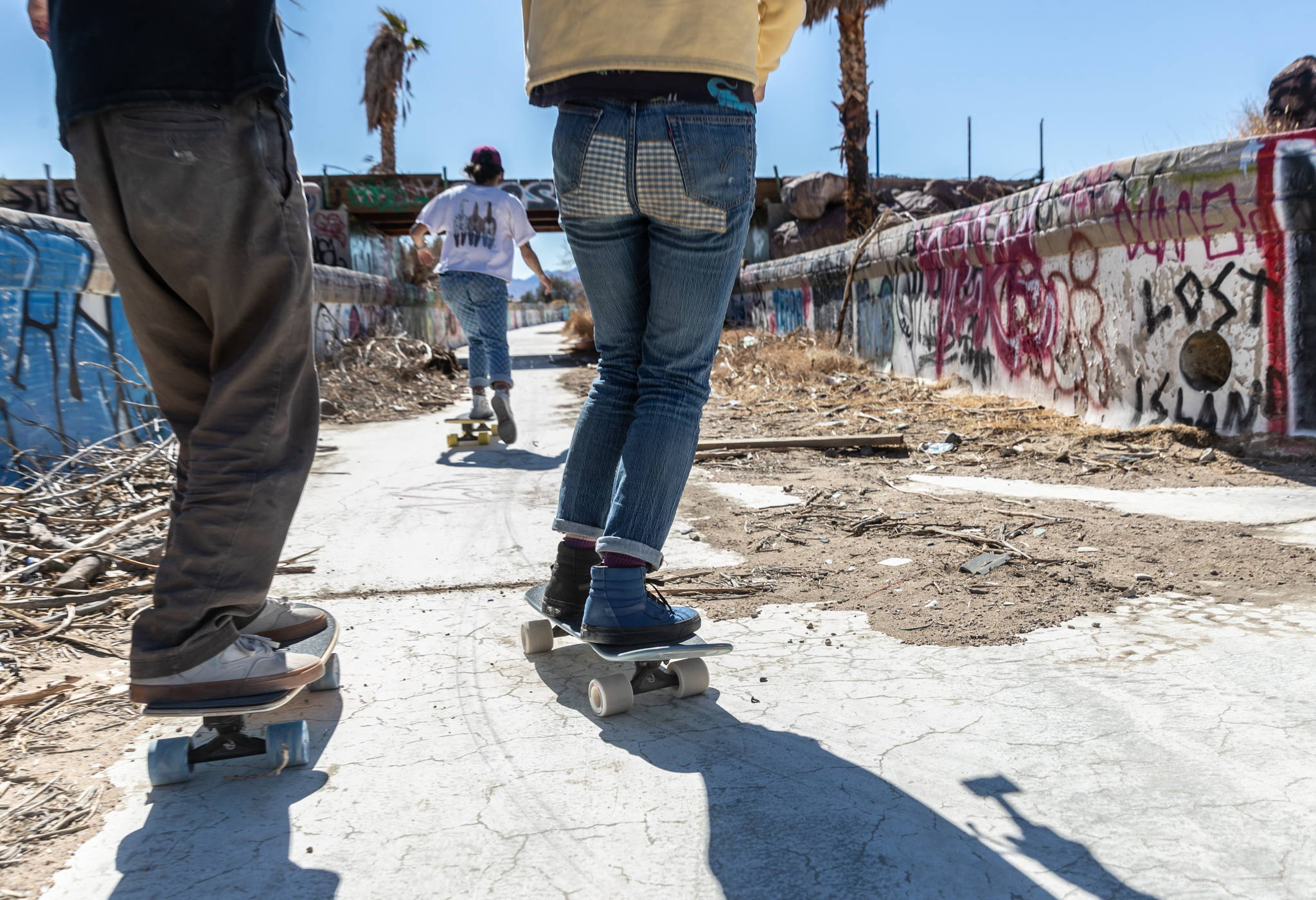 Be aware of your surroundings. A handful of the places we went to were abandoned, and falling apart. Meaning wires sticking out, walls crumbling, rotting wood, broken glass, you get the idea. The abandoned water park had so much art to look at, that while in awe I ended up stepping on a rusty nail. Luckily it wasn't serious, but I got a good bout of anxiety out of it.
Tip #6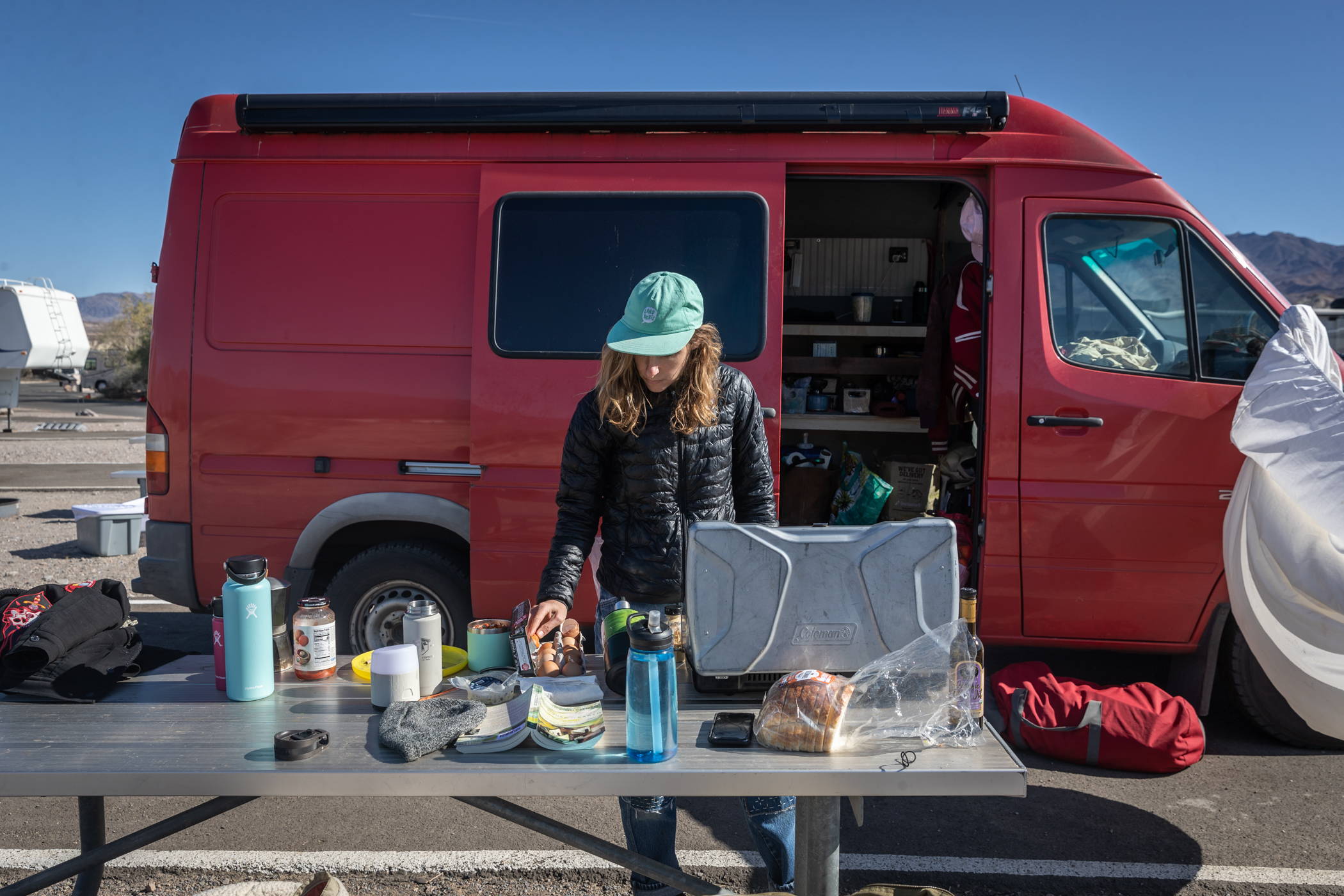 Expect campsites and parks to be crowded (this also depends on what time of the year you go, and where). Campsites will be booked for months out, and the first-come-first-serve sites are always a gamble. Always have a backup plan.
Tip #7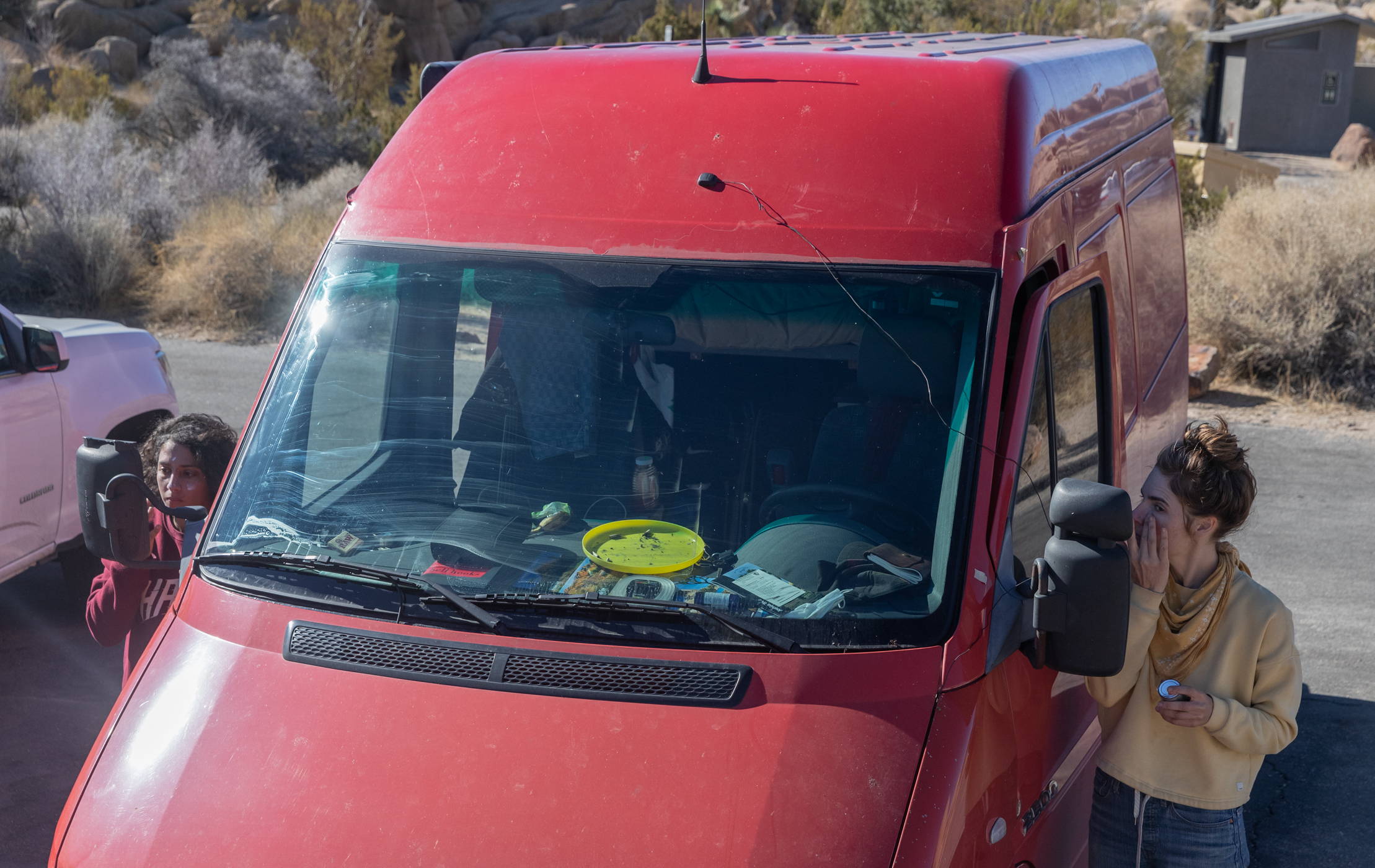 Embrace your creativity. This comes really in handy when you're on the road and have a limited amount of things at your disposal. In the beginning of the trip, we realized that we forgot an ashtray. Anything is an ashtray if you try hard enough, in our case, the yellow frisbee that we said we were only going to use ONCE for this purpose, ended up being the trip ashtray.
Tip #8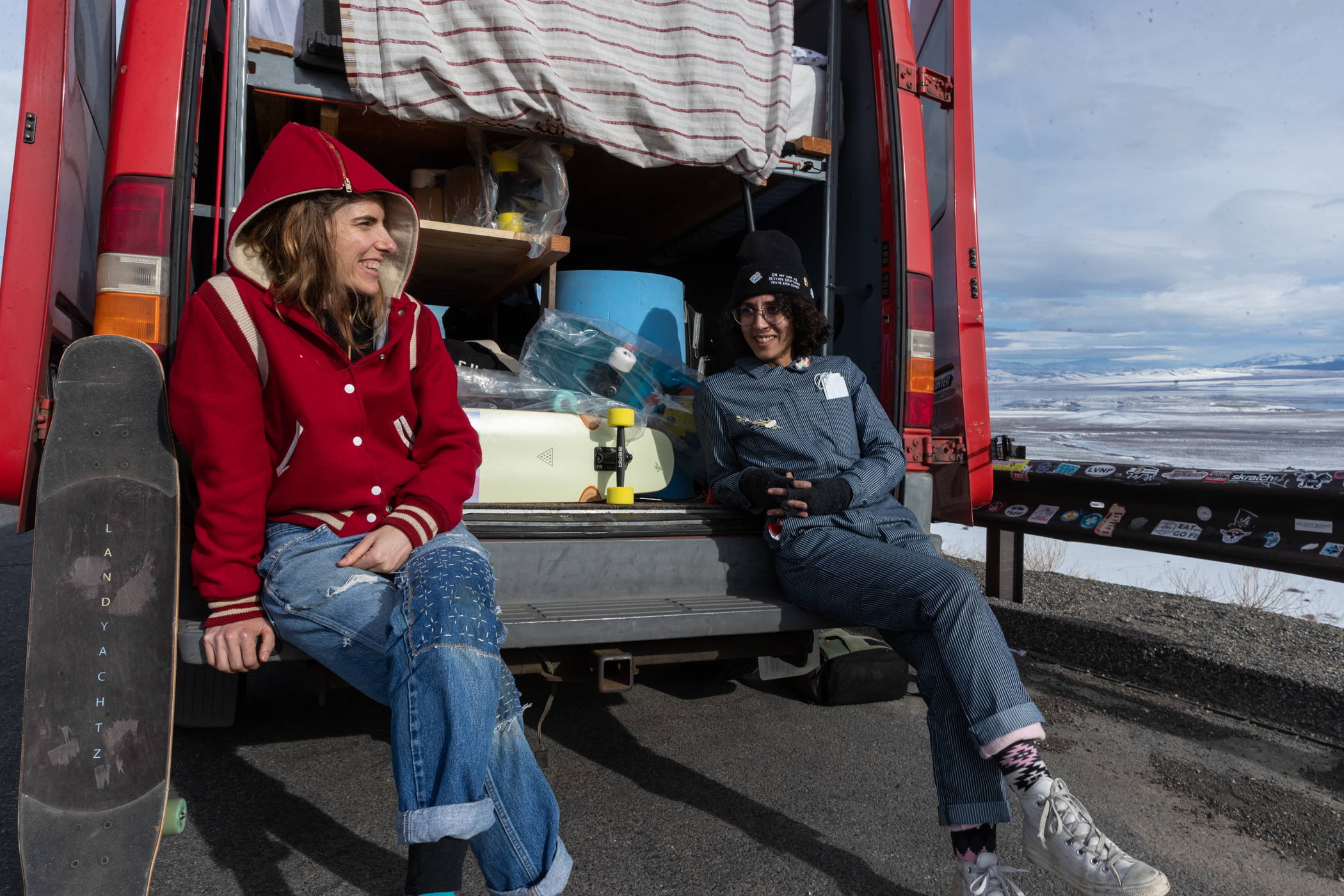 Go into it with the attitude that you know that you're gonna struggle a little bit, struggle you will, so forget about being picky. Also, in some cases it's so worth it. One morning, we camped in below freezing temperatures in Northern California just so we could wake up at 6am, wait an hour to get into some hot springs to watch the sunrise reflect off of the Eastern Sierras.
Tip #9
Don't take anything for granted, seriously. Because that propane heater that was bought for situations like having to camp in -9C weather can decide not to work. Like it did. Being able to make good food with simple ingredients is something we were pretty grateful for too.
Tip #10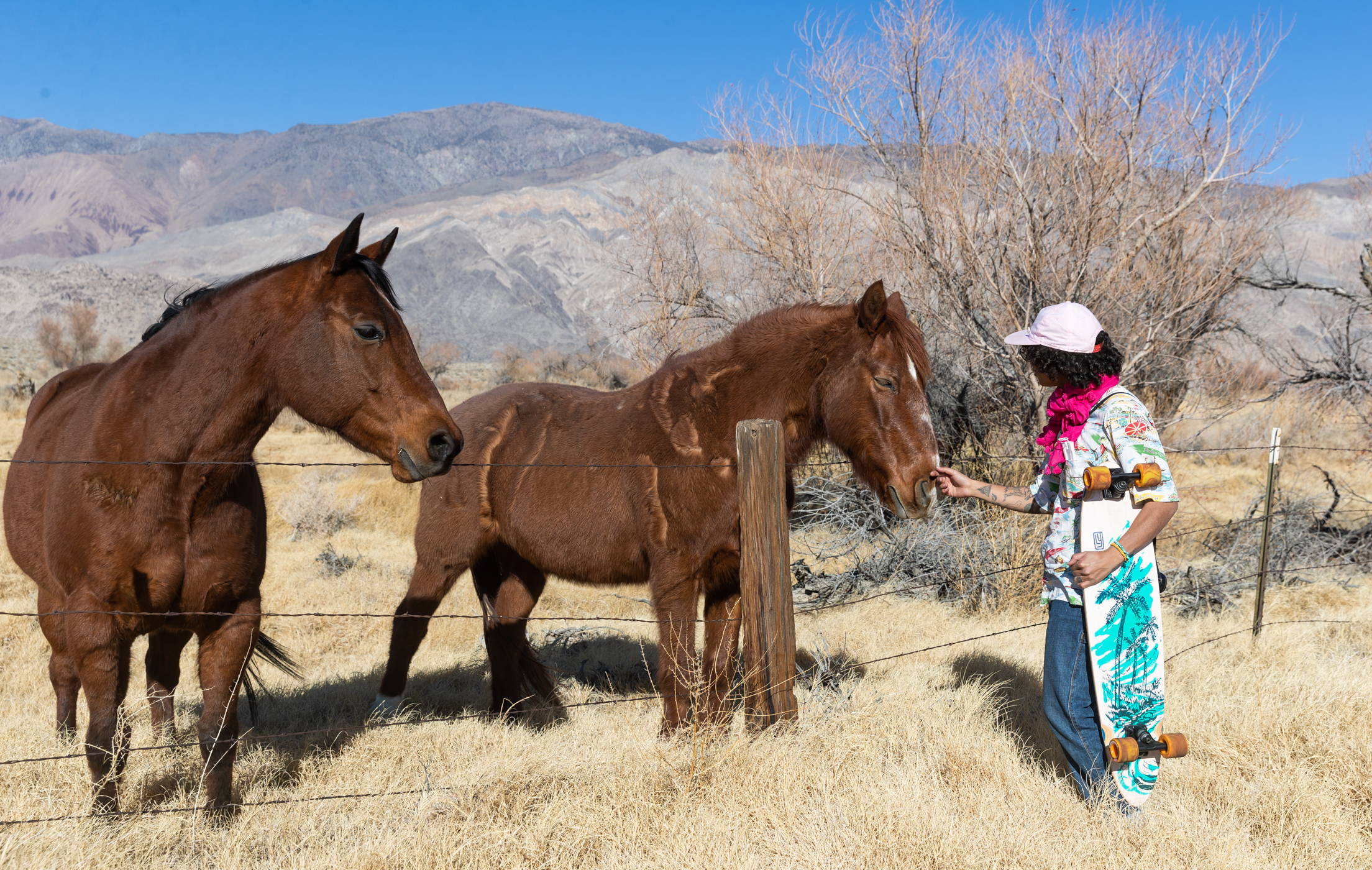 Learn to enjoy your own company, and your friends' company too. Along our trip we got to meet up with friends we haven't seen in a second, and made some new friends too. Experiencing new places is pretty great when you're in good company.
Aside from the pandemic related memos, there are definitely things that COVID has not sucked the fun out, alongside creating more opportunities for skaters. Security in places seems a little more relaxed, making spots you could potentially get kicked out available for your enjoyment (at your own risk).
Remember to sit back, relax more; one of the rad things on this trip was being able encounter people enjoying themselves. On one night, Khaleeq and I went for a moonlight walk in Death Valley, and some people, a couple of campsites over were playing their guitars, harmonicas, and singing. We sat and listened to them for a long time, and at a time the combination of the moon, the smell of firewood, live music, and ancient landscapes made me doubt the reality of the world. In a "pinch me... am I dreaming way."
Experience the world on a skateboard of your choosing. Any option is valid, as long as it makes your lil heart happy. The world is your playground.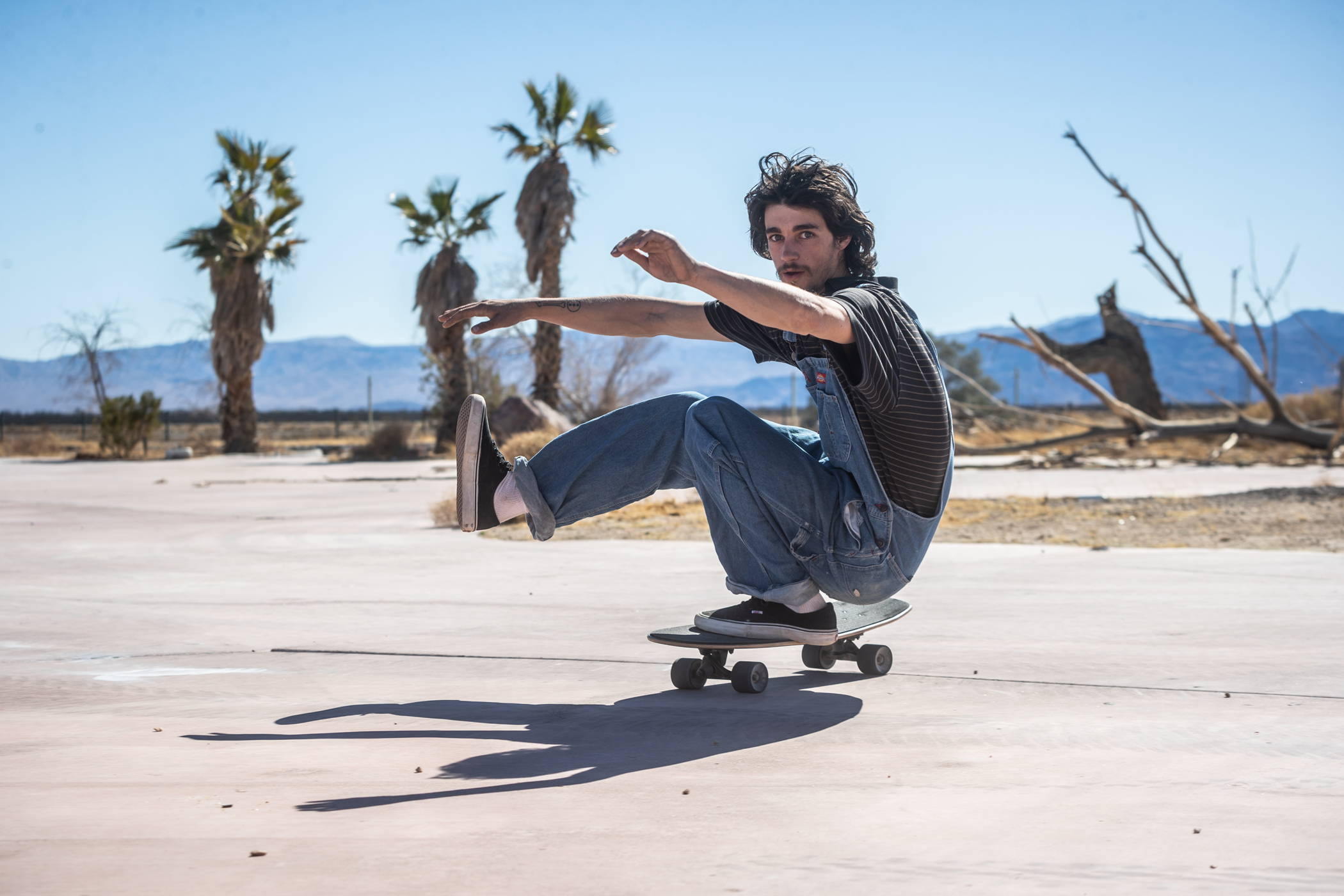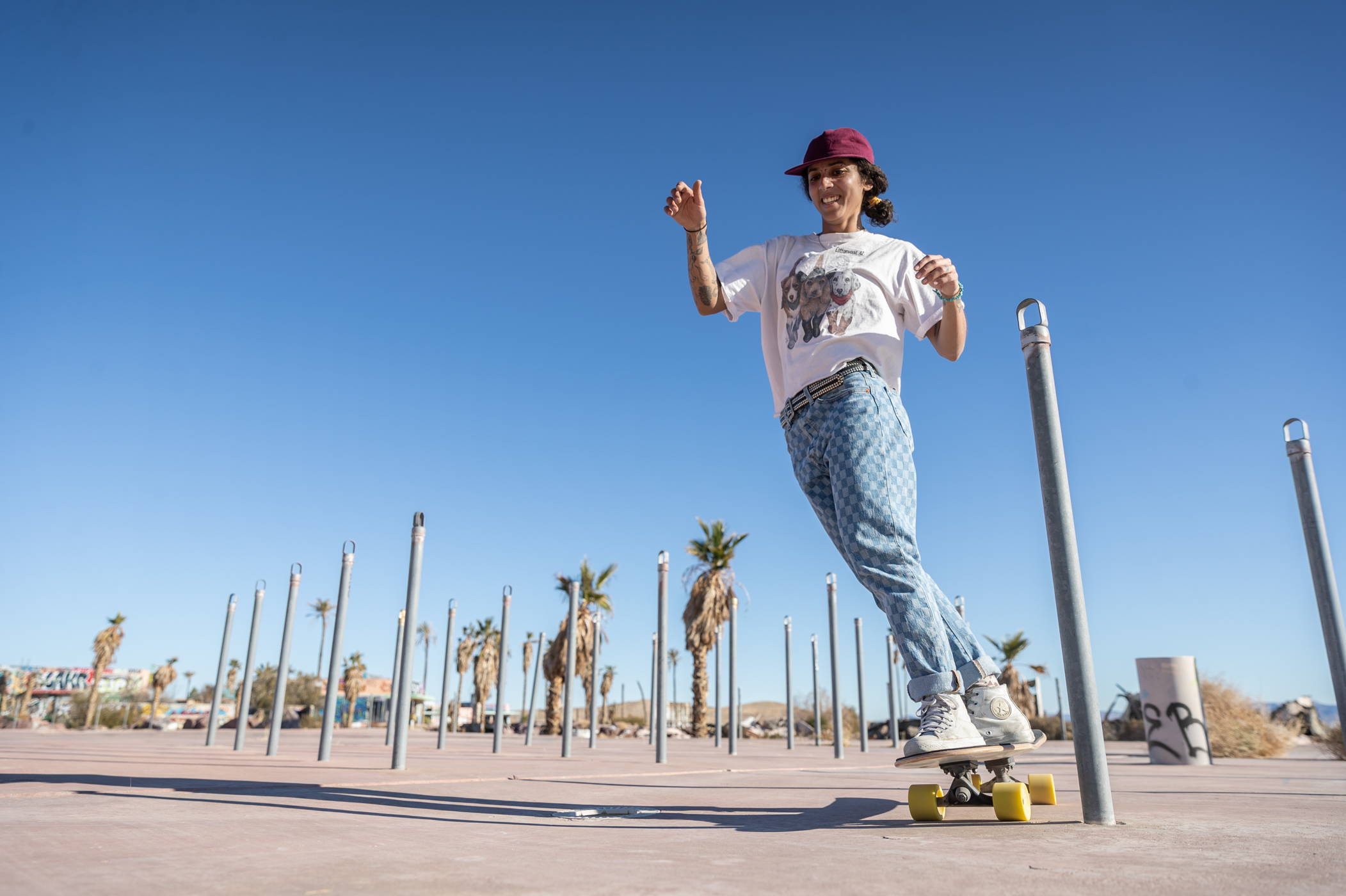 Skateboarding in a way, or at least for me, is a way of taking in and experiencing the vastness of the world. It encourages me to travel, to want to see and learn more about the places we have the privilege to be able to enjoy. Life felt pretty unreal at times, just standing in these breathtaking, ancient places. In those moments where time seemed to stop for me, the word "lucky" always came to mind. I've been unlucky with skateboarding many times, but looking back on the experiences I've lived, the friendships I've made, the skills I've honed, the lessons learned, and the places I've found myself in because of it doesn't begin to compare. As I said near the beginning: it's kind of a gamble, but you get to choose your own adventure on a board that can guarantee you endless amounts of fun.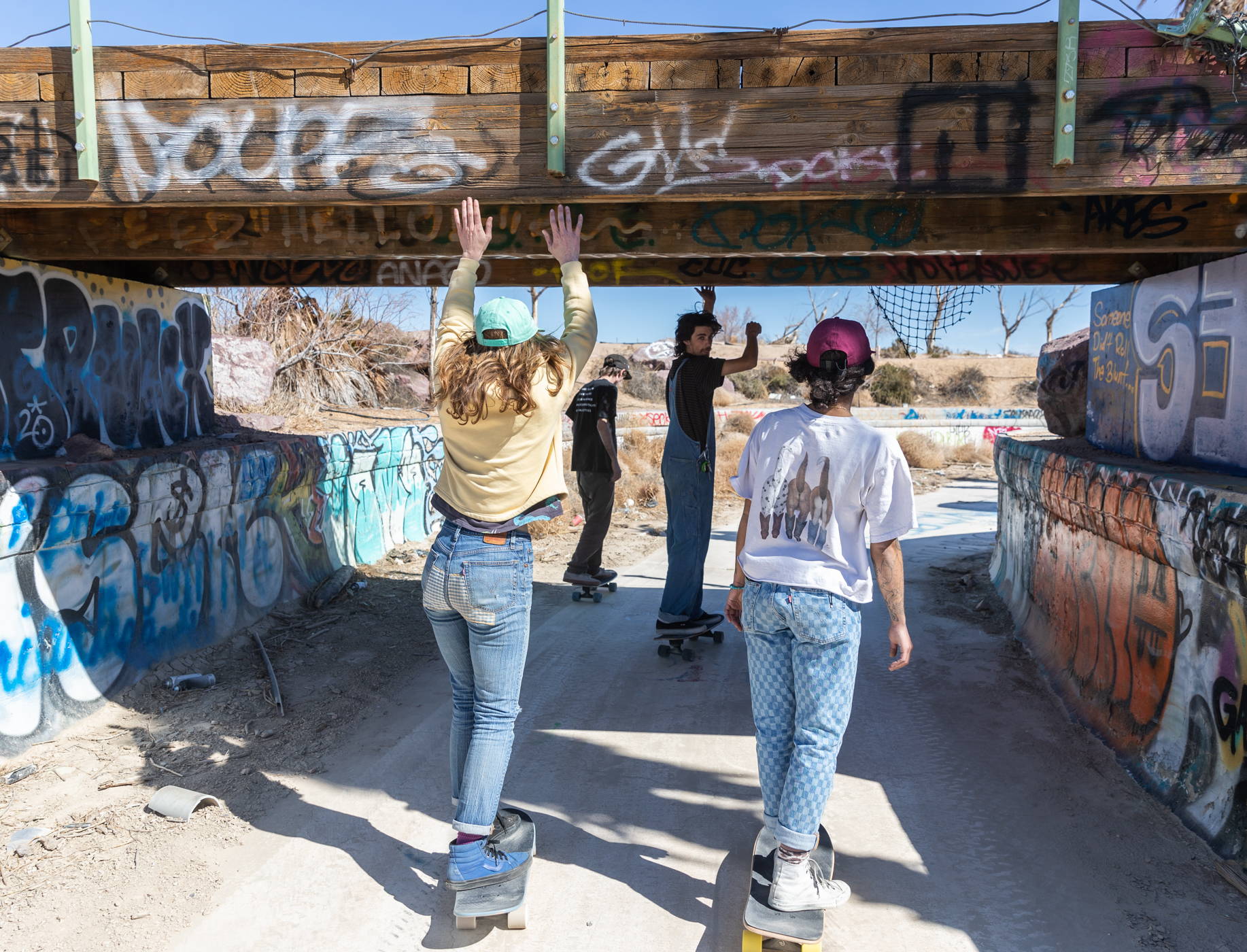 So, now that you have the inside scoop of what it's like to roll around in times of COVID, maybe it's time to plan that adventure you've been flirting with for the longest time. The only excuse you need to go is wanting to go, but in case you need a little extra push to set off on your very own Skate & Explore trip, I give you...some bonus tips and trip photos!
Choose your travel companions wisely, you WILL be together 97% of the time while sharing a tiny, tiny space. The people you want to go on the road with are the people that make you feel seen, appreciated, and loved just the way you are. No bad vibes.

Keep your stuff as organized as possible, all of the time. It is insane how easy it is to lose things in a small shared space. It will save you so much stress.

Useful skill: the ability to entertain yourself (and/or each other) with anything. From a magnifying glass, a lupe, a purple harmonica to make sporadic soundtracks of your friends doing things, spontaneous guitar-ukulele jams, a couple of good books, some sketchbooks. There is so much to do, learn, and so much beauty to admire.

The plans you made plans for might require you to make other plans / make the best out of every situation. The first place we arrived at, with the guidance of some friends we were meeting up with, was the abandoned water park. The wind was bellowing at 35mph and did not die down for the next day, skating in it was incredibly sketchy and nearly impossible. We ended up experimenting with ways of tying blankets onto poles to use them for skate sailing.

Have fun, be safe, be respectful. Be responsible in your travels, and never, ever forget to clean up and pack up after yourself. Leave it better than you found it. The amount of trash we encountered was heartbreaking.

I also encourage you to acknowledge the indigenous land you are skating on. Take time to learn about its history, and the tribes who it rightfully belongs to. Death Valley is Kawaiisu, and Newe (Western Shoshone) land. Joshua Tree is Yuhaviatam/Maarenga'yam (Serrano) land.
Special Thanks to Cat Odell (@Cat_Odell) for Van captaining and to David 'Fingerbang' Rudgers (@Officedave916) and Clark Patrick (@Clarkpatrick) for coming along for the ride! Photos made possible by the talented Khaleeq Alfred (@Khaleeqvision). Trip captain Carla Javier-Brea (@carlajavier.b).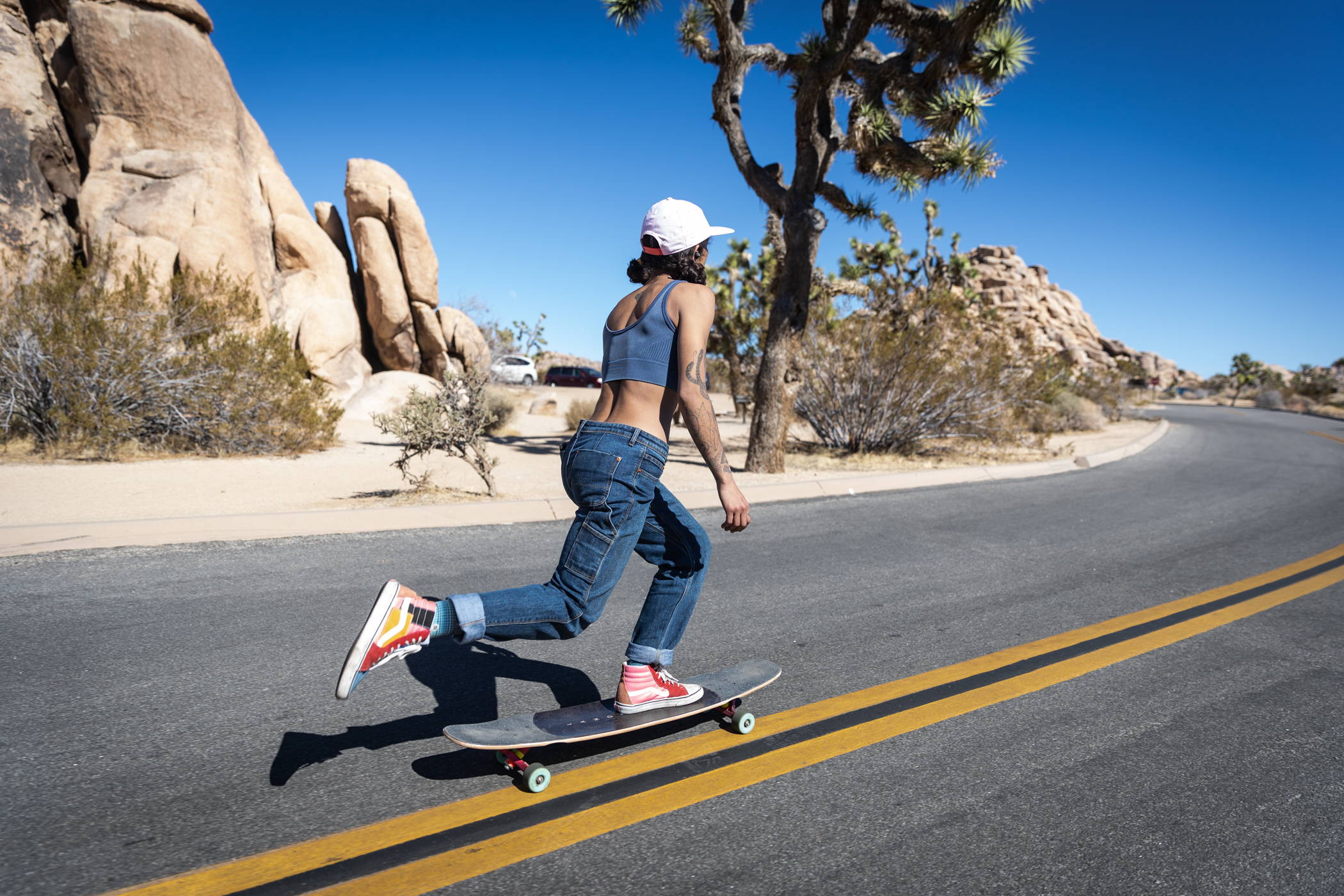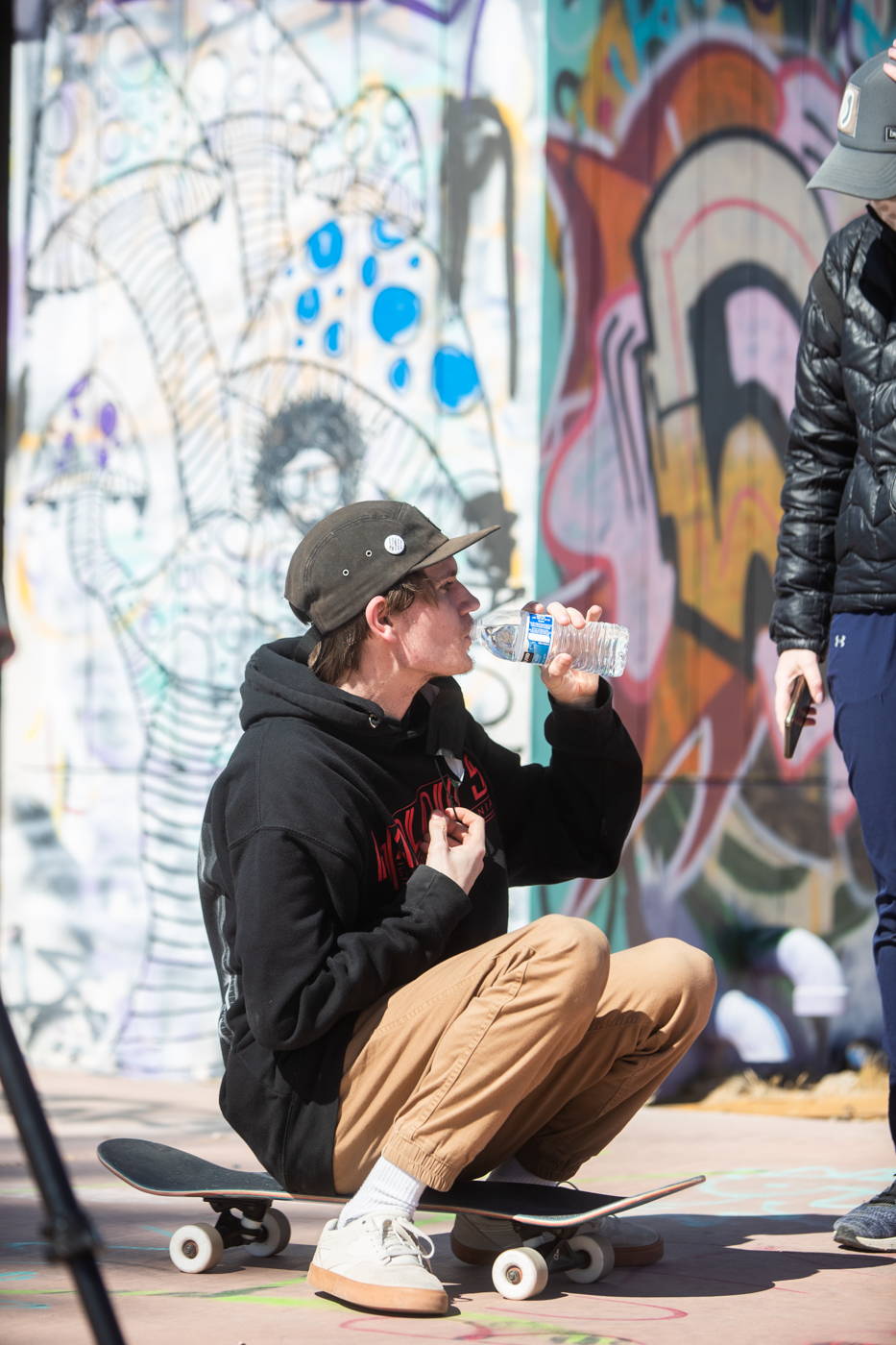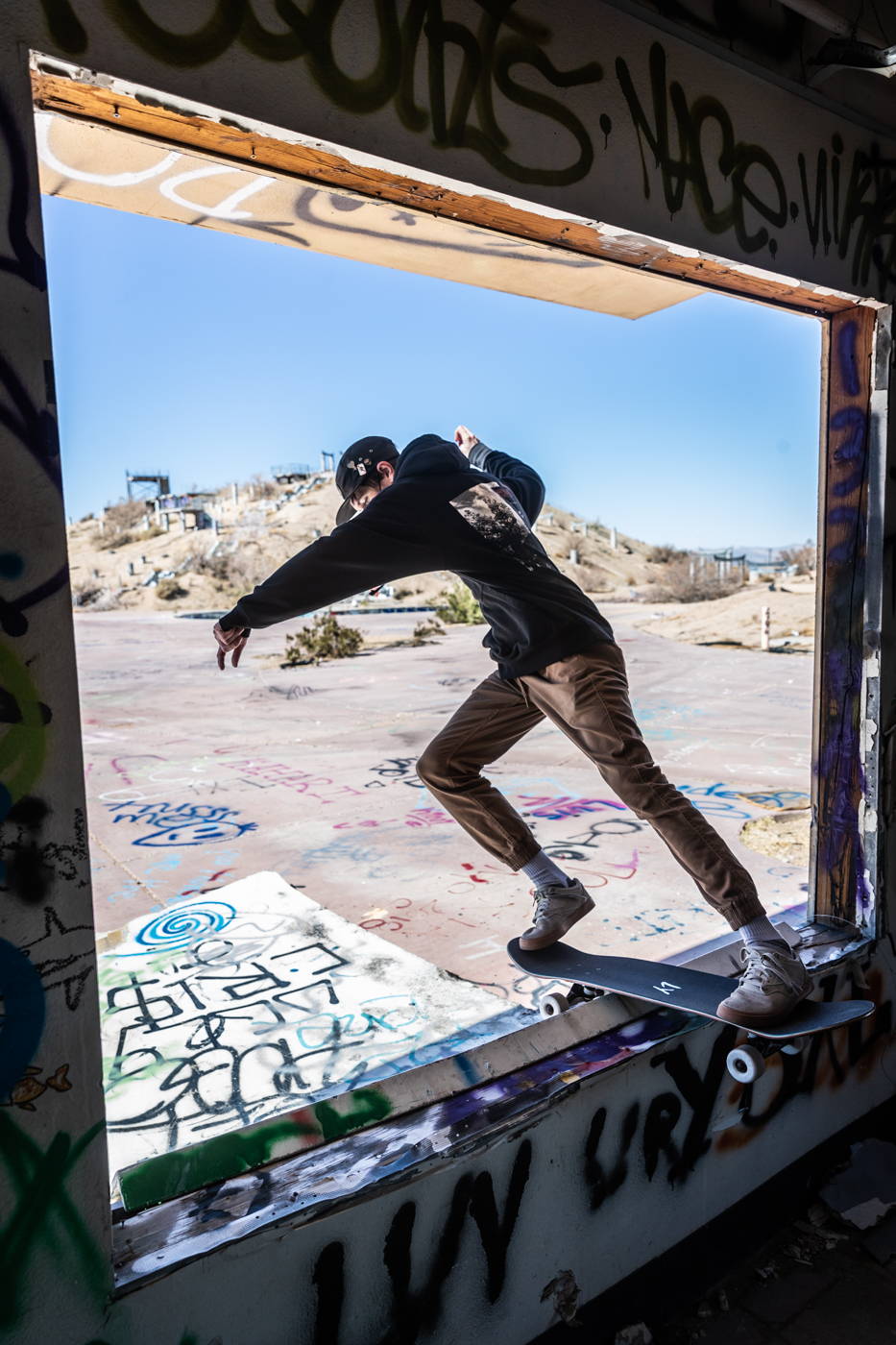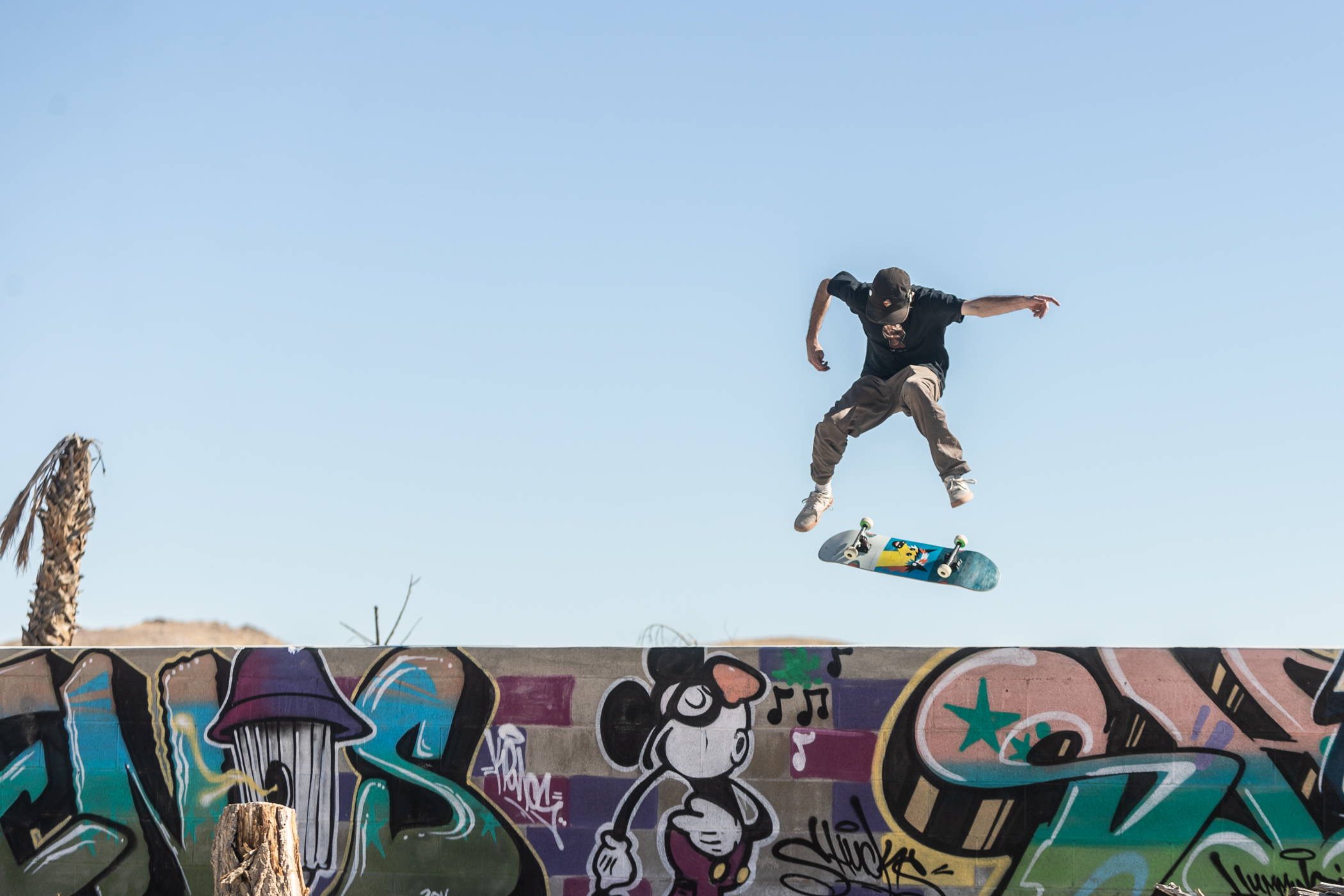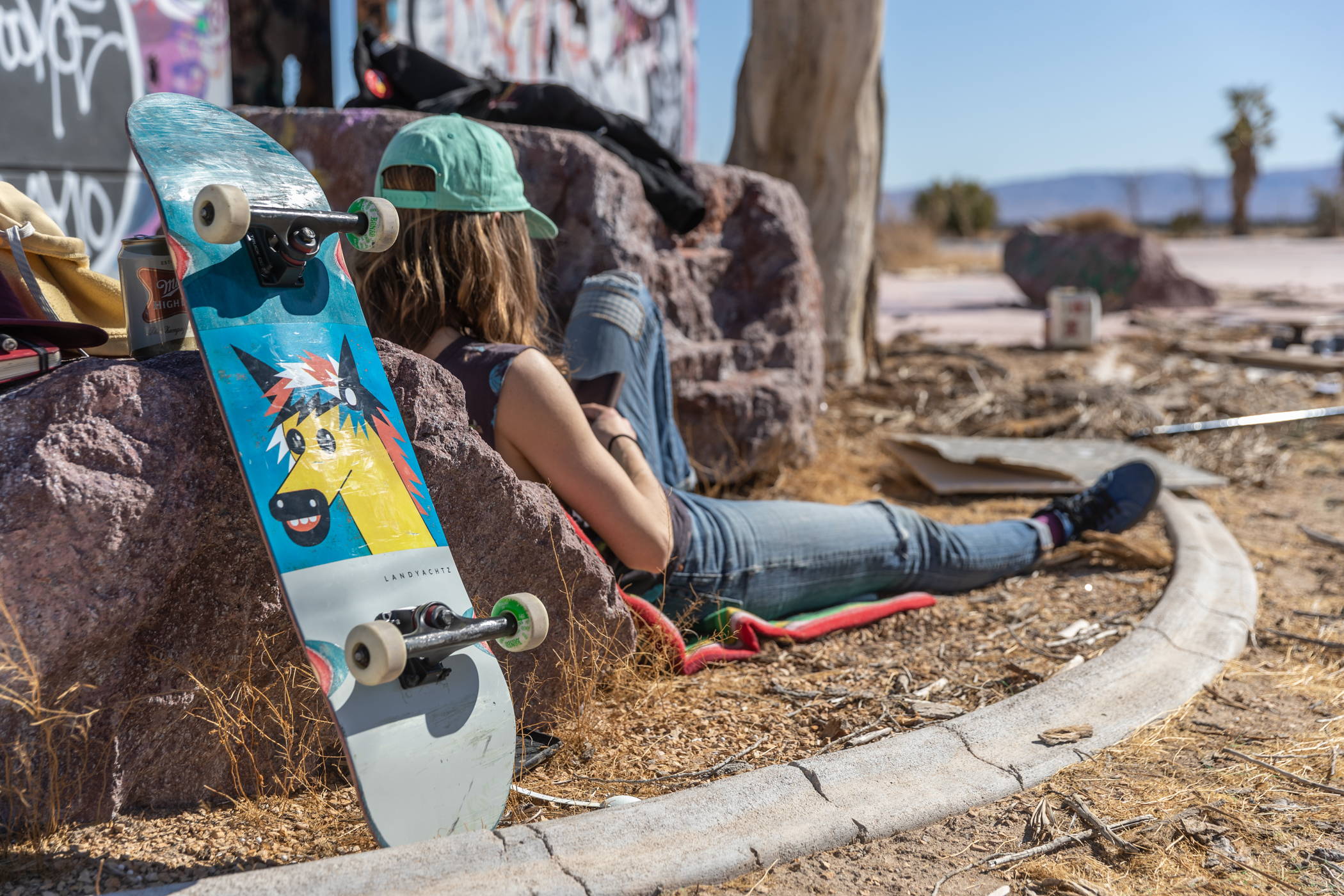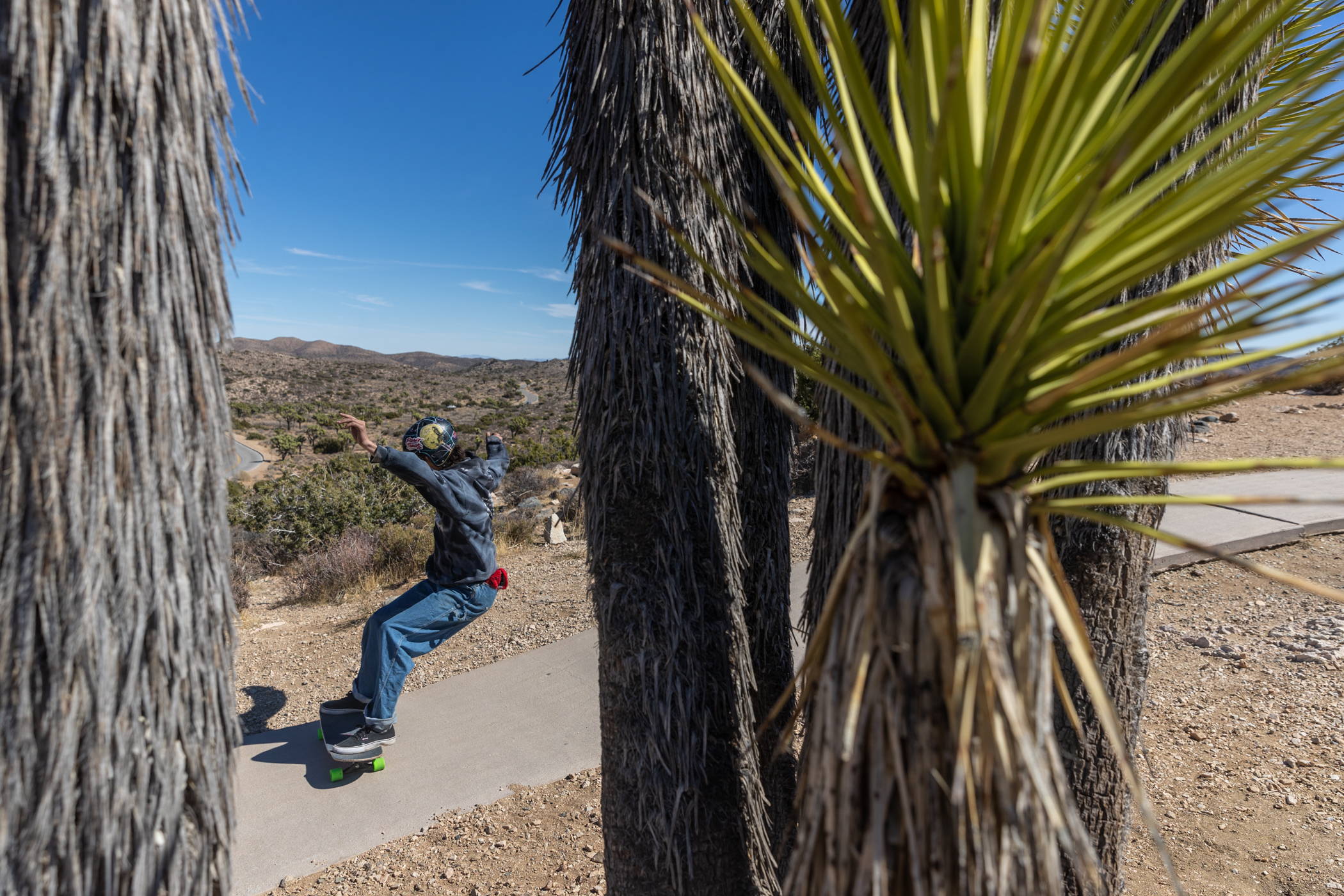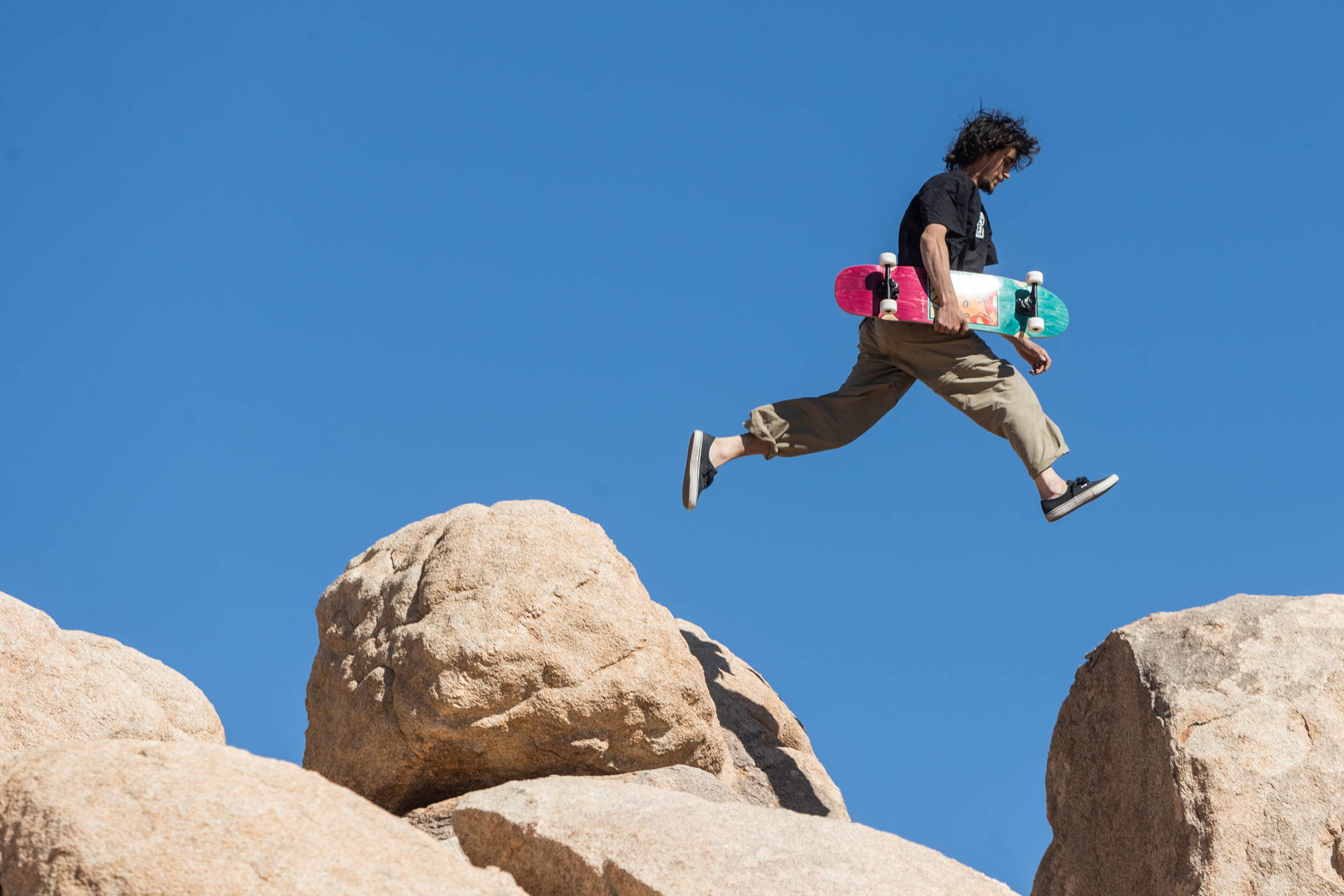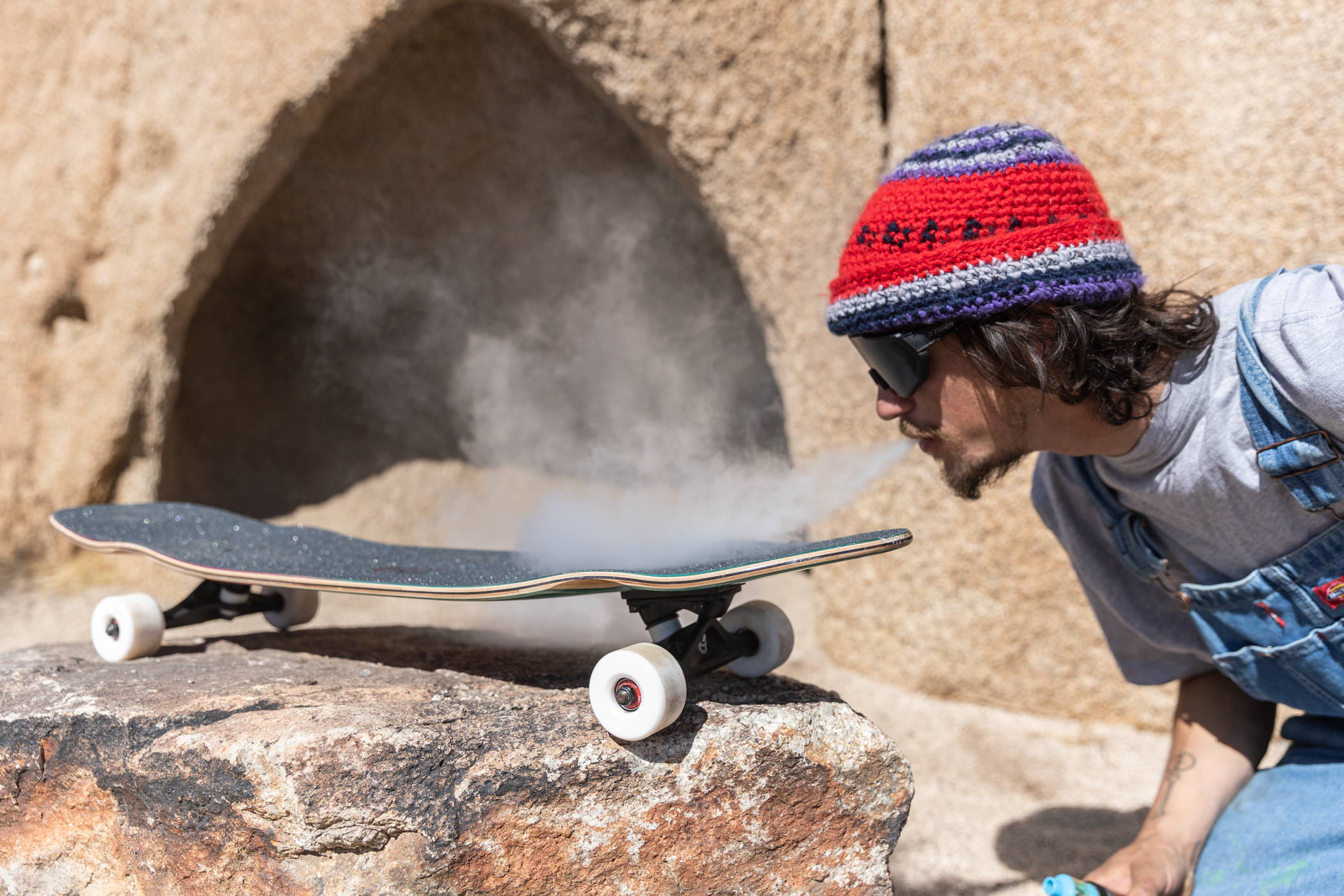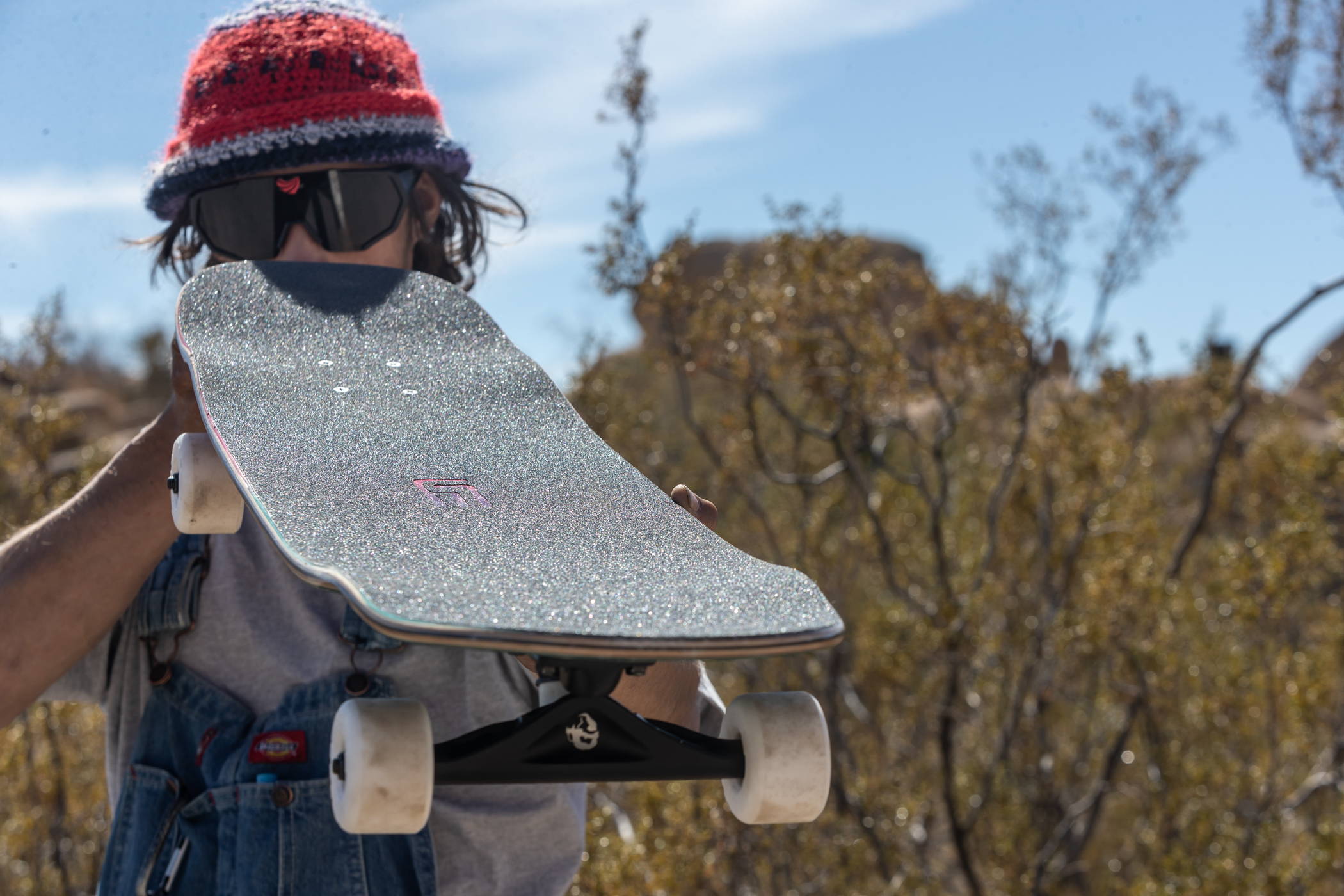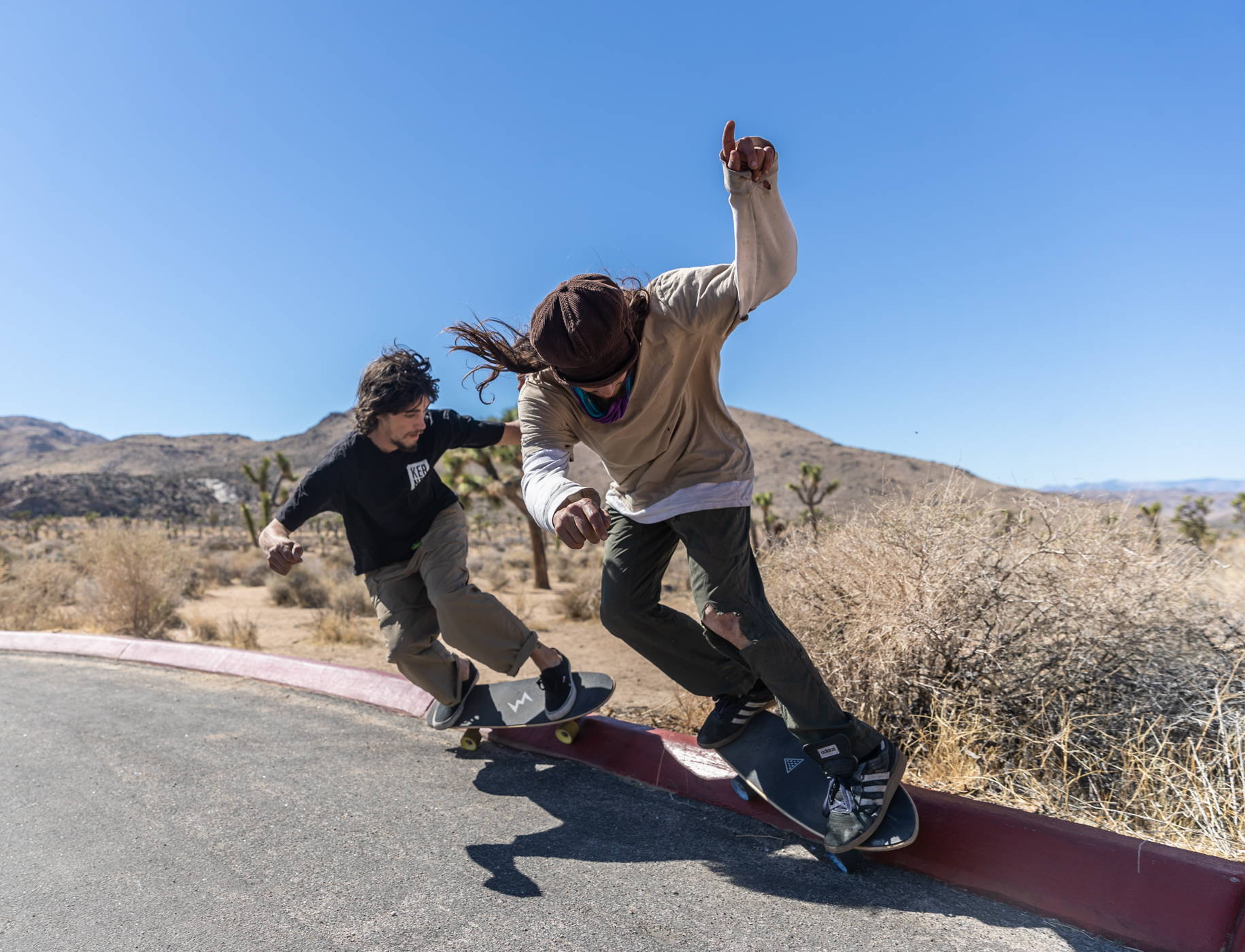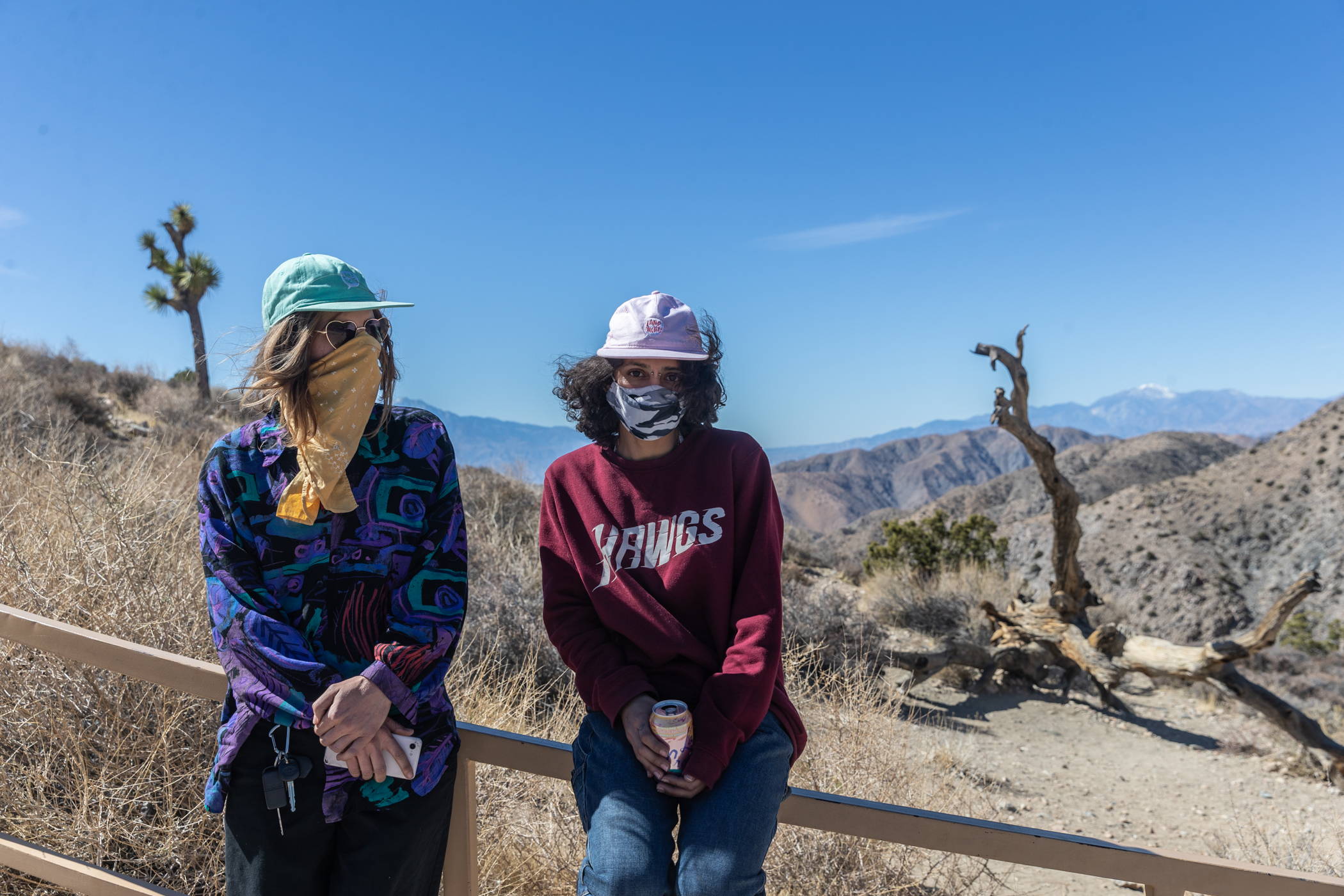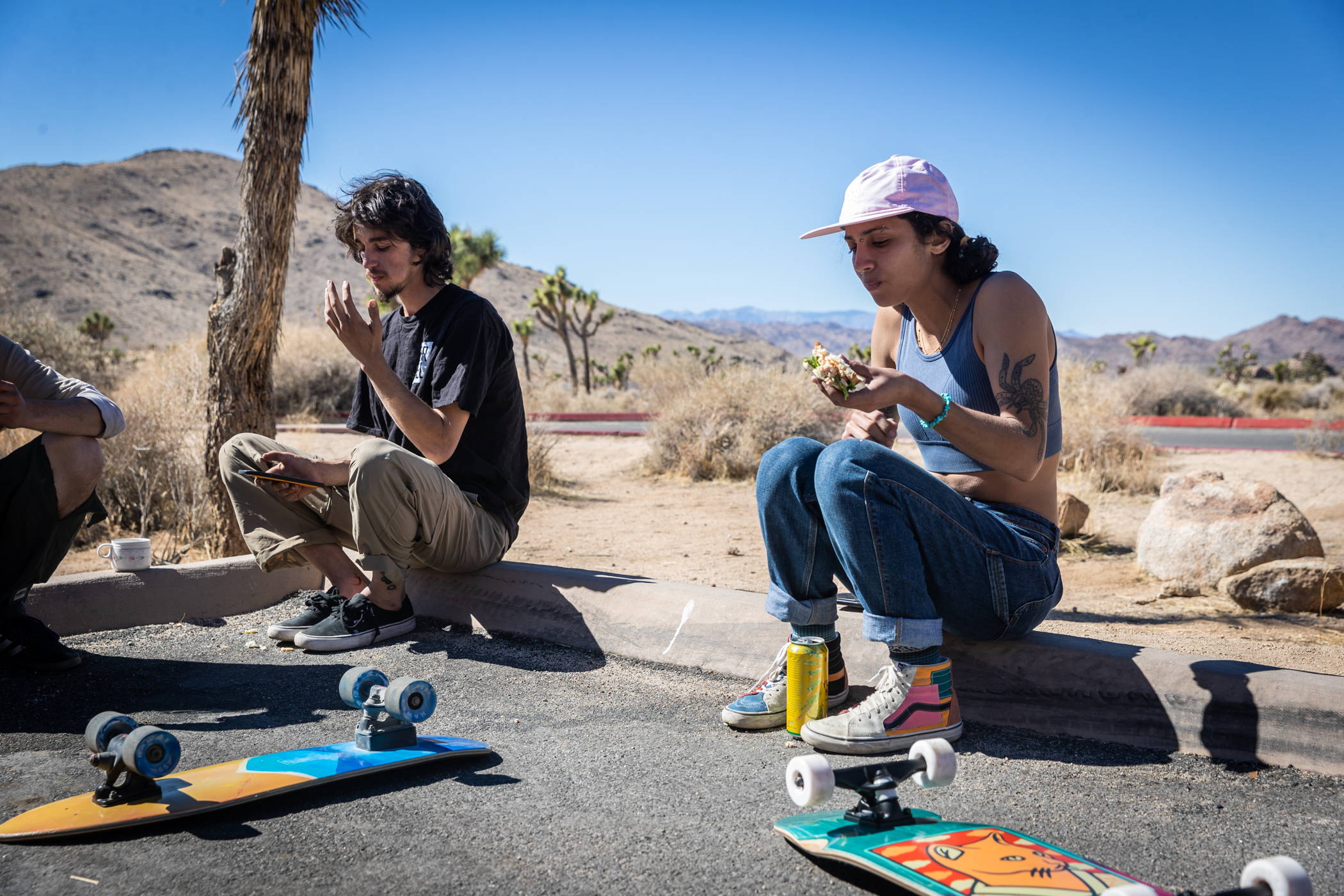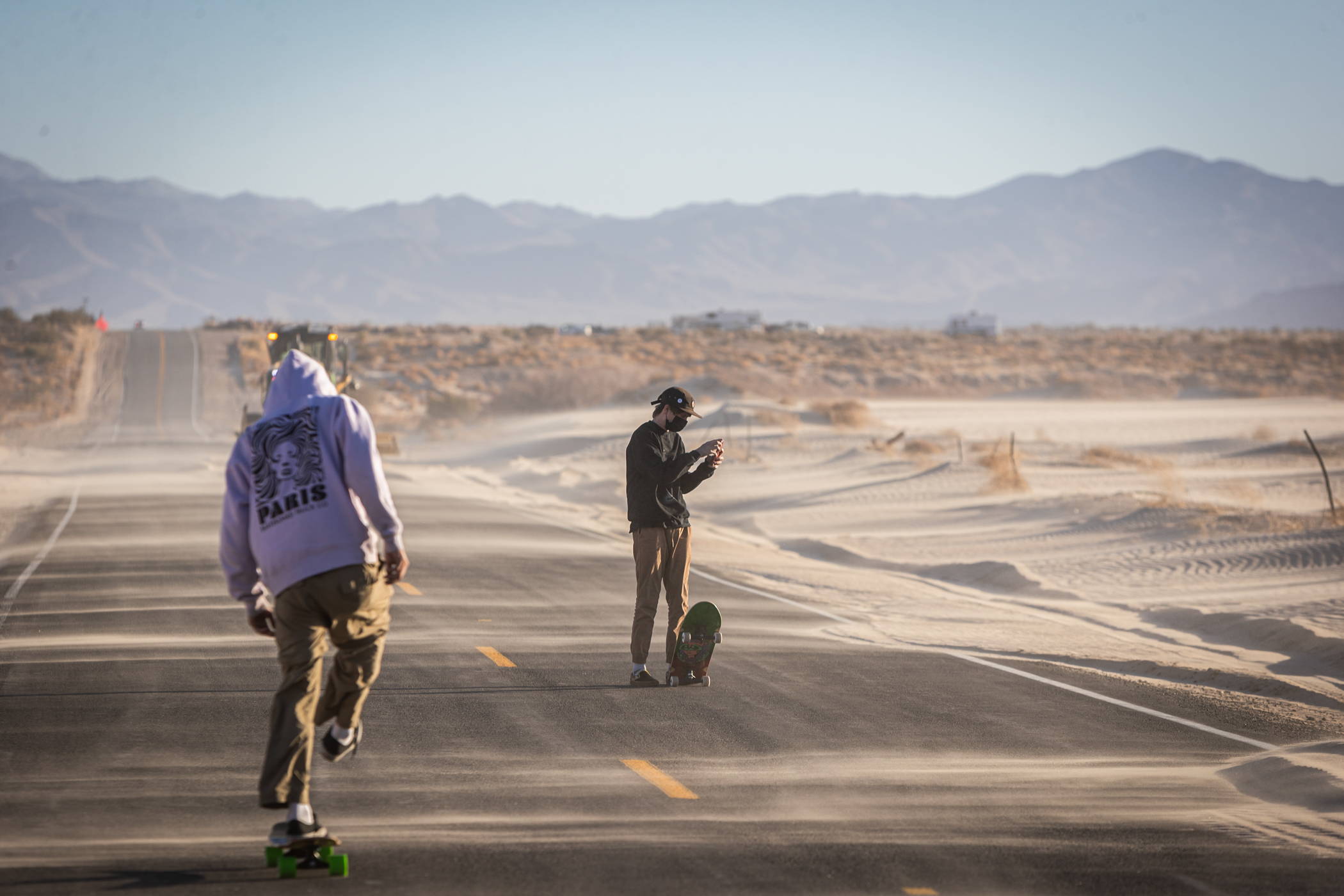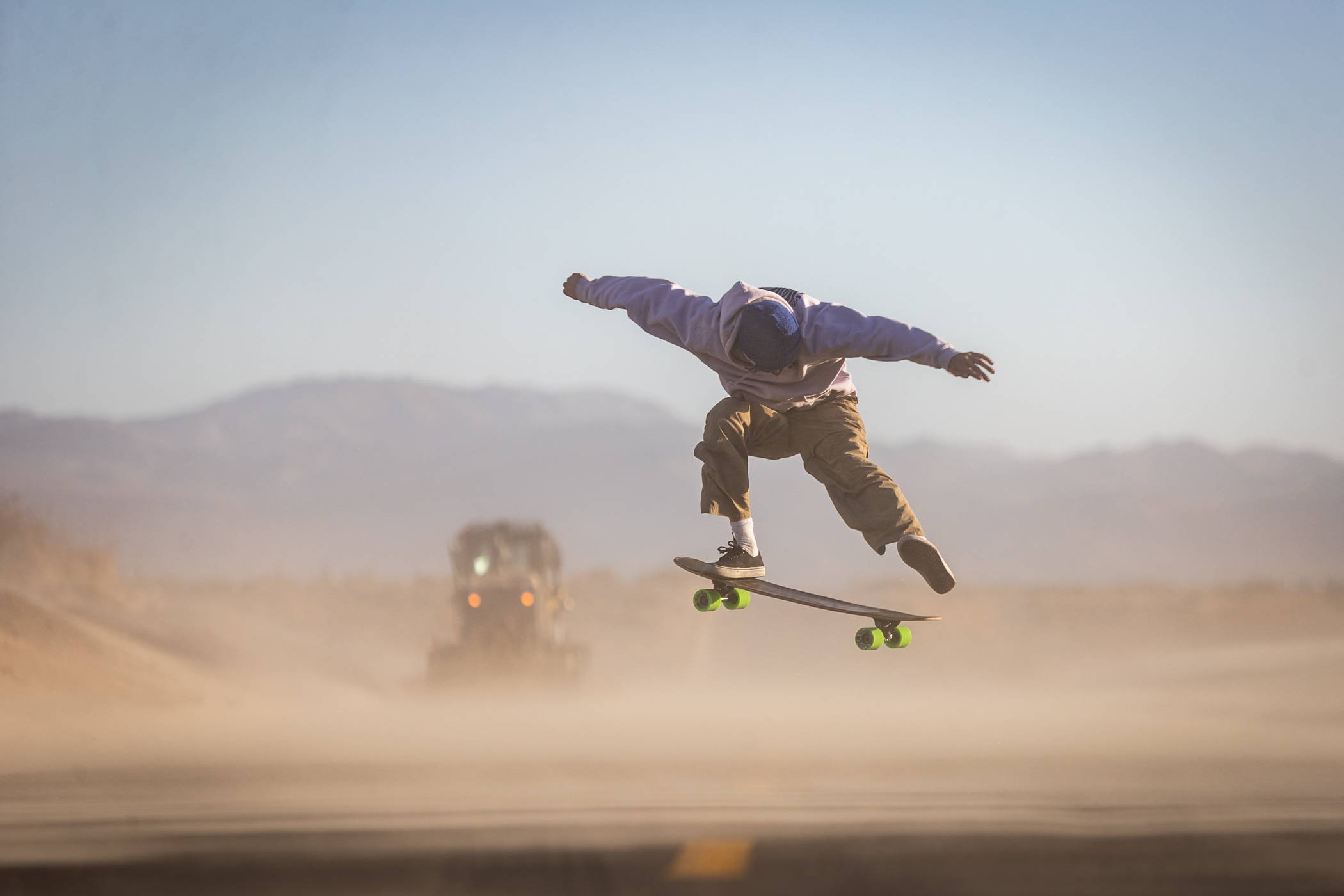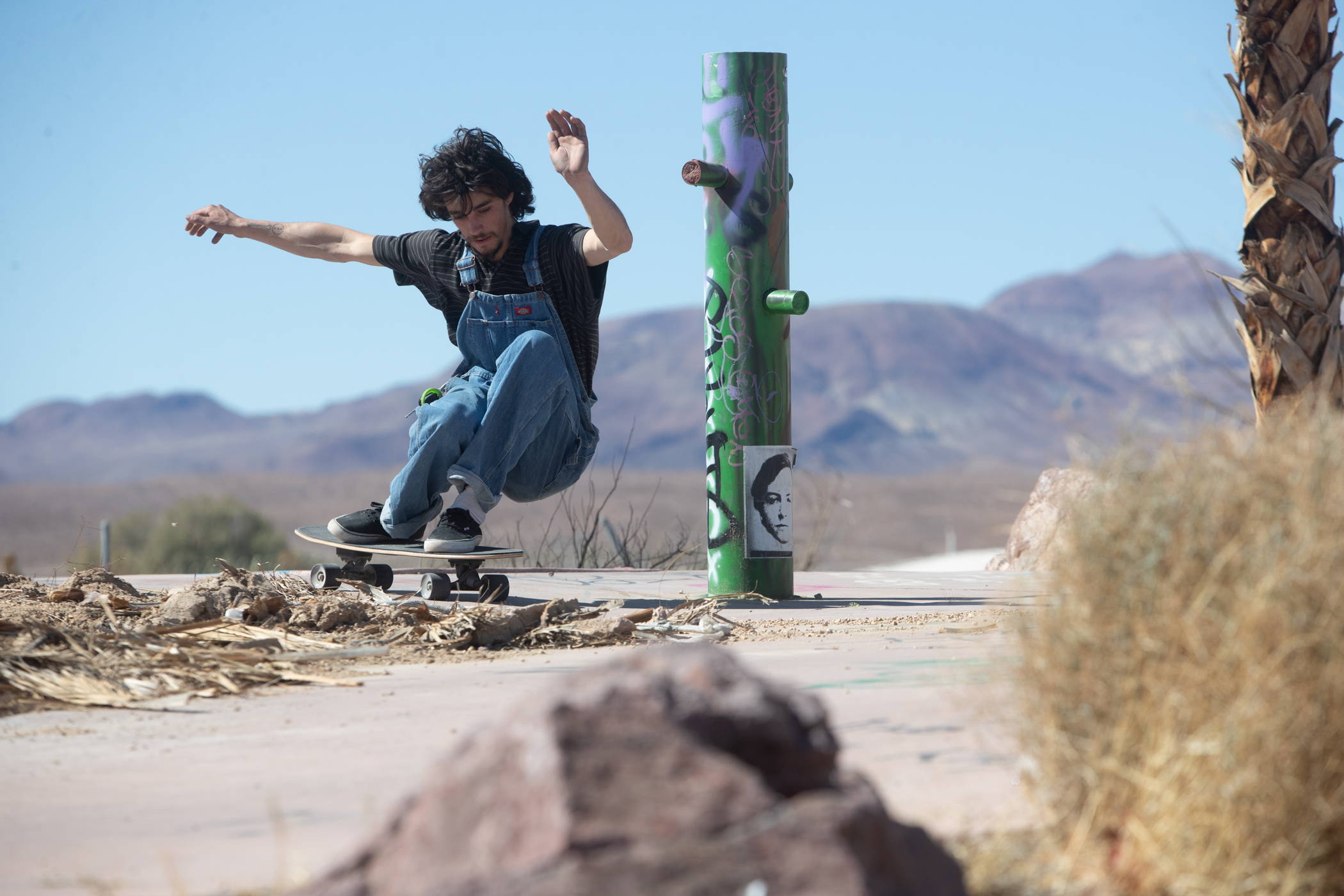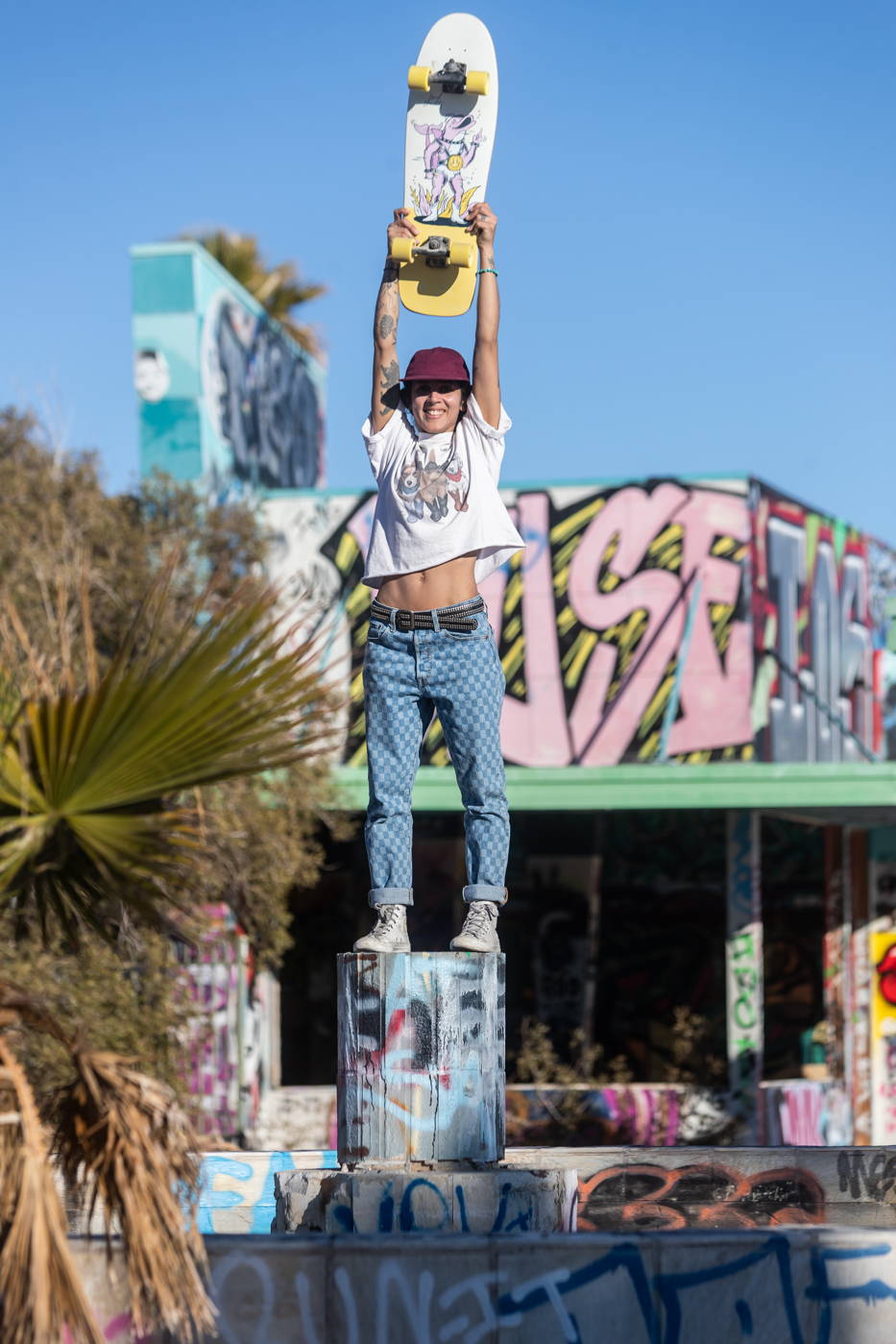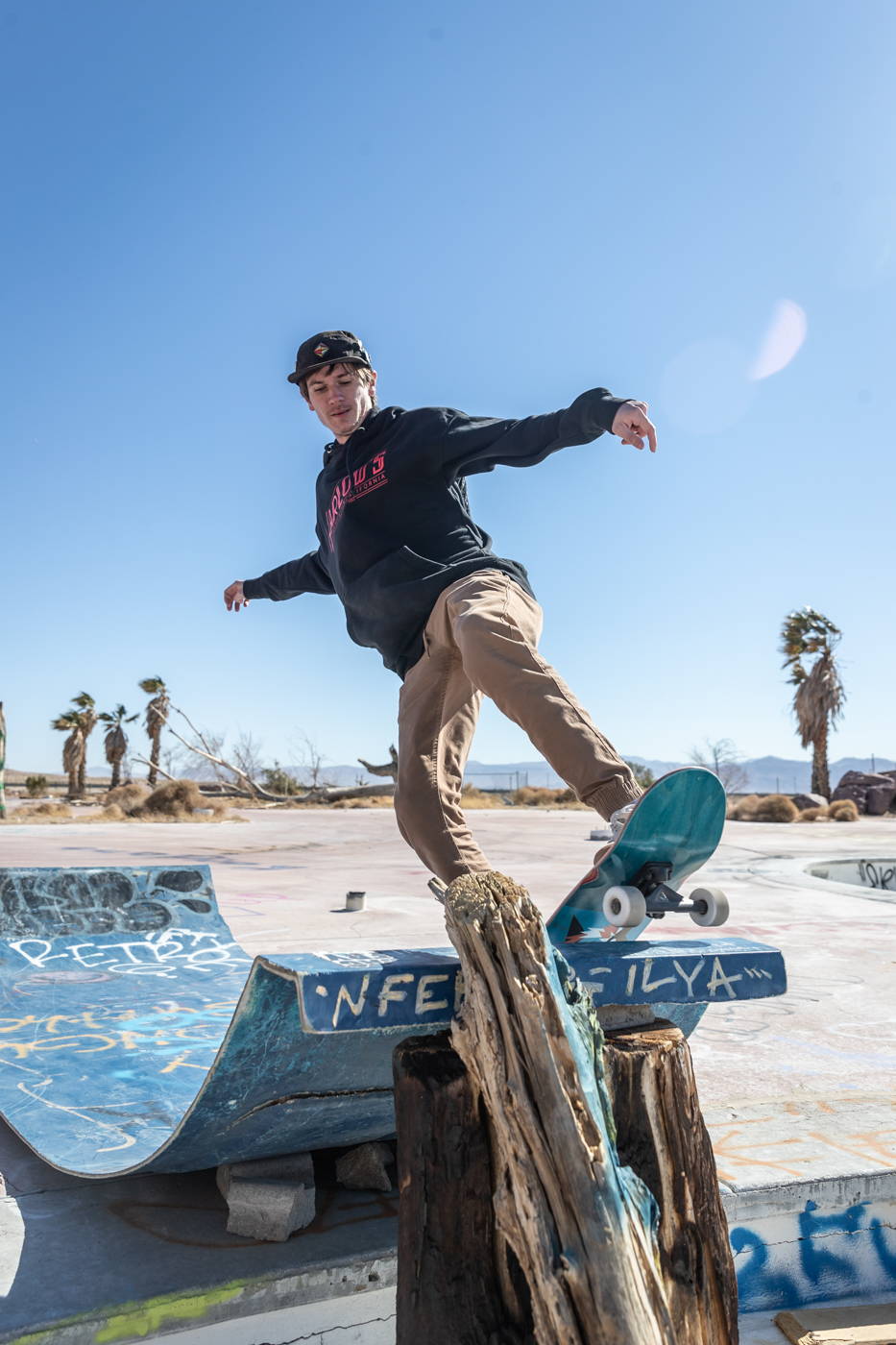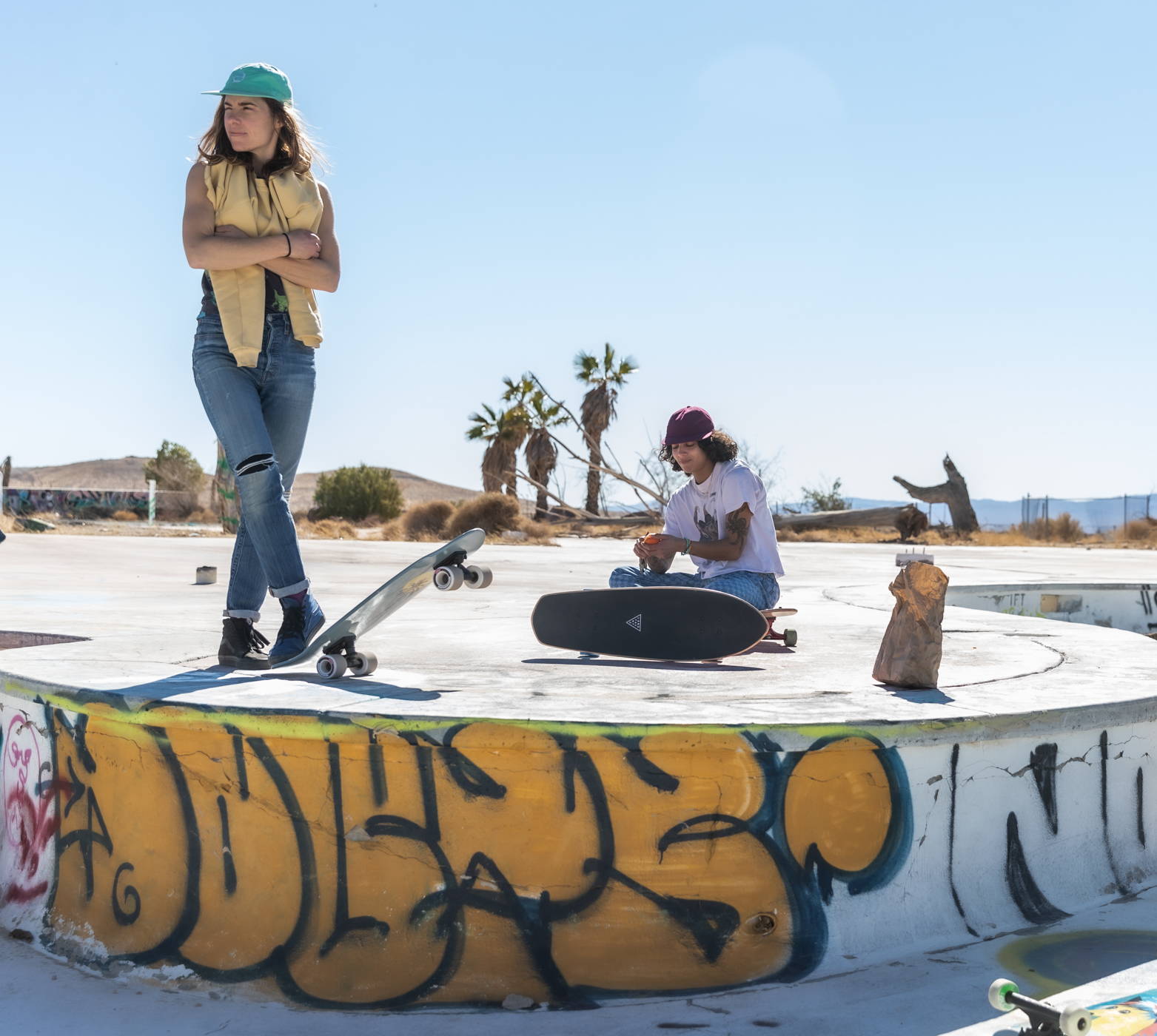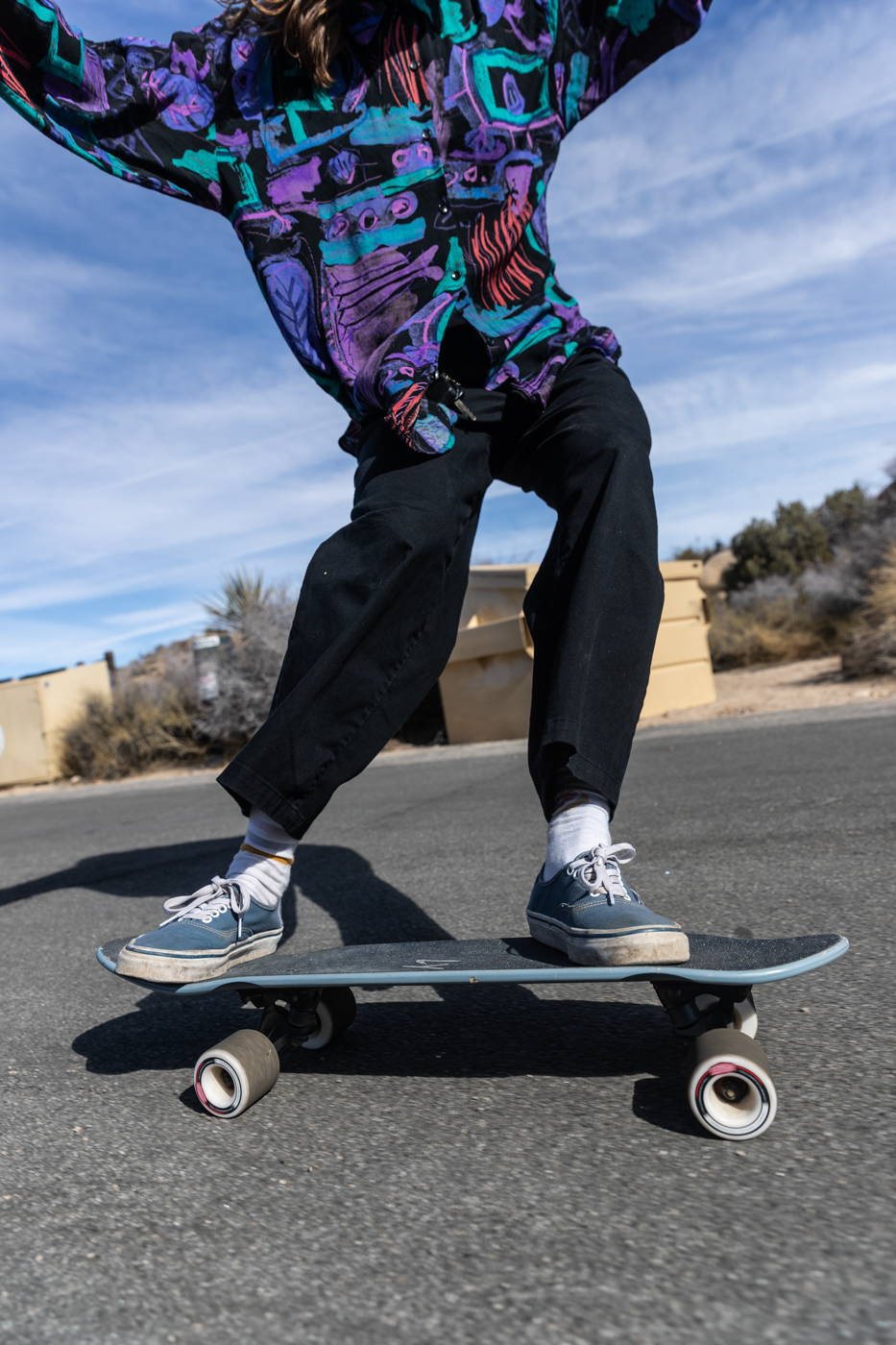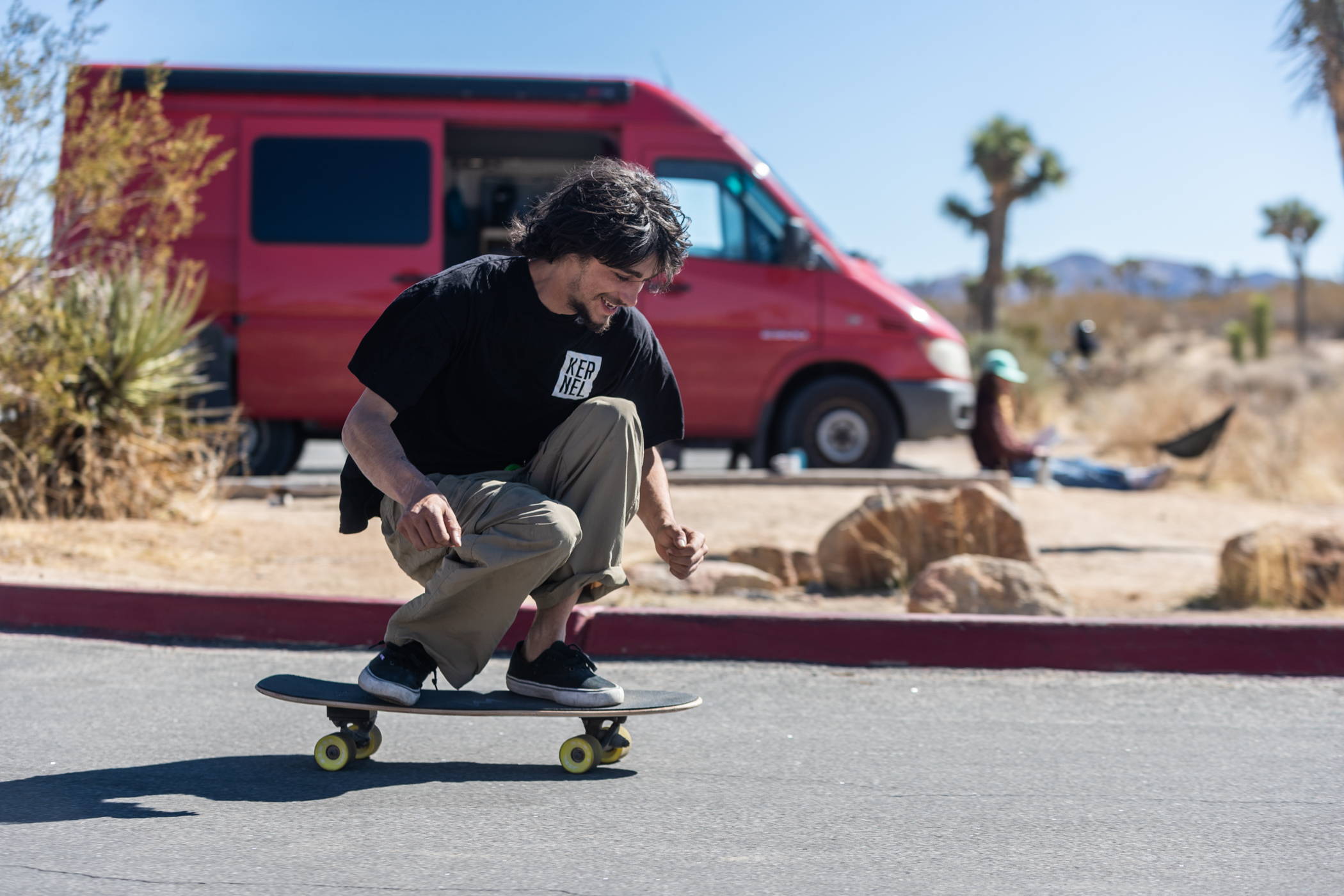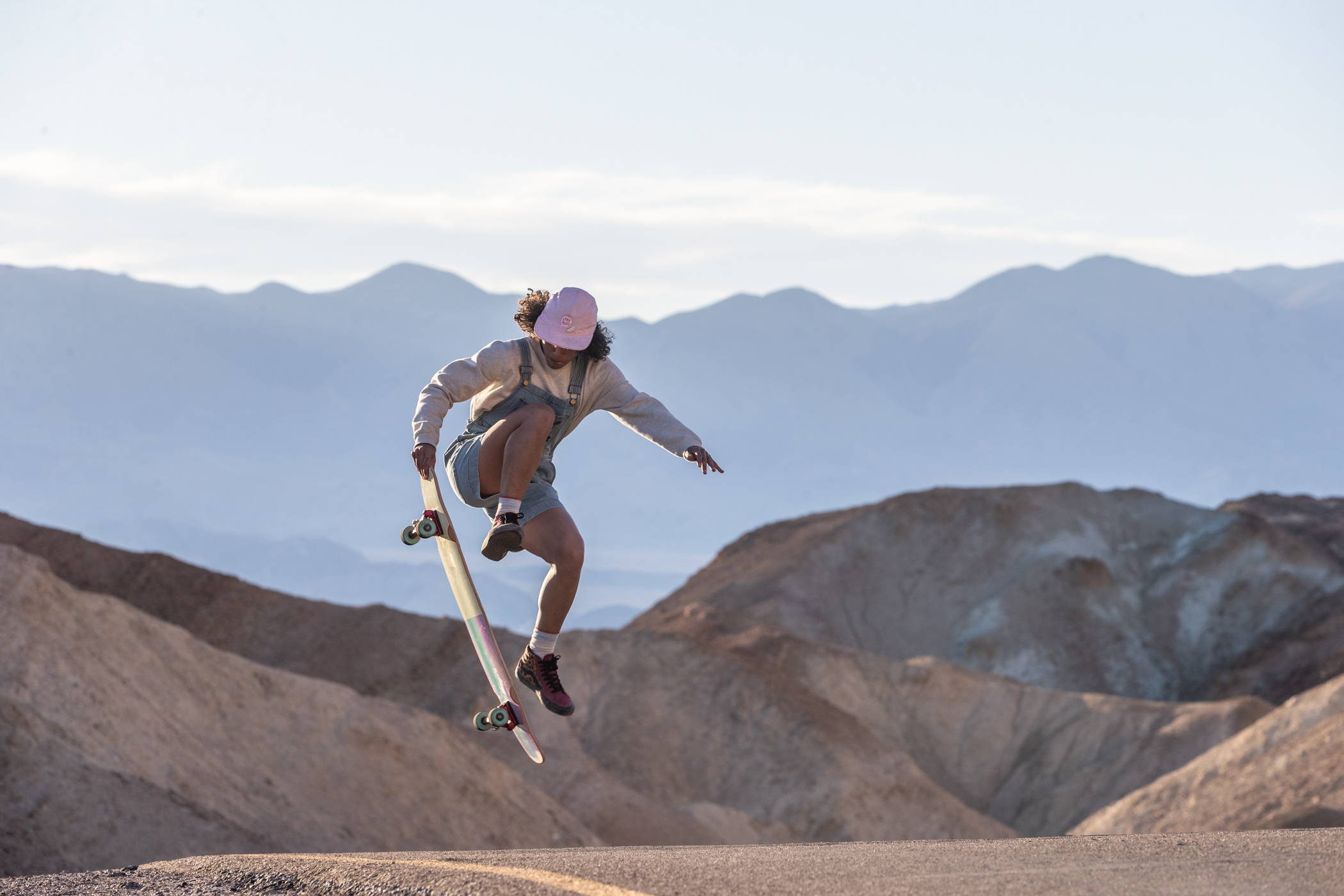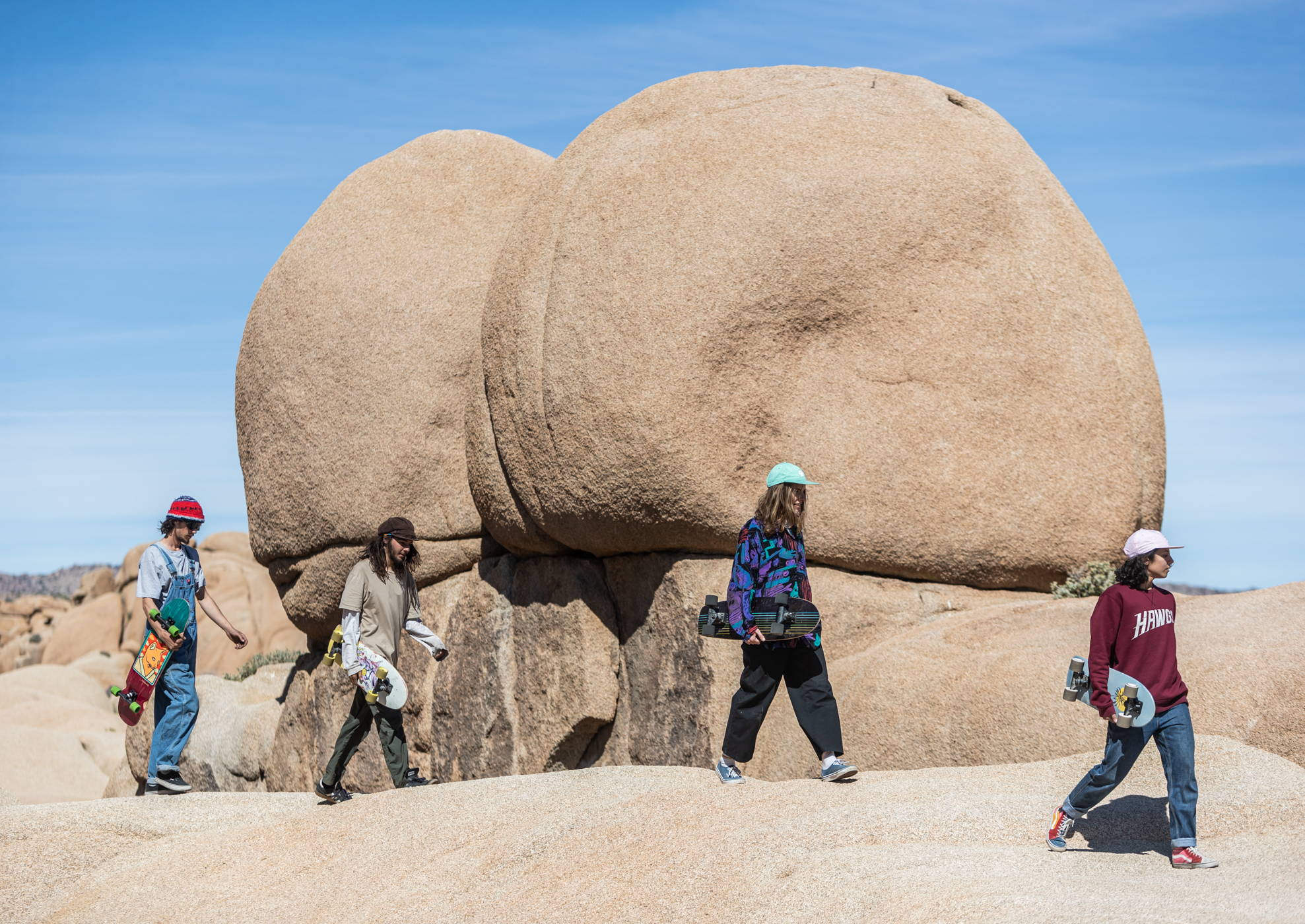 ---